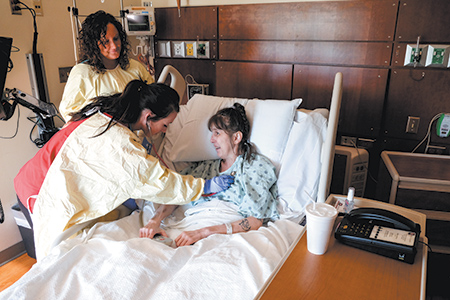 The fundraising arm of Indiana University Health raised $19.1 million in its first full year of existence, exceeding its goal by more than 300 percent.
The Indiana University Health Foundation said Thursday morning that the larger-than-expected fundraising result would allow it to expand its grants program statewide, rather than just focusing on central Indiana, where its flagship hospitals operate.
The foundation was formed in 2017 to consolidate 15 separate IU Health hospital foundations around Indiana. It does not include fundraising for Riley Hospital for Children, which has been part of IU Health since 1997, but has had its own foundation since 1921.
The IU Health Foundation uses its funds for patient care, clinical education, innovation, and community health programs throughout the state.
Some of its recent gifts include $10 million toward a new cancer center at its North Hospital in Carmel, which is under construction; $1.4 million for peer-recovery coaches for substance abuse programs at all of its emergency departments; $500,000 to expand its compassionate care program system-wide; and $330,000 for patient care at White Memorial Hospital in Monticello.
 
 
Please enable JavaScript to view this content.