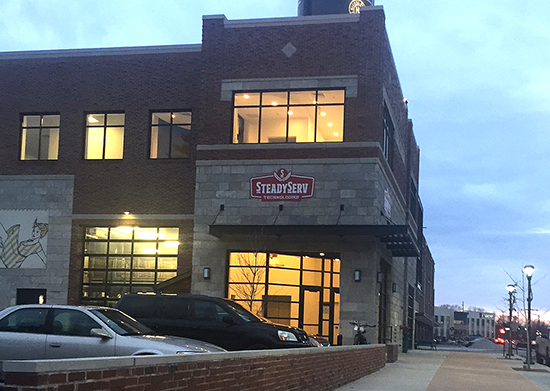 A Fishers-based company identified as one of the most promising and innovative startups on the planet just a few years ago is now struggling to survive.
SteadyServ Technologies LLC filed for Chapter 11 bankruptcy last week in an effort to reorganize operations and restructure its heavy debt load.
The seven-year-old firm, which gained national attention with a high-tech draft-beer management and inventory system called iKeg, has been shedding staff amid shrinking sales.
SteadyServ lists nearly $6.5 million in liabilities and only $55,000 in assets in bankruptcy papers filed Feb. 7. Company employment has fallen from nearly 50 to 14 since it made a high-profile move from Carmel to Fishers in September 2016.
That's well off the figure of 154 employees the company predicted it would have by now when it entered into an incentives agreement in 2014 with the Indiana Economic Development Corp. The company stood to receive $2.3 million in state tax credits if it fully met hiring goals but has claimed less than $95,000.
Steve Hershberger, a software developer who helped start Flat 12 Bierwerks in downtown Indianapolis, co-founded SteadyServ in 2012 in Carmel with former ChaCha marketing exec Steve Kremer. Hershberger is CEO of the company and Kremer has since retired.
The two developed a system that monitors the amount of beer remaining in kegs at taverns, stadiums and restaurants, sends digital alerts when levels are low and collects data on customer consumption.
The company was almost immediately pegged for growth and attracted more than $20 million in venture capital in its first five years.
Red Herring, an international media company that covers technology investment, named SteadyServ to its 2015 "Global 100" list, which identifies the most promising startups from Asia, Europe and the Americas.
In 2013, Hershberger predicted the company would record at least $25 million in annual sales within a couple of years, but SteadyServ has fallen far short of that goal.
The company had revenue of $379,000 last year, according to bankruptcy papers, down from $665,000 in 2017.
The company's only secured creditor is RBE Investments LLC, which was assigned the rights to the patents for the iKeg system. RBE is owed nearly $5.8 million, according to bankruptcy filings.
The biggest unsecured creditors are First Financial Bank of Middletown, Ohio, which is owed $178,244, and Indianapolis law firm Bingham Greenebaum Doll, which is owed $151,764.
SteadyServ also owes $23,559 in rent to Nickel Plate Development LLC, which developed the Four Day Ray Brewing building at the southwest corner of Lantern Road and North Street.
The company announced it had signed a four-year, $771,000 lease for 8,600 square feet in the building when it moved from Carmel in 2016. Under an agreement with the Fishers Redevelopment Commission, the city of Fishers agreed to provide $68,904 over four years to subsidize the lease.
At the time, Fishers Mayor Scott Fadness said SteadyServ is "one those great companies" that the city was trying to attract. "They could be tomorrow's Fortune 500 company," Fadness said. "We think there's a lot of potential for them."
SteadyServ only occupied the space for two months, according to bankruptcy papers, even though its name is still prominently displayed in signs on the building. It now operates from the nearby Indiana IoT Lab at 9059 Technology Drive in Northeast Commerce Park.
In an emailed statement to IBJ, Hershberger said the company plans to file a plan of reorganization and "exit bankruptcy promptly."
"The Chapter 11 case will permit SteadyServ time to reorganize its operations, restructure its debt, and recapitalize the company in order to exit in a stronger position to move forward," he said. "In doing so, SteadyServ plans to re-focus on the products and strategies at the core of the company's business, and allow it to take full advantage of the opportunities in the marketplace."
He said the firm is nearing an agreement to secure new funding.
"SteadyServ has already negotiated, and expects as part of the case, to obtain a debtor-in possession line of credit to fund its ongoing operations, ordinary course expenses, and restructuring costs," he said.
Succeeding after the company emerges from bankruptcy will require a change in the company's business model, he said.
"SteadyServ has migrated from draft-beer waste reporting to providing prescriptive and predictive total beverage-management solutions for retailers and suppliers," he said. "SteadyServ's platform has evolved to utilize more sophisticated machine learning and artificial intelligence tools to drive prescriptive and predictive solutions designed to drive category, product mix and promotion optimization designed to deliver revenue growth for a rapidly evolving retail marketplace."
Please enable JavaScript to view this content.