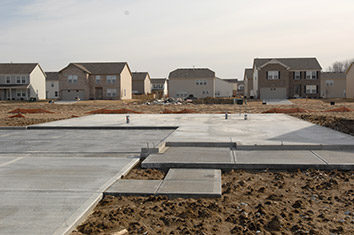 A slowdown in home construction that began in central Indiana in late 2018 continued into the new year.
Builders filed 450 single-family construction permits in the nine-county area in January, a 9 percent decline over the 494 permits they filed the previous January, according to the Builders Association of Greater Indianapolis.
It was the second month in a row in which permit filings declined on a year-over-year basis following a 14-month streak of increases.
Last year turned out to be the busiest year for builders in more than a decade, but filings slowed in the fourth quarter, falling 1 percent over the same quarter of 2017.
"January's permit numbers reflect the slowdown we began to see in the fourth quarter of 2018," said BAGI chief executive Steve Lains in written remarks.  "While there are some indications of improvement on the horizon, the market still remains soft and underserved based on the fundamentals of population and job growth."
County numbers
Hamilton County was the busiest local county for home building in January, with 161 permit filings, but that was down 16 percent from 192 in January 2018.
Marion County filings dropped just 3 percent in January, to 98, down from 101 the previous year.
Johnson County filings rose 11 percent, from 54 to 60.
Hendricks County's numbers were down 49 percent in January, to 34.
Hancock County saw a permit decline of 3 percent, to 37. Filings dropped 28 percent in Boone County, to 21.
Filings jumped from five to 20 in Morgan County. They fell from 14 to 3 in Madison County and stayed flat at five in Shelby County.
Please enable JavaScript to view this content.