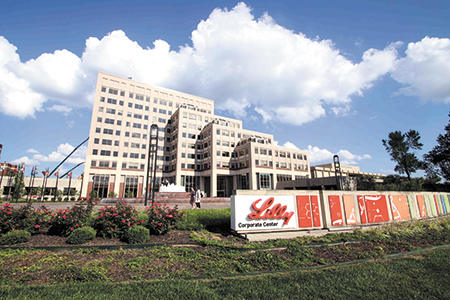 Indianapolis-based Eli Lilly and Co. and two other insulin makers must face claims they gouged diabetes patients through deceptive price lists for their life-saving drugs.
U.S. District Judge Brian Martinotti in New Jersey on Friday allowed a proposed class-action lawsuit filed by 67 diabetics against Lilly, Novo Nordisk A/S and the U.S. unit of French drugmaker Sanofi to proceed on consumer-fraud allegations tied to skyrocketing insulin prices. The judge threw out the plaintiffs' racketeering claims.
The ruling comes as a growing number of cases targeting insulin makers' price hikes have been filed in Martinotti's court and gathered before the judge for pretrial information exchanges. Plaintiffs contend companies are illegally raising insulin prices to provide rebates for pharmacy-benefit managers who decide which drugs get on preferred insurance lists.
"This ruling blows the insulin racket wide open,'' said Steve Berman, a plaintiffs' lawyer who is one of the leaders of the potential class-action case. The ruling "clears the way for us to begin obtaining discovery from the manufacturers and PBMs so we can shine the light on exactly what has driven insulin prices sky-high,'' he said.
"We're pleased with the court's dismissal of the RICO claims and numerous state law claims, and will continue to defend the company against any remaining claims," Ken Inchausti, a U.S.-based spokesman for Bagsvaerd, Denmark-based Novo, the world's biggest maker of insulin, said in an email.
Ashleigh Koss, a spokeswoman for Paris-based Sanofi, said while the allegations in the suit are meritless, the company couldn't comment on Martinotti's ruling because the case was ongoing. Gregory Kueterman, a Lilly spokesman, said while the company would continue to defend itself from the insulin allegations, he couldn't comment on the judge's decision.
The suit accuses the companies of raising insulin sticker prices by more than 150 percent over five years, forcing diabetics to forgo the drug, take less insulin than needed or use expired versions. The complaint notes some patients intentionally failed to take proper amounts of insulin to wind up in emergency rooms, where they could get free samples of the drug.
The crux of the suit targets the companies' allegedly deceptive pricing practices. Diabetics say insulin manufacturers' sticker prices are different from the prices insurers pay after discounts are awarded to pharmacy-benefit managers. The patients contend the rebates amount to kickbacks for benefit managers, who recommend which drugs should be covered by insurers. Higher list prices mean larger-percentage rebates out of which PBMs take a slice.
The judge found patients could press ahead with claims that the rebate system violated consumer-protection laws in states such as New Jersey, New York, Wisconsin, Tennessee and New Hampshire, according to court filings.
While Martinotti agreed with the companies' arguments that patients couldn't make a proper racketeering claim over the rebates, he gave plaintiffs an opportunity to amend their suit to address defects in the claim.
Please enable JavaScript to view this content.