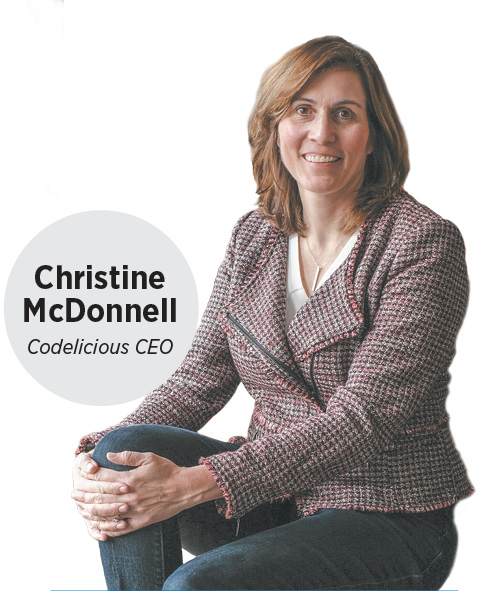 Christine McDonnell's timing couldn't have been better.
In early 2017, she and Erik Young founded Codelicious, an Indianapolis-based company that offers cloud-based software to schools that enables any educator to teach full semesters of computer science for grades 3-8. McDonnell is the growing company's majority owner and CEO.
Then last year, Indiana lawmakers passed a bill mandating computer science education for all grades by the 2021-2022 school year. This year, lawmakers are considering funding for the initiative.
Indiana is one of only six states to adopt a mandate for all grades, although 27 have K-12 computer science standards. Fifteen mandate computer science education for high school students.
Codelicious currently has 14 schools as customers, but McDonnell is confident that will grow dramatically as the trend toward requiring computer science education expands.
Is Indiana progressive in requiring this type of K-12 computer science education?
The foundational approach the state is taking in building a STEM program that can be used as a road map is really on the forefront of leading both the education system and workforce readiness in the direction that will close this skills gap.
Whom do you credit for Indiana being on the leading edge?
There's leadership at the legislative level; there's leadership at the corporate level; there's leadership at the non-profit level. This state is a unique ecosystem that has been a strong proponent in moving forward in computer science education. It's a strong partnership across the state and it doesn't happen without all those constituencies.
How prepared right now is Indiana to teach all K-12 students computer science?
Slightly ahead of the curve than some other states. All across the country, educators are trying to figure out … how do we bring this into the school day and how do we skill up our students for the workforce and how do we measure those skills? As Indiana goes, we have a few of those boxes checked off. From a foundational standpoint, a vision standpoint and a leadership standpoint, things are definitely moving in the right direction.
What needs to be done to get to where we need to be by 2021?
The two critical things are to train the educators and give them the confidence that they can teach this and make available the tools in a way that they can bring this into the classroom and build these foundational skills. Of course, it needs funding.
Besides funding, what resources do Indiana schools need to get prepared for this?
Professional development for educators is a resource that is a need. There are curriculum needs as well.
Why is this type of education important for the state?
Computer science education is more than just coding. Computer science with its problem solving and analytical approach is a truly 21st century workforce skill. It becomes a very core thought process and skill to have as you're entering the workforce.
High school students who develop these skills are amazingly employable, whether or not they go on to further their education. If we can encourage students in the primary grades to continue their skills development through those grades, then we have students when they move from eighth grade to high school who are making decisions on an experiential basis and an informed basis. It allows us to begin to fill out those tech pathways high schools have built.•
Please enable JavaScript to view this content.