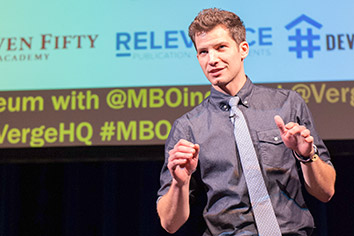 Indianapolis-based Powderkeg Ventures LLC, which helps connect promising tech ventures with resources to help them grow, on Tuesday announced that is has raised $900,000 in venture funding.
The funding round, the first for Powderkeg, was led by Elevate Ventures with participation from Stout Street Capital and tech entrepreneur and investor Scott McCorkle.
The venture funding will be used to offer more services to its more than 10,000 members, Powderkeg CEO Matt Hunckler said in a written statement. The company focuses on serving clients throughout the United States who aren't located on either coast.
"What we really want to focus on now is creating more access to more resources for professionals and company leaders," Hunckler said. "Tech companies between the coasts face similar challenges as those in Silicon Valley and New York, but how we solve those problems is way different, which is why coastal products haven't solved them."
Powderkeg, founded in 2017, had a big year in 2018. The company expanded publication of Tech Census Reports—which survey tech workers about local tech industry trends—to Cincinnati; to Denver and Boulder, Colorado; and to Chattanooga, Nashville, Memphis, and Knoxville, Tennessee; in addition to Indianapolis. 
And Powderkeg plans more growth for 2019, Hunckler said. The firm already has plans to publish Tech Census Reports for Kansas City and Raleigh/Durham, North Carolina. 
To further its mission, Powderkeg in December partnered with Kenzie Academy to launch a live podcast—featuring big names in the tech and venture capital world—that will be broadcast on location every other month.
The live podcast, Hunckler said, will be broadcast before an audience at a Powderkeg event designed to bring entrepreneurs, companies and investors together.
Some of Powderkeg's new initiatives include designing a talent-matching platform to connect professionals with tech companies; launching an expanded round of the U.S. Tech Census, starting with Indianapolis; and creating an email digest of tech news specifically focused on companies in its markets.
"We want to use our expanding data and reach to drive more human interaction and more rewarding professional relationships," Hunckler said. "That vision has investors excited, particularly those who recognize that non-coastal tech hubs have traditionally been disadvantaged due to resource scarcity and disconnected tech ecosystems."
Please enable JavaScript to view this content.