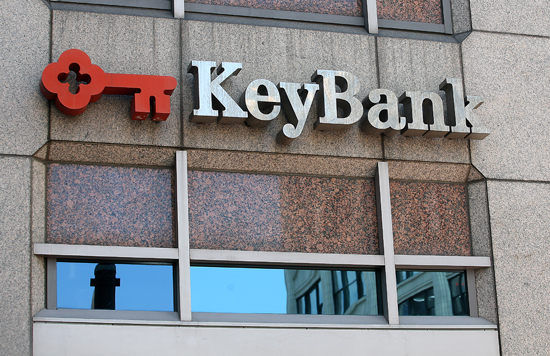 KeyBank plans to close 16 of its 35 central Indiana branches by the end of May, including 14 in the nine-county Indianapolis area.
The Cleveland, Ohio-based company is characterizing the closures as part of a larger move it hopes will ultimately help it increase its market share. It also says it won't be cutting its area workforce, and that all employees at the soon-to-close offices will have a chance to transfer to another branch, beefing up staffing levels at the remaining locations.
A branch closure list is at the end of this story.
As part of the project, KeyBank plans to renovate its 19 remaining area branches and add 51 ATM machines at area grocery stores by May 31. Those stores including 48 Krogers as well as three Pay Less Super Markets in Anderson. 
Indianapolis is the first KeyBank market to get the full roll-out of this concept, which the company tested on a smaller scale in Denver and Seattle.
All the changes are designed to help KeyBank better compete in an age where customers are more likely to bank online than in a physical office, said Juan Gonzalez, the company's central Indiana market president.
"The industry's going through a lot of transformation," Gonzalez told IBJ. "Amazon has created such a distortion of people's expectations, and that has certainly transferred to banking."
Among the 19 branches that will remain, Gonzalez said, nine will retain a traditional bank teller's window. The other 10 will do away with this feature, although all branches will be fully staffed with employees able to handle deposits, withdrawals and other transactions and services.
Employees also will receive training as "financial wellness specialists" who can help clients with goals ranging from managing debt and developing a budget to saving up for a house or a car.
In recent years, KeyBank has invested in digital products including personal finance tool HelloWallet. 
With the changes coming to local branches, "now we're going to the next phase" in the digital evolution, Gonzalez said.
An "aggressive" digital marketing campaign also will be part of KeyBank's local efforts, Gonzalez said. "That's something we haven't done in this market for a while."
KeyBank is not disclosing its investment in its Indianapolis efforts. But in the big picture, KeyBank is hoping the changes earn it new business.
In closing so many branches, Gonzalez said, KeyBank will reduce its real-estate costs. But, he said, "this is actually a play to win. This is not a cost-reduction effort by any means."
Employees will now have the capability to venture outside the branch more often for sales calls or community events—and they'll have the capability to conduct business on the spot, Gonzalez said.
A KeyBank staffer who offers a financial literacy program at a community center, for instance, will be able to open savings and checking accounts for participants immediately after the program, rather than hoping that participants sign up later.
According to Federal Deposit Insurance Corp. data from June 2018—the most recent available—KeyBank holds $2.04 billion in deposits in the Indianapolis/Carmel/Anderson metro area. That represents 4.02 percent of deposits, placing KeyBank eighth in market share.
The seventh-largest local bank based on deposits is Bank of America, which entered the Indianapolis market in 2017 and holds $2.25 billion in deposits, or 4.43 percent of market share.
As a comparison, J.P. Morgan Chase Bank, the No. 1 bank in the market based on deposits, holds $10.89 billion in deposits, giving it a market share of 21.42. 
Chase and Bank of America are also making inroads in the digital banking space.
 
Chase is transforming its 111610 Olio Road branch in Fishers into the area's first "digital-first" branch. The work should be done in April, said Chase spokeswoman Carlene Lule.
Chase tested the digital-first model last year and is now rolling it out in a handful of additional markets, including Indianapolis, where the company is seeing fast adoption of digital banking technology, Lule said.
Digital-first branches, which are intended as an alternative to traditional full-service offices, feature self-service technology including video conferencing and a digital "advice bar," where customers can learn about Chase's products and services.
Bank of America has nine local offices—five in Indianapolis, two in Fishers and one each in Westfield and Noblesville.
Of those nine, only three are staffed. At the other six locations, customers can use video conferencing to connect with remote employees.
The following KeyBank branches are set for closure:
In Indianapolis:
4404 E. 10th St.
5242 Rockville Road
10 W. Market St., Suite 100
2433 Lake Circle Drive
6410 N. College Ave.
4729 E. 82nd St.
4645 S. Emerson Ave.
12591 Southeastern Ave.
In Greenwood:
980 E. Main St.
In Noblesville:
110 N. 9th St.
17665 Pebble Center Drive
In Whiteland:
39 N. U.S. 31
In Anderson: 
3228 Nichol Ave.
2246 Broadway St.
In Kokomo:
300 Southway Blvd. East
2405 W. Jefferson St.
 
Please enable JavaScript to view this content.