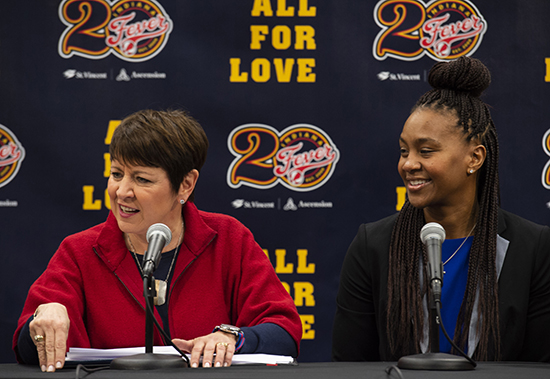 The Indiana Fever on Monday appointed Allison Barber as president and chief operating officer, and named former star player Tamika Catchings as vice president of basketball operations, Pacers Sports & Entertainment announced.
Barber, the former chancellor of Western Governors University Indiana, replaces longtime Fever executive Kelly Krauskopf, who became assistant general manager for the Indiana Pacers at the beginning of the year.
"I am energized by this new opportunity to serve our team, our city and state as the new president of the Indiana Fever," Barber said in written remarks. "The team and I will work to earn the support of our fans through our commitment, our competitive spirit and our contribution. I am optimistic about our future."
Barber led WGU Indiana from its inception in 2010 until May when she was promoted to president of fundraising affiliate WGU Advancement. She'll become just the second executive leader of the Fever in the franchise's 20-year history. She also was deputy assistant secretary of defense and special detail to the Office of Global Communications in the White House during part of the George W. Bush administration.
"We are incredibly thankful for Kelly's tremendous service and dedication as the architect of one of the WNBA's most successful franchises," Rick Fuson, president and chief operating officer of Pacers Sports & Entertainment, said in written comments. "Looking to the future, I couldn't be more excited to have such dynamic and qualified leaders in Allison and Tamika to carry the torch and build on our proud legacy–both on and off the court."
Fuson said Barber will be directly involved with strategic planning for the franchise and will report directly to him. Catchings will oversee Fever Head Coach and General Manager Pokey Chatman and have a role in basketball-related decisions. She will report to Barber.
Catchings is a four-time Olympic gold medalist and played 16 years with the Fever. She was previously director of player programs and franchise development for the Pacers, Fever and the Fort Wayne Mad Ants.
She joined the Fever in 2001 when she was the club's first-round draft selection. The team made the playoffs in 13 of her 16 years as a player and won the 2012 WNBA title. It hasn't had a winning season since she retired in 2015.
Catchings, who has long stated a desire to be involved in executive decisions for a professional basketball team, said she was approached by Fuson for the vice president role after Krauskopf moved to the Pacers' front office.
"Here, I'm able to help be involved with building a team, and building a culture—a winning culture—we need to get back to," she said. "We're going to build off what we have and get to a winning culture. That's something that excites me."
Please enable JavaScript to view this content.