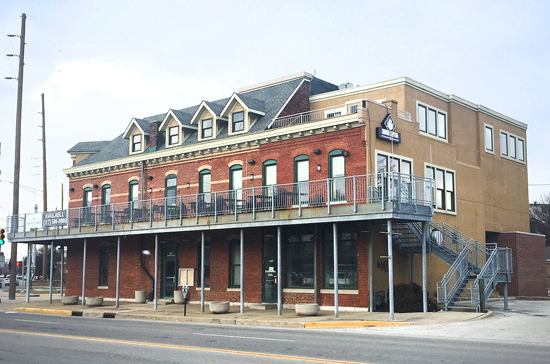 The Kurt Vonnegut Museum and Library is hoping to raise $1.5 million to acquire a building on Indiana Avenue that would house the museum and a cafe operated by the owner of the Bluebeard restaurant.
KVML founder and CEO Julia Whitehead announced Wednesday that the not-for-profit museum has signed a purchase agreement for the freestanding Italianate building at 543 Indiana Ave. Portions of the building date to 1885, but it has received significant renovations and additions in the years since.
Whitehead said the organization has 90 days to raise the funds to acquire the three-story balconied building, which was previously home to several former restaurants, including Corner Cantina, Zing and New Orleans on the Avenue.
Museum officials are "in conversations" with Ed Battista, owner of the award-winning Bluebeard restaurant in the Holy Rosary neighborhood near downtown, to open a ground-floor cafe in the building. Bluebeard took its name from one of Vonnegut's novels.
KVML has been housed in donated space in the Emelie Building on Senate Avenue for most of the last eight years, but its lease expired Feb. 1, prompting the museum to close Jan. 5. The museum signed a lease to move into a 6,000-square-foot building at 646 Massachusetts Ave. in late 2016 but the deal fell through five months later after a dispute with the building's owner.
Until the museum can find a permanent home, its collection of Vonnegut artifacts and memorabilia are being held for safekeeping by the Indiana State Museum and the Indiana Historical Society.
Whitehead said the $1.5 million would allow the museum to buy the 10,314-square-foot building from 543 Indiana Avenue Associates LLC  and pay for enough renovations to open to the public.
"We'll need additional funds beyond that to install our exhibitions, and offer our programs for students, teachers, veterans, and general readers," she said in written remarks. "We've touched the lives of several hundred thousand people over these years as a startup organization but now we are ready for the next phase."
The museum plans to offer multiple naming-rights sponsorships for rooms and exhibitions in the building for gifts of $50,000 or more. It has already received a $100,000 gift toward the building project from an unnamed donor in Illinois.
Whitehouse said the museum plans several exhibitions that will forward its mission to educate the public about the late Indianapolis native who is regarded as one of America's greatest writers.
In the plans are a new Slaughterhouse-Five exhibit, a new Freedom of Expression exhibit, an outdoor Vonnegut & Jazz exhibit, voter registration kiosks and more.  
The jazz exhibit will be offered in partnership with the neighboring Madam Walker Legacy Center at 617 Indiana Ave.
"If the stars align, this will make for a powerful visitor experience and hangout for local residents and those who work downtown," Whitehead said. "There's no better way to celebrate this important anniversary year than by giving fans and new readers a community and museum environment to share those things that mattered to Vonnegut: community, humor, music, art, literature, theater, and more."
Please enable JavaScript to view this content.