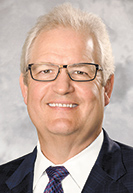 Jones
Bob Jones, the top executive at Evansville-based Old National Bank since 2004, is retiring May 2, to be succeeded by the bank's current chief financial officer, Jim Ryan, 47.
Jones, who turns 62 this week, will continue to serve as board chairman through January 2020.
"I've had a great run," Jones told IBJ. "Jim Ryan's the smartest guy I've ever worked with. He's the right guy to take us to the next level."
Old National has undergone a transformation since Jones joined the bank, shifting from low-growth markets to entering markets that offered a better opportunity for growth.
"Jim was really the architect of that strategy," Jones said.
In 2004, Old National had $8.9 billion in assets and 130 branches in Indiana, Illinois, Kentucky, Tennessee and Ohio.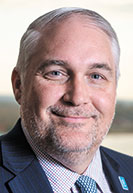 Ryan
The bank had recently expanded into Indianapolis and Louisville, but only 4 percent of its customers were in places like these—high-growth markets where it had a low market share.
In contrast, about 65 percent of the bank's customers were in low-growth markets where Old National had a high market share—areas like Evansville and Terre Haute, as well as western Kentucky and Danville, Illinois.
Since then, the bank has shed its branches in Tennessee and Ohio, and most of its Illinois branches, while entering markets in Michigan, Minnesota and Wisconsin.
Today, Old National's three largest markets are Minneapolis/St. Paul, Evansville and Indianapolis. The bank has $19.7 billion in assets and 191 branch offices.
"As we continue to move into broader markets … the expectations of our clients are getting bigger," Ryan said. "We have to kind of prove who we are."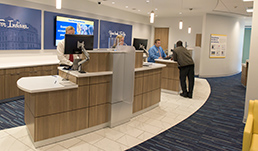 Bob Jones is passing Old National's reins to Jim Ryan. (IBJ photo/Eric Learned)
Jones, an Ohio native, spent 25 years at Cleveland-based KeyBank before joining Old National as its CEO.
Ryan, a native of Michigan, joined Old National in 2000.•
Please enable JavaScript to view this content.