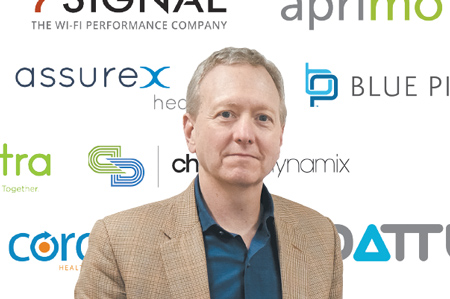 Allos Ventures makes investing in early-stage companies look easy.
National data shows it is not.
According to a 2018 Harvard Business School study, 75 percent of venture-backed startups fail. So one in four succeeds.
With those numbers in mind, it would be easy to surmise that Allos Managing Partner Don Aquilano spends many hours looking into a crystal ball.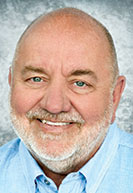 Becker
Indianapolis-based Allos, which was founded in 2010, has invested $54 million in more than two dozen companies across its first two funds. Including its recently launched third fund, Allos has $100 million under management.
"I don't know of one company where we lost our money," said David Becker, CEO of First Internet Bank and an Allos investor. "That's a rare track record."
Aquilano by all accounts is a rare bird.
"Don is a one-of-a-kind in Indiana with his track record," Becker said. "He's just damn good, pure and simple."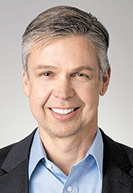 Kerr
John McIlwraith, who works out of Cincinnati, and former Octiv CEO David Kerr, who joined Allos last June, are equal managing partners in Allos. But Aquilano is the face of the organization in Indiana.
Allos' success isn't the only thing that makes Aquilano rare. He'll do a deal anywhere—even in a coffee shop parking lot. He's more involved—and patient—than the typical venture capitalist. And venture fund managers on the coasts trust him more than they do other corn-fed Midwestern venture firms.
Allos was one of the first venture funds based in Indiana, so Aquilano has had to forge much of his way here through new territory.
"There's no formula for investing in early-stage companies," said Mark Hill, managing partner of Collina Ventures and CEO of Lumavate, one of Allos' portfolio companies. "It's experience and a matter of perspective. And Don has that."

Allos' portfolio list reads like a who's who of regional startup and scale-up tech companies, including Perq, Octiv, Lessonly, Vibenomics, Aprimo, Cordata, Dattus, Emplify and Bolstra, to name a few. Before Allos, Aquilano made early investments in tech giants such as WebMD, Rubicon Technology and eTapestry.
Part of Allos' success is due to its tight focus, investment experts said. It invests exclusively in early-stage business-to-business software companies—usually software-as-a-service, or SaaS firms—within a four- to five-hour drive of Indianapolis or Cincinnati. The majority of Allos' investments go to post-seed-stage companies with $1 million to $2 million in recurring revenue.
Fourteen Allos I and II investments are what Aquilano calls 'core' investments, which are doled out in increments of $1.5 million to $2.5 million. A dozen or so of Allos' investments have been given in $100,000 to $250,000 increments.
Allos has just started making its first core investments from its third fund. Aquilano anticipates making 15 to 20 core investments out of Allos III.
"We've seen over the years, a number of great success stories in the Midwest with SaaS," Aquilano said in explaining Allos' investment strategy. "SaaS companies are efficient and agile. It's more capital-efficient to invest in SaaS rather than more complex or hardware companies. With a software company, you don't necessarily have to build your own environment."
Three oddities
Allos is an anomaly on three fronts, said local investors and tech industry insiders.
First, and arguably most important, has been its track record in picking startups that have had profitable exits. Not only have companies like Octiv and WebLink generated strong returns for Allos investors, but other companies in its portfolio also appear to be headed toward a sizable exit. Scale Computing and OneCause are two that local observers say are especially promising. Scale Computing CEO Jeff Ready said his company could be ready for an initial public offering within 18 months.
That kind of success has led to the second oddity: "It's a venture fund's dream to have three funds—especially in such short order," Becker said.
And third, each fund has been larger than its predecessor, he noted.
Allos is aiming to raise $75 million in its third fund, which had its first close in December.
"Don and Allos have been so successful, more people want to be a part of it," Becker said. "Don has great strength and stamina and I don't necessarily see the end of Allos in sight. I wouldn't be surprised to see Allos IV and V."
And investors want to be a part of Allos in a bigger way. Becker, who has invested in all three of Allos' funds, said he's tripled his investment from $500,000 in Allos I to $1.5 million in Allos III.
"With the kind of success Don has had, you double down and continue to ride," he said.
Allos I and II are "on track" to return four to five times Becker's investment within 10 years of deployment of the capital, he said.
If Allos raises as much for its third fund as it wants, it will be by far the most successful venture fund in Indiana's relatively short history of raising venture capital. But the venture firm brings far more than just money to the table.
"Don takes a lot of meetings and gives a lot of advice. We don't have many people here who can give that kind of advice to early-stage companies, so it's super-valuable," said Frank Dale, CEO of Costello, a local tech firm whose board Aquilano serves on. "They don't teach the kinds of things Don does in business school."
Conduit for out-of-state capital
Allos' success has done a lot to bolster the capital coming into the state. When Allos was founded just more than eight years ago, Indiana was raising little in venture capital. According to data from PitchBook and the National Venture Capital Association, Indiana racked up 93 deals in 2018, bringing in a total of $368 million. That number has more than tripled in the last four years.
"By taking a risk, Allos has given other venture funds and venture capitalists confidence to invest here," Becker said.
Aquilano and his Cincinnati partner McIlwraith have earned a reputation, first across the Midwest, and more recently spreading nationally, sources said. Not only have they worked to promote the local tech and entrepreneurial scene, they've also become informal advisers for other investors looking to make investments in the Heartland.
"Allos plays a really important role in being a connector," said Mike Langellier, CEO of local tech advocacy group TechPoint. "As companies grow, Allos has been key to helping them secure bigger checks from other investors outside this area."
Aquilano garners an unusual amount of national respect for the manager of a relatively small fund, local sources told IBJ. While Allos is a big fish here, dozens of venture funds on the West and East coasts are bigger—some much, much bigger.
No one knows Aquilano's sway better than Ready, whose Scale Computing has raised $96 million—most recently $34.8 million in a Series F round earlier this year. Allos has invested in each round and Aquilano serves on the Scale board.
"Don has been super helpful in brokering bigger deals for us with other venture capitalists outside this area," said Ready, whose company was founded in 2007.
Big investors usually push smaller investors—like Allos—off the board.
"Those big investors allow Don to stay because he has such a strong reputation," Ready said. "He's their eyes and ears. He's here on the ground, and he doesn't miss a trick. He makes sure at every step, operationally, things are moving in the right direction. He's been invaluable for us, and he's been invaluable for other investors."
That reputation has earned Allos the confidence of Chicago-based 50 South Capital Advisors LLC, which is managing the state's $250 million Next Level Fund. 50 South is investing the state's money primarily in other funds, and Allos has gotten a chunk of that.
Aquilano wouldn't say how much Allos got from the Next Level Fund, and 50 South officials declined to comment for this story.
Entrepreneurial roots
Aquilano said Allos' success is less a mystery and more a matter of elbow grease.
"I don't think there is any great magic here," he told IBJ. "We've been in the business for 20 years and benefit from pattern recognition. We focus on what we know and are good at and getting better, we are hunting in a fertile area, and believe we are more involved than most VCs in helping our companies navigate the challenges at the early stage.
"Oh, and [we do] a lot of hard work," he said. "We work hard but love what we do, so it doesn't feel like work."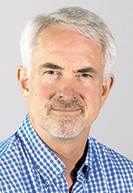 McIlwraith
Even before he and McIlwraith founded Allos, Aquilano had significant success.
The 52-year-old started his entrepreneurial career in high school when he launched a valet parking business. In college, he started a custom T-shirt and shorts business.
"I've always had a bit of an entrepreneurial spirit," Aquilano said.
His experience in operations sets him apart, say those who know him. "Don knows what it's like to be on this side of the boardroom," said Ready, Scale Computing's CEO.
After graduating with a bachelor's in operations research at the University of Arizona, Aquilano—an Arizona native who now lives in Carmel—worked as a manager for beer brewer Guinness, alcoholic beverages maker Diageo and computer hardware maker Hewlett-Packard. He later picked up an MBA from Harvard Business School and worked as a venture capitalist in New York before getting a call from Scott Jones to come run Gazelle TechVentures in Indiana.
Aquilano took charge of Gazelle in late 2000, after its first managing director departed to run one of its startups. Aquilano's first job was triage, local tech experts said.
The fund finally hit pay dirt in 2007, thanks to the sale of three portfolio companies and the initial public offering of a fourth. As a result, Gazelle's annualized investment returns hit almost 9 percent.
That's meager by venture-capital standards. But most U.S. venture-capital funds raised around the same time as Gazelle lost money. With Aquilano at the helm, Gazelle shareholders were pleasantly surprised to make money on investments they had long ago given up on.
Jay Love, who served as CEO of Greenfield-based eTapestry, was among the first to receive a Gazelle investment. He said Gazelle was patient and willing to help eTapestry even when other venture capitalists were panicking.
"We never would have survived on either coast," he said.
Ready said Allos—under the direction of Aquilano—is more than patient. "Don doesn't look over your shoulder, but he's there to help whenever you need him," he said.
And unlike venture capitalists Ready has worked with on the coasts, Aquilano remains interested and involved in the companies he invests in.
"A lot of investors are interested and helpful at first, then that wanes," Ready said. "Don is simply not like other venture capitalists."
Ready recalls consummating his first deal with Allos to invest in Scale Computing—in the parking lot of a Starbucks off of Interstate 465 and West 71st Street.
"We signed the term sheet on the hood of his car as my wife and kids waited in my car," Ready recalled. "I can tell you from working with venture capitalists in Silicon Valley, that's not how most venture capitalists would work. That's who Don is. He's a little scrappy in how he gets things done."
Aquilano doesn't disagree that there could be more Allos funds to come. He said the Indianapolis tech ecosystem is "night and day" different from what it was when he arrived in central Indiana almost two decades ago.
"In 2000, there were no incubators, no co-working spaces, very little influx of capital and very few [software] success stories," Aquilano said. "All the changes in recent years have translated into much better deal flow and support for startups. Now, there hasn't been a better time to invest here."•
Please enable JavaScript to view this content.