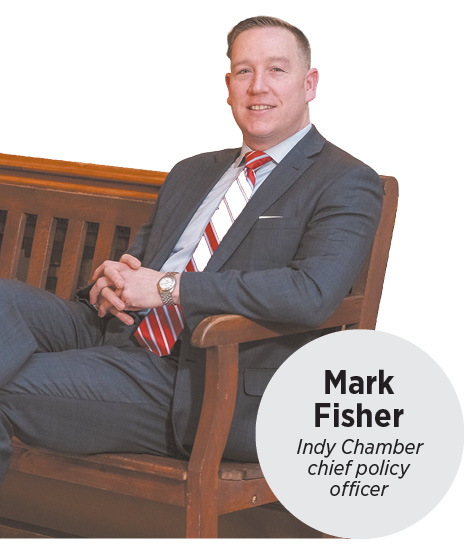 About five years ago, leaders at the Indy Chamber wanted to spice up the legislative updates they were sending to members, so the writers turned to music. Hip-hop, specifically. The newsletter goes out weekly when the Indiana General Assembly is in session and biweekly the rest of the year as a way to keep members informed about key policy issues and bills being considered. Chief Policy Officer Mark Fisher leads the team that writes the newsletter.
How did this newsletter get started?
We read a lot of policy briefs, a lot of white papers, a lot of legislative updates, and most of them are really sterile and can be pretty boring. So, we really look for ways to capture the imagination and the attention of our members to make sure they are informed and engaged.
We started by slipping little sly hip-hop references in the body of our update to see if anybody was paying attention. But that kind of grew into a team competition to see who could come up with the best lines and best hip-hop references throughout our updates.
When I used to write these in their entirety, it was really inspired by Ed Feigenbaum. When he was writing for the Indiana Legislative Insight, he always had really catchy titles.
How does the newsletter come together every week?
It's a team effort.
Wednesdays, we tend to kind of review the issues that are being debated during the week and kind of organize our thoughts—really come up with the focus, the theme and the tone of our newsletter, and then it goes through several drafts and iterations on Thursday.
And then on Friday mornings at 9 a.m., we have our standard team meeting. We review the draft and add our input. Our legislative director, Tim Brown, on Fridays always comes in with blueberry coffee. He swears it helps his creativity. He always listens to inspirational music on the way in.
What is your role in it?
It's really setting the tone and the focus on the front end—these are the issues that we need to highlight the most. Is it going to be more of a lighthearted or more of a hard-hitting tone? And then it's up to the team to add in what issues work into the broader theme, what bills we've been tracking that were heard in committee or that we testified on that our members might be interested in.
Sometimes my role is to edit and tone down. We've had to pull back a little bit sometimes. It's important that our members know that we're passionate about these issues, but we can't let our passion get the better of us, either.
What are some of your favorite songs or themes that have been used so far?
Oh geez, I don't know. There have been so many. Probably the one that got the most reaction with people emailing me was when the governor did the State of the State, we referenced the Rakim and Eric B. song "Make 'Em Clap to This."
We get a lot of feedback. We've had people tell us we're the only legislative update they read because it's fun and interesting. And that's the whole point of it, right?
Has there ever been a week where you guys just couldn't come up with a song?
Yeah, I would say there have been some times when we've forced the issue a little bit.
I'm sure it can be difficult on some of these tough legislative issues to make it lighthearted and have a song reference.
I guess that's why Tim always brings the blueberry coffee.
If people aren't currently subscribed, how can they be?
They can sign up on IndyChamber.com.•
Please enable JavaScript to view this content.