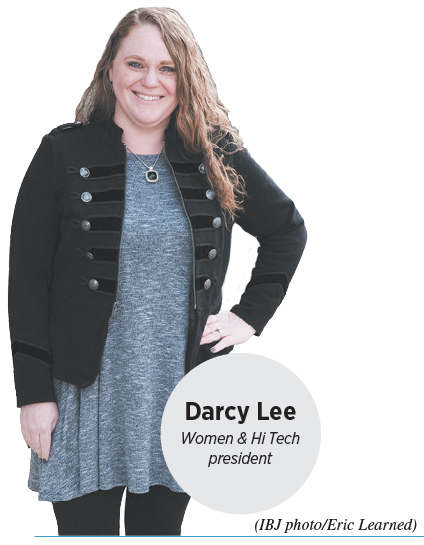 Women & Hi Tech is turning 20 this year, and the statewide not-for-profit focused on attracting and supporting women in science, math, engineering and technology jobs finds there's still plenty of work to do.
Its president, Darcy Lee, director of accounts at Metonymy Media, said girls know more about tech than they ever have. Still, the number of women in STEM-related careers hasn't budged much.
Census data shows that, in 2000, only about 24 percent of STEM positions were held by women. In 2018, that percentage was 28 percent.
What is Women & Hi Tech?
Women & Hi Tech is an all-volunteer-run nonprofit organization focused on attracting, retaining and supporting women in STEM, with a mission to change the landscape of women represented in STEM to be equally inclusive to all. Our focus is on girls starting as early as, I guess we should start saying preschool now, but kindergarten throughout their professional lives.
How big is the organization?
We've grown significantly, mostly in the past five years. We have over 1,800 members. And we have … over 50 corporate sponsors.
What do you attribute the recent growth to?
I think that it is the culmination of decades of work done by women to create awareness around what we do and how important it is. We have also really done a great job at bringing on key people to our board of directors who have a variety of skill sets and a variety of context and a variety of industries.
There's also been a lot of groundswell with some corporate members. They get membership for their employees, and then their employees tell their friends, and then their friends either join individually or bring it to their companies' attention.
How have things changed?
The acceptance for women being in those environments, the appreciation of those skill sets that they bring, and their knowledge, frankly, that those opportunities even exist. Girls are becoming more aware of STEM early, and so they're developing a passion for that type of work.
What are the group's outreach efforts?
We have a pretty well-established K-12 outreach and collegiate outreach, and those are two areas where we're really looking to build in the next couple of years. We have done creative programs that allow opportunities for girls to see women in these careers. Modeling is so important for young girls.
One of the things we have realized—and tons of studies will show you—that the first point at which girls fall out of STEM is middle school. So we have Passport to Hi-Tech, which is a program that we do in conjunction with Roche and Conner Prairie that is targeted at middle-school-aged girls—boys are also welcome—but we give them the opportunity to have hands-on experience with STEM.
A couple of years ago, we partnered with Indy Women in Tech, and at the time it was UIndy, and now it's with IUPUI, to create Ignite Your Superpower, which is an event that we do in the fall where … we work with Indianapolis Public Schools and schools around Indianapolis to identify which kids would benefit the most from engaging with STEM activities on a college campus. We also support CoderDojo, TechPoint Foundation for Youth, [and] Girl Scouts is one that we're looking at getting more involved with because they have, like, 30 new STEM badges.
On a college level, we give scholarships. This year at our 20th anniversary, we are giving away $20,000 of scholarships.•
Please enable JavaScript to view this content.