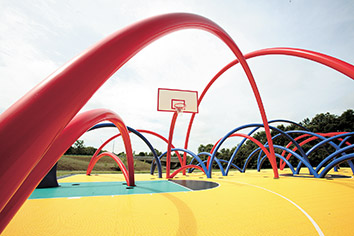 Newfields will use a $10 million grant from the Indianapolis-based Richard M. Fairbanks Foundation to upgrade the 100-acre arts and nature park that opened in June 2010 behind Indianapolis Museum of Art.
Announced on Wednesday morning, the grant will be used to address infrastructure needs in the park, including bike paths and walking trails to better connect the park with the Central Canal towpath and the upper campus of Newfields, which include the museum. It also will support additional parking and bathrooms and creation of an endowment to fund ongoing park maintenance and new art installations.
The grant will ensure "that the park reaches its full potential as a special place where art, nature, conservation and wellness seamlessly come together in unique ways to the benefit of the community," said Charles L. Venable, CEO of Newfields, in a prepared statement. "Our vision is to become one of the world's greatest art and nature parks and a model for future urban park development.
Since its debut, the park has been dubbed the Virginia B. Fairbanks Art & Nature Park: 100 Acres, in honor of $15 million in grants from the foundation used to launch the reserve. Virginia Fairbanks is the late wife of local radio broadcasting pioneer Richard M. Fairbanks, who started his namesake foundation and served as its president until his death in 2000. 
The park "has become a key asset that enhances quality of life for Indianapolis residents, makes the city a more appealing place to visit, and better positions us to attract talent," said Claire Fiddian-Green, president and CEO of the foundation.
The park received national accolades when it opened as a large-scale, open-air and free-to-the-public exhibit space for contemporary art. But limited parking and restrooms have vexed visitors. Meanwhile, its art installations, most of which were designed to have a shorter lifespan than indoor art because they are outside and widely accessible, need to be refreshed, according to the foundation's announcement.
The grant also will address erosion along the White River walking trail, as well as plant and wildlife conservation. Ecological upgrades will include a pollinator meadow. Newfields also hopes to increase capacity for paid events such as film screenings, festivals and summer camps.
Work is set to begin this year and continue through 2025.
The park and its art installation "Funky Bones" were featured prominently in the best-selling 2012 novel "The Fault in Our Stars," as well as the 2014 movie based on the book.
 
Please enable JavaScript to view this content.