Physical therapists in Indiana have struggled for years to get their rightful recognition as front-line health professionals.
Indiana was the last state in the nation, in 2013, to allow physical therapists—who specialize in improving a person's movement and managing pain through exercise—to treat patients directly without a doctor's referral.
And for decades, physical therapists in Indiana have been regulated by the Medical Licensing Board, even as massage therapists, optometrists and athletic trainers had their own state licensing boards.
But that second-rate status could change.

A bill advancing through the General Assembly would give more autonomy to the state's 5,030 physical therapists—or PTs, as they are called for short.
For the first time, the state would set up an Indiana Physical Therapy Board to regulate and discipline the profession. The board would be made up of five physical therapists, a physical therapist assistant and an independent person. That would allow PTs to be regulated by their peers, a move that would remove much of the medical hierarchy from the process.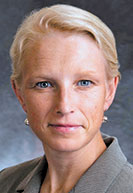 Slaven
"In many states, physical therapists having their own board has been the norm for years," said Emily Slaven, a physical therapist at Franciscan Health in Mooresville and Indiana chapter president of the American Physical Therapy Association. "Indiana has been a bit more reserved about that."
Senate Bill 586 also would nearly double the number of days a patient could get physical therapy without a doctor's referral, to 42 from 24. (Before 2013, a patient could not get any physical therapy without a referral.)
More broadly, SB 586 would provide the first comprehensive update to the state's 62-year old Physical Therapy Practice Act, a sweeping law that governs the profession, from licensing to standards of care and conduct.
The bill would not expand the scope of physical therapy practice. PTs would still be limited to helping injured and ill patients strengthen weak muscles, improve stiff joints and other functional movements.
But the bill includes updated terminology that PTs say better explains what they do, and could make their profession better understood and used.
The new language sweeps away 1950s-era terminology that talks about "rehabilitative and habilitative techniques," "the use of physical measures" and "pathokinesiological functions."
Instead, it spells out that PTs can use a wide range of therapeutic exercise, manual therapy, soft tissue and joint mobilization, airway clearance techniques, use of prosthetic devices, wound care and other therapies.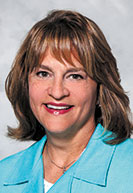 Flesch
Pauline Flesch, a physical therapy administrator at Indiana University Health, said the new language is critical in making the profession look up to date.
"This is not increasing or expanding the scope of practice, but really defining it as it currently is," she said.
It's also a measure of recognition for PTs, who go through seven years of schooling (including undergraduate college) to earn the required doctor of physical therapy degree. Along the way, they study anatomy, physiology, biology, chemistry and physics.
Earning the necessary degrees can cost tens of thousands of dollars. But PTs often make good money on the job. The national median pay was $86,850 in 2017.
And jobs are plentiful. Nationally, more than a quarter-million PTs work in clinics, hospitals, home health programs and universities. The number of jobs is expected to grow 28 percent from 2016 to 2026, according to the U.S. Bureau of Labor Statistics.
Some say Indiana has been slow to catch up to other states. Flesch said part of the problem is that, because health professions such as athletic trainers and massage therapists are newer, laws regulating them were written in more modern language than that used in the Physical Therapy Practice Act.
So the process of updating it has been laborious.
"So maybe it is more difficult to change an existing practice act versus establishing a new one," said Flesch, who is also Indiana legislative chairwoman of the American Physical Therapy Association. "SB 586 brings the PT practice act into the 21st century in Indiana—better late than never!"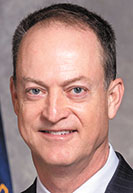 Messmer
SB 586 was written by Sen. Mark Messmer, R-Jasper, who said he spent months meeting with medical professionals across the spectrum, from medical doctors to chiropractors, to make sure they all agreed that the updates made sense.
"The process involved taking a look at what the industry is doing today, cramming it into our current code, and making sure everyone else in the medical world agreed that [PTs] are not gobbling up turf that belongs to someone else," Messmer said.
In the end, there were compromises. Originally, the PTs wanted to give patients 90 days of direct access without a referral, but others, including doctors, felt that was too long.
"I told the PTs, 'That's probably longer than you're going to get anyone to agree to,'" Messmer said. "Other medical professions found six weeks was a good number." So they wound up compromising on 42 days.
As far as some PTs were concerned, that was a win.
"For most patients, four to six weeks is about the normal time they would spend in therapy, anyway," said Slaven, who also teaches physical therapy at the Krannert School of Physical Therapy at the University of Indianapolis.
Several medical groups, including the Indiana State Medical Association, the Indiana Osteopathic Association and the Indiana State Chiropractic Association, did not respond to IBJ.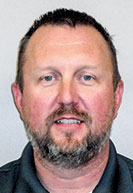 Smith
The bill passed the Indiana Senate 39-0 last month. It is now scheduled for a March 27 hearing in the House Committee on Public Health.
Physical therapy clinics around Indiana strongly support the bill.
Jon Smith, chief operating officer of Fort Wayne-based Indiana Physical Therapy, which operates 18 clinics, said the longer treatment window (from 24 to 42 days) without a referral will make a big difference.
"Many times, treatments need to extend beyond the 24-day window," he said. "Currently, when that happens, we have to engage a physician to refer that patient back. It sometimes slows down the healing process or plan of care."
Anna Thomas, a physical therapist at Athletico Physical Therapy on East Market Street, near Monument Circle, said she often treats patients for a wide array of joint and muscle pains, without the need to send them to doctors first. At the same time, she can screen patients for more serious concerns, from heart problems to neurological conditions, and recommend them to a doctor's care.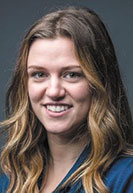 Thomas
"We can screen for things outside our realm," she said.
In addition to giving patients more direct access to physical therapists, SB 586 also provides a few new limitations. For example, it requires that a physical therapist assistant work under a PT's supervision.
And individuals who sit for Indiana's physical therapy licensing exam would be limited to six attempts at passing; currently, there are no limits on how often a candidate can sit for the exam.
"We were one of the few states that had an unlimited number of times, which was ridiculous," Flesch said.•
Please enable JavaScript to view this content.