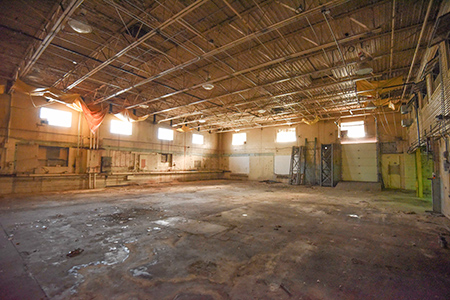 Since moving to the Garfield Park area three years ago, Big Car Collaborative has been working on ambitious plans to revitalize the neighborhood—adding arts-focused community spaces and rehabbing vacant houses to create affordable homes for artists.
Now, a $3 million grant from the Lilly Endowment Inc. is allowing Big Car to fast-track those efforts, including the renovation of a 40,000-square-foot vacant factory into artist studios, performance spaces, a public cafe and more.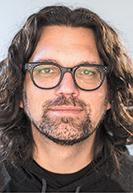 Walker
The grant will also allow Big Car to develop a cultural space in a former church on Cruft Street, create an outdoor gathering area and sculpture garden, and renovate five additional houses that will become rental homes for artists on Cruft Street and Nelson Avenue.
All of these projects have always been part of Big Car's long-range goals for the effort it calls Cruft Street Commons. But until the grant came through, the organization had no clear plan for when the additional work might happen or where the money would come from, said Jim Walker, Big Car's CEO and lead artist.
"Without this grant, it would not have been possible to do this stuff, for sure," Walker said.
With it, Big Car now expects to complete most of the work within a year or so.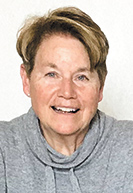 Price
That's good news to Bernie Price, president of the Bean Creek Neighborhood Association. The area Big Car is working in, between Shelby Street and Interstate 65, lies in both the Garfield Park and Bean Creek neighborhoods.
"I am a firm believer that art absolutely takes a neighborhood up a notch," Price said. "It makes people happy."
Most of the grant funding will be spent renovating the vacant factory, at 1146 Nelson Ave., which housed operations for Tube Processing Corp.—the same company that occupied what's now the Tube Factory, the Big Car headquarters and community cultural space at 1125 Cruft St.
The renovated factory will include up to 20 studios available for rent to local artists; a rentable performance space; a commercial kitchen to prepare food for in-house events; exhibition space; a cafe; and second-floor offices.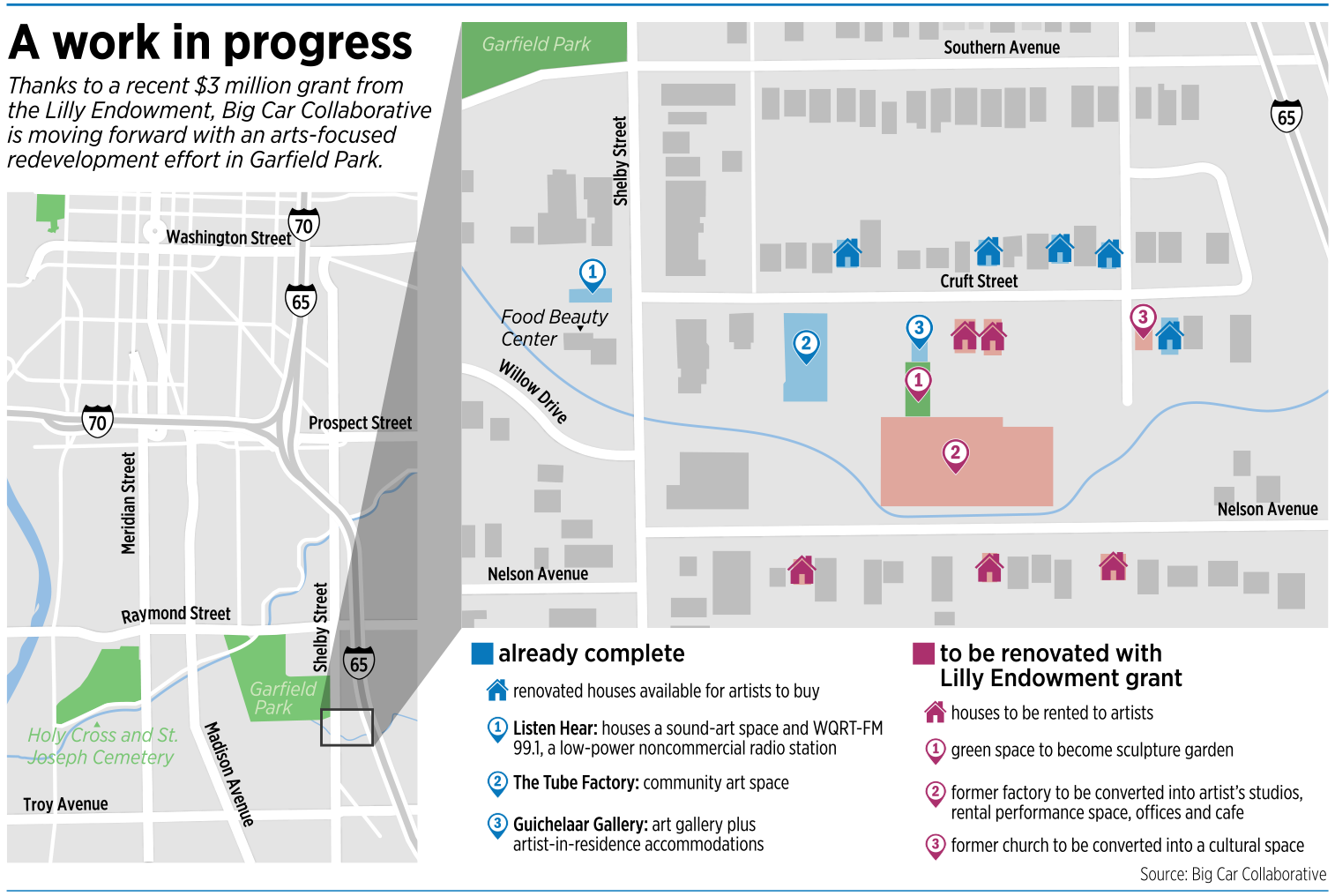 "We're confident that this space will generate some income to support all the things we're doing here," Walker said.
Strengthening community connections is another goal for the space.
Big Car is still working out ideas for the cafe, Walker said, but the space might host a variety of guest chefs who use it to refine a new restaurant concept, for instance.
The cafe could also connect with Riley Area Development Corp.'s new Food Beauty Center, just a block away at 2628 Shelby St. The Food Beauty Center offers affordable commercial kitchen space to entrepreneurs with plant-based food businesses.
Someone might start out at the Food Beauty Center, Walker imagines, then work out of the Big Car cafe space for a while before moving on to a place of their own.
Riley's executive director, Terri Skipper, said the idea shows promise for the Food Beauty Center's users. "That may be a very good way, if there's a demonstration kitchen, to help them promote their product."
Homeowner partners
Riley and Big Car have already worked together on projects in the neighborhood.
They jointly own five Cruft Street homes that have been renovated for sale as affordable housing for artists. Riley handled renovations on four of the five homes, at an average cost of $60,000. Indy Mod Homes and Axis Architecture renovated the other one.
Homeowners are now being selected through an application process. Those chosen will pay an estimated $50,000 to $70,000—about half the market price of the home—for a 49 percent ownership stake. A partnership made up of Big Car, Riley and the Indianapolis Neighborhood Housing Partnership will own the other 51 percent of each home.
The homeowners will receive $5,000 in down payment assistance from the INHP, which will also serve as the mortgage lender. In turn, homeowners must commit to a seven-year community residency program—two three-year residencies with a one-year sabbatical in between.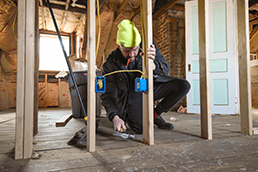 Conner Green, an artist involved with Big Car, works on finishing attic updates at the already-renovated Guichelaar Gallery on Cruft Street. (IBJ photo/Eric Learned)
During their residencies, homeowners will do 16 hours per month of community service related to their art. This could include activities like teaching classes, attending neighborhood meetings or hosting a neighborhood dinner, Walker said.
When a homeowner decides to move, the partnership will repurchase the owner's stake in the property. The partnership will then resell the home to a new artist. Sale prices will be adjusted for inflation but they will remain affordable in perpetuity, even if housing prices rise in the neighborhood.
Big Car finished work on two of the houses in 2017 and intended to select homeowners then, Walker said, but two separate complications put the program on pause. Big Car needed to find more money to finish the renovations, and it found it needed more time to work through the ownership structure for the homes.
"It's a very complicated sort of program," he said. "It's very much along the lines of a community land trust."
Homeowners should be in the homes by late spring, Walker said.
Coming soon
The next project Big Car will tackle is the renovation of five more homes—three on Nelson Avenue and two on Cruft Street—which will be offered as rental housing for artists. That work should be complete by this summer, Walker said.
Also by this summer, Big Car expects to have completed the rehab of a former church building at 1301 Cruft St. That 1,026-square-foot space will be leased to tenants for use as a cultural space.
Renovations on the former factory should be complete by this fall or spring 2020, Walker said. Part of the timing depends on funding. Though the grant will cover renovations, Big Car anticipates it will need to find another $1 million or so for furnishings.
The last part of the project will be the construction of a sculpture garden and outdoor gathering space behind 1135 Cruft St., a Big-Car-owned building that has been renovated into an art gallery and artist-in-residence housing. The sculpture garden will join chicken coops and a bee sanctuary already in place on the property.
Big Car doesn't yet have a timeline for the sculpture garden, Walker said, because work on that project will begin only after the factory renovations are complete.
Price, the Bean Creek Neighborhood Association president, said Big Car has been a great neighbor and she's excited for the group's work to continue.
"I see it adding to the momentum," she said. "People tend to migrate to a neighborhood more where they see activity is going on."
Price said several of her neighbors are making improvements to their property. She doesn't know for sure, but wonders if their work is inspired by what Big Car is doing.
In Riley's experience, that's exactly how community development works, Skipper said. Once someone improves the first few homes in a neighborhood, other homeowners get motivated as well.
"It's kind of like a rising tide lifts all boats," Skipper said. "It has really given some new energy to the area."
The president of the Garfield Park Neighbors Association, Cheryl Dillenback, also said Big Car's efforts have made a difference.
The Tube Factory has become "the social hub of the neighborhood," Dillenback said, hosting everything from cultural events to neighborhood meetings. She predicted that the renovation of the vacant factory will bring even more liveliness.
"I think it'll bring new people into the neighborhood," Dillenback said. "New blood is new ideas."
The level of community involvement is one reason the Lilly Endowment decided to fund the project, said Judy Cebula, the foundation's communications director.
Big Car's grant was part of $50 million the endowment awarded in December to fund arts and culture initiatives around Marion County.
"Their proposal was really driven by the people who live there right now and their vision for how the area could become better," Cebula said. "It's really wonderful to see where all the partners are going to be able to take this."•
Please enable JavaScript to view this content.