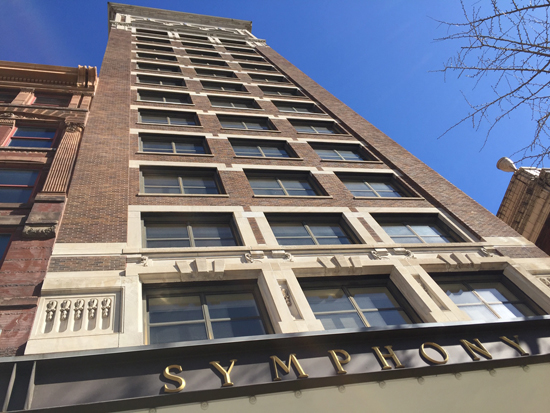 The Indianapolis Symphony Orchestra is weighing a move of its administrative offices to a different building, as part of a larger effort to streamline operations for staff and administrators.
James A. Johnson, chief executive officer of ISO, said the group is conducting a feasibility study concerning whether to stay in its administrative headquarters in the building it owns at 32 E. Washington St., or relocate those offices.
The skinny 17-story, 107-year old Symphony Centre building backs up against Hilbert Circle Theatre—the symphony's home performance venue—on Monument Circle. The buildings are connected to allow musicians and staffers to pass between them.
The study, which began in 2018, is expected to conclude before year's end, although Johnson said an exact timeline for making a decision about the organization's future hasn't been finalized.
"We're evaluating our options with regard to our office space," he said. "I have no definitive information on what's happening with [our] building. … It's still early on as we decide the best option for our employees."
ISO and its foundation employ 54 full-time employees, as well as several part-time staff members. In addition, the symphony is composed of 74 full-time musicians and picks up part-time performers as needed.
A change of venue would be a big shift for the organization, which poured millions of dollars into buying and upgrading the building, including masonry work on the building's Washington Street exterior.
The ISO bought Symphony Centre, formerly known as Washington Place, in 1997 after receiving a $10 million gift from Conseco Inc. founder Stephen Hilbert and his wife, Tomisue. The Hilberts earmarked the donation for maintenance and operations at the Circle Theatre, as well as the purchase of Washington Place. The purchase price was not revealed at the time, but IBJ reported that its market value was approximately $800,000.
While Johnson did not disclose all of the factors being considered in the study, he did say the ISO is looking at whether a different building could prove more efficient for the organization, or if changes to the existing office space would suffice.
"We're looking to find the best ways to serve our mission and provide the best working environment for our staff," he said.
Johnson said that if the organization were to move, ISO would likely seek a spot on or near the Circle, noting it "is of paramount importance to have access between the administrative functions and the musical functions of our organization."
He declined to share where on the Circle the not-for-profit might be looking.
Symphony centre is also home to a handful of other organizations and businesses—several of them music-based—which lease space. The building is managed by Cushman & Wakefield.
It's unclear whether ISO would maintain ownership of Symphony Centre if it opts to move its offices to another location. It potentially could work out a deal with a buyer to ensure continued access to the Hilbert Circle Theatre from the entrance of Symphony Centre, which was the arrangement ISO had with the building's former owner.
The property could be a problematic sell for office use due to its narrow floor plates. At 17 stories and 96,000 square feet, Washington Place would only offer about 5,500 square feet per floor.
The ISO maintains banquet and reception space for rent on the 17th floor of Symphony Centre.
Please enable JavaScript to view this content.