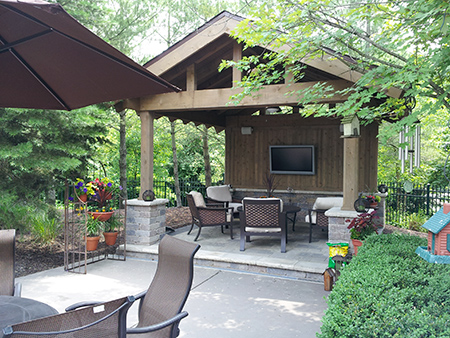 Indy-area landscaping experts say three realities dominate almost every project they undertake these days: A near-inexorable move toward smaller (often much smaller) yards, a desire for smart-looking outdoor gathering spaces, and a universal longing for less outdoor maintenance work.
Here are some of the ways the landscaping industry is helping to make that happen.
1) Smaller plantings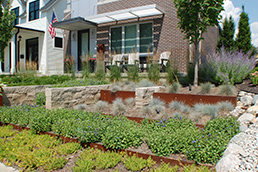 Homeowners are looking for smaller plantings that are fairly low maintenance. But Amanda Thieman, owner of 317 Grow, said everything needs some attention. (Photo courtesy of 317 Grow)
Flip through landscaping trade journals and you'll find ads for numerous new perennials, trees and shrubs, many with the word "dwarf" in their names. That's because homeowners aren't particularly interested in spending their weekends trimming back their lilac bushes or deadheading azaleas. And with smaller yards in vogue, there simply isn't room for a sprawling pussy willow or highly invasive flowers.
"There's a smaller hydrangea, and a new catmint (catnip) called Cat's Pajamas, as well as a slew of other perennials of all shapes and sizes," said Donny Duke, director of design for the Engledow Group. "For a long time people have asked for things that are more compact and give more long-lasting color."
There's just one problem. The plants are living things, and they, like the dinosaurs in Jurassic Park, don't necessarily follow the agenda laid out for them by their creators. For instance, Duke points out that in the trade, a "shrub" is defined as something that can have a footprint of up to 20 feet. Breeding smaller versions of popular varieties takes decades, and even the "little" ones can get out of hand if someone doesn't prune them regularly.
"These are living things," said Amanda Thieman, owner of 317 Grow. "And there's a difference between low maintenance and no maintenance. I tell my clients, 'You can't just not ever mop your kitchen floor.' It's the same outside. There's maintenance tied with everything."
2) Low-maintenance lawns
Ironically, one of Thieman's favorite low-maintenance items has yet to catch on in a big way locally. It's called the no-mow lawn, and it's a drought-tolerant grass mix that stays naturally short (well, short-ish) and requires only one mowing a year, if that. There's just one drawback. Or rather, a feature that homeowners who want their lawns as short and carefully groomed as a Marine's flattop see as a drawback. The grass, it seems, grows just a touch too long and gets a little too shaggy for most people's tastes.
"It gets longer than regular turf, so it flops over a little bit," Thieman said. "I love it, but people really want a manicured, perfect lawn. And this definitely has a native, wildflower feel to it. It all goes back to the design expectations of the client."
She's a fan, nevertheless, and says it looks awesome in large yards. In small yards, however, it might look like you forgot to mow.
3) Outdoor party spaces
For the umpteenth year in a row, outdoor pergolas are big sellers. Though this year's model is typically more elaborate and contemporary-looking than the cedar-beamed, paver stone-floored versions of years past.
"People are looking for cleaner lines, more urban designs, and a simpler palette of materials," Thieman said. "People are starting to think outside the box, more than they ever have here, which is great to see."
One specific change is in pavers. Instead of looking like something purchased from the nearest hardware store, this year's versions offer everything from hyper-realistic natural surfaces to intense colors to models uniquely equipped to survive Indiana winters in style.
"Surfaces are coming out of the factory with sealers already applied to them," Duke said. "There are lots of options, because there's a huge market for pavers that don't look like pavers. There's tons and tons of choices."
The stuff buyers pack into these outdoor living areas varies according to taste. Some opt for outdoor kitchens, though most see the space as a place to chill rather than sling hash. Some spaces are even equipped with outdoor-rated televisions that—allegedly—can stay in the yard year round. Dan Syrus, landscape designer for Hittle Landscape, still advises taking them in for the winter.
"That outdoor space is basically an outdoor living room," Syrus said. "It just depends on how people want to use it. Some want to make it a cooking space, others just want to hang out with friends and sit around the fire."
While one would think "she sheds" and other iterations of tiny, freestanding workspace/office/bedrooms would be a big hit, they're actually a rarity in these parts. Many homeowners associations absolutely despise them, and equipping one with water and/or electricity requires a long, expensive permitting process.
"Plans have to be submitted and approved," said Syrus. "A lot of neighborhood covenants don't allow for outbuildings like that."
4) Fire features instead of fire pits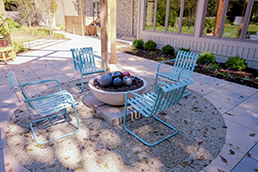 Firepits—but not the messy, wood-burning kind—are still the rage. Homeowners like to have the ability to turn gas fire- pits on and off easily. (Photo courtesy of 317 Grow)
Fire is still a popular element in many backyards, though the way it's used has evolved. Wood-fueled pits, which generate lots of eye-watering smoke and are a pain to light and extinguish, have for years been giving way to gas-fired pits. They can be sited pretty much anywhere, start with the flick of a switch, burn cleanly, and don't create a distinctive odor.
"You can turn them on and off, you don't smell like a fire when you come in the house," Thieman said.
And the fact that gas lines can be run just about anywhere has opened up landscapers' thinking. Why just have a fire pit when those flames could literally be anywhere? For instance, a linear fire feature that's several feet long but only a few inches wide. It could be placed against a masonry wall so that the heat from the flame reflects outward. Or small fire features built into outdoor counters that can be turned on and off with the flick of a switch.
And that's just the beginning.
"There's bubbling pots that are put at the edge of a pool, and the water bubbles out of the pot and falls into the pool, and yet there's a fire source in the middle of the pot, just barely above the water," Duke said. "There are all sorts of different things that incorporate fire but aren't just fire pits."
5) Smart lighting
Anyone who's recently strolled through a big-box hardware store knows that LED lights pretty much own the outdoor market these days. What's changed is that the lighting quality keeps improving and the prices keep dropping. And, perhaps most intriguingly, the systems' IQs keep rising.
"The new thing that's out is systems where you can select different colored lights if you want to have something available for a particular season," Duke said. "You could turn the lights red and green during Christmas, and the rest of the year you could leave it warm white. And if the Colts won the Super Bowl, you can turn them blue."
How much effort this requires on your part depends on how much cash you put into the system. For instance, cheaper models require changing the bulbs manually. More expensive ones feature apps that can change the colors via your phone. And top-end models let you jigger those lights from your laptop, while vacationing in the Caribbean.
"Everything has a different price point," Duke said.•
Please enable JavaScript to view this content.