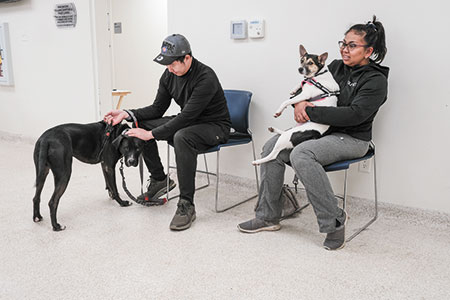 The founder of a low-cost animal clinic in Indianapolis is alleging the not-for-profit's current leadership is misleading donors and mismanaging funds.
Scott Robinson, a medical doctor who founded The Foundation Against Companion-Animal Euthanasia Inc. in 1993, has been concerned about FACE's operations for more than a year and, in February, filed a complaint with the Office of the Indiana Attorney General against the organization.
His worries stem from FACE's $3.6 million expansion of its facility at 1505 Massachusetts Ave., which was completed in early 2018. The project doubled FACE's clinic from 7,000 square feet to 14,000. Robinson claims that FACE is not using the new space as intended—and as promised to donors of the capital campaign that funded construction.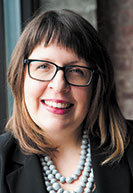 Hancock
But the organization's current leader, Jen Hancock, said her predecessors didn't plan for the additional operating costs an expansion would create, forcing her to re-evaluate the group's operations and services.
According to materials from the capital campaign, which are still featured on FACE's website, the expansion was meant to allow the organization to increase its surgery space, add X-ray machines and designate certain areas to treat animals with highly infectious diseases such as parvovirus and panleukopenia.
The campaign, which launched in late 2015, was designed to last three years.
Robinson said FACE has not only not expanded its services, but has shortened the clinic's hours and reduced the number of spay/neuter procedures performed annually.
"They're wasting the clinic," he said.
Bentley appears grumpy about his cone after being neutered
.
In 2018, FACE performed 10,249 spay/neuters, down from more than 14,000 just two years prior.
"Dr. Robinson believes FACE's assets are being misapplied and wasted. FACE ran a campaign to raise funds for an expansion to its facilities to provide more services," Robinson's complaint says. "FACE continues to solicit donations on its website under the guise of providing these services. Yet, despite having raised more than $3 million dollars and completing the addition, it is providing fewer services instead."
But Hancock, who became executive director of FACE just before the expansion was completed, said she didn't realize until the building was opening that the clinic had no financial plan to increase staffing levels to accommodate additional services.
"We were so focused on trying to make sure we completed the construction of the building," Hancock said. "And it wasn't until after the fact that we realized there were a lot of promises made that needed to be re-evaluated."
Plus, she said the organization ran into budget problems in 2016 that caused construction delays and cuts to staff, spay-and-neuter hours and the community cat program.
"What we've been trying to do is remedy this," Hancock said.
The Attorney General's Office confirmed receiving the complaint from Robinson, but does not comment on pending cases.
FACE was not officially notified of the complaint by the Attorney General's Office, but Hancock said she has seen it.
Not afraid to fight
Robinson fought for years to raise the necessary funding to open a spay-and-neuter clinic that would offer services at affordable prices.
At the time in the 1990s, local politicians, veterinarians and the Humane Society of Indianapolis opposed Robinson's plans, but he strongly believed spaying and neutering dogs and cats in the community would reduce the city's high euthanasia rates.
FACE finally opened its Mass Ave clinic in March 1999. The day it opened, Robinson said, it became backed up for three weeks. Since then, more than 240,000 spay/neuter procedures have been performed there.
"FACE changed everything in Indianapolis," Robinson said.
About 22,000 dogs and cats were euthanized every year in Indianapolis before FACE opened, a number that has dropped to fewer than 2,500—although several other organizations in the city also offer spay-and-neuter services.
Robinson, who served on the board from its founding until 2008, started having concerns about FACE in fall 2017, when the board removed his ex-wife, Ellen Robinson, as executive director.
She had served in that role for 19 years, and Scott Robinson said she was never given a chance to talk to the full board. He said he believes members let her go for personal reasons.
Ellen Robinson said she doesn't know why she was terminated. "I was given no reason," she said.
In January 2018, Scott Robinson wrote to the board voicing concerns about Ellen Robinson's unexpected dismissal and requesting a position on the board.
"FACE's success did not happen by accident or luck," the letter said. "It occurred because Ellen possessed the focus, intelligence and leadership necessary to run a clinic in which the safety of the animals was paramount, and the mission of the organization preserved."
He received no response. So, the next month, Robinson sent another letter to two board members and explained the history of FACE, the way it started despite strong opposition from influential city leaders.
"It should come as no surprise to any who knows me, then, that I would maintain a keen interest in what happens at FACE, and not a person likely to go away any time soon," the letter said.
Robinson said in the letter that the lack of response to his first message made him want a position on the board even more.
Board President Catherine Parker responded to the second message, saying the organization remains committed to its mission, "which is to end euthanasia of cats and dogs in Indianapolis by offering accessible spay-neuter, vaccination, medical care, and community cat care, without financial or geographic restrictions."
She also said the board could not comment on personnel matters.
Robinson replied that he wasn't asking for her to comment on personnel matters—he was asking for her resignation.
Parker did not respond to multiple requests for comment for this story.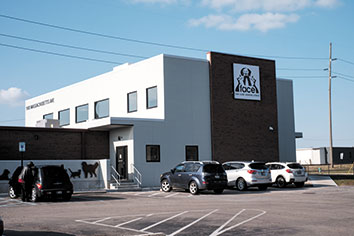 FACE completed a $3.6 million expansion of its facility at 1505 Massachusetts Ave. in 2018 but has not had the staff to take advantage of the opportunities it offers.
'Animals are dying'
Robinson said he's obviously upset with the board for firing Ellen Robinson, but that he's also pursuing the complaint because he's worried the situation at FACE isn't improving and that the board is ignoring it.
"Animals are dying in Indianapolis because this board can't get its act together," he said.
In Robinson's complaint, he cites capital campaign materials that say the expansion increased the number of surgery tables, added an X-ray machine, designated certain areas to treat highly contagious infectious diseases and increased space for diagnostic equipment.
Robinson argues that FACE isn't living up to any of that. He also criticizes the organization for continuing to solicit donations for the capital campaign even though construction has long been complete.
Hancock, who was hired as director of development in late 2015 to help with the capital campaign and became executive director after Ellen Robinson was terminated, said some of Robinson's accusations are inaccurate.
For example, FACE is offering X-ray services and treating some infectious diseases. But she said FACE was never meant to be an emergency provider, and there are limits on the types of surgeries it can perform due to the veterinarians' expertise and time.
Plus, Hancock said, Ellen Robinson did not create a plan to increase the clinic's staff to take advantage of the expansion. That's something Hancock said she didn't comprehend until the project was finished.
As a result, Hancock decided not to take vets away from performing spay-and-neuter procedures in order to provide other wellness services. She said the group's mission from the beginning was to provide a high volume of low-cost spay-and-neuter services in an effort to reduce the number of dogs and cats that had to be killed.
FACE leadership has spent the last year conducting a staff analysis to determine the clinic's needs and how they could be funded.
Hancock said she also realized—well after construction was underway—that no space in the building was dedicated to treat dogs with parvovirus, a highly contagious viral illness, as she believed there would be.
"It became very, very clear—again—that there was no plan in place for treating those patients," Hancock said.
Ellen Robinson, who was with FACE when the project started, said the facility was "absolutely" designed to treat dogs with parvovirus.
"I reviewed the plans with everyone," she said. "So, if there was some problem with the design, no one said anything. I can't imagine why they couldn't treat it."
Hancock said FACE is looking at its options and whether it could remodel part of the building to treat parvo beyond the limited outpatient services it offers now. She said the clinic does have space to treat cats for panleukopenia and is doing so.
Hancock also acknowledged the clinic has reduced some services in certain years, including spay-and-neuter surgeries. But she said that's due to veterinarian turnover. From mid-October 2018 to mid-February, for example, FACE had only one full-time veterinarian performing the procedures.
Ellen Robinson said she was sad to hear that FACE has struggled to attract and keep good vets on staff. "I'm worried that euthanasia numbers are going to tick back up if they don't get on top of this," she said.
Hancock said the organization's goal is to perform 13,000 spay/neuter procedures this year, which would be a 25 percent increase over last year.
Vaccine and wellness clinic hours have also been reduced due to staffing concerns. She said that's in part fallout from deficits in 2014, 2015 and 2016. The budget is now $3.5 million.
Plus, Hancock said, FACE's capital campaign hit only about 90 percent of its goal, and the group still owes more than $160,000 on a loan it took out to start the expansion's construction.
Scott Robinson said if leaders were concerned about finances, they shouldn't have said at the expansion's grand opening that they would be providing the services promised during the fundraising campaign.
But Hancock said that, at the time, she was just learning that FACE lacked a plan or funding to pay for additional staff.
"The last year has been working out that plan and developing that plan," she said.
FACE is currently trying to hire another full-time vet, she said, who would work in the vaccine-and-wellness clinic in hopes of expanding the services offered there.
"Yes, we've had a huge impact in the community and, yes, we want to continue to have a huge impact in the community, but I don't want to sacrifice quality for quantity at any given point in time," Hancock said.
Best practice?
The conflict between Robinson and FACE raises a bigger question over a not-for-profit's responsibilities in soliciting donations and spending that money.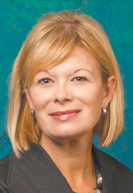 White
Angela White, senior consultant and CEO of Greenwood-based Johnson Grossnickle and Associates, said if an organization is asking for donations for a specific purpose or project, it is obligated to use the funding for that. If not, she said, the not-for-profit should return to the donor to ask for permission to use the money in a different way.
"I think donor education on—Why did that change?—and just transparency and communication is important," White said.
FACE did send a letter to capital campaign donors in 2016 explaining that it had to pause construction because of budget problems, but it did not say the project would be any different once work restarted.
Hancock said she's talked to donors since she took over as executive director, and has reassured them that FACE remains committed to its mission—providing low-cost spay/neuter services.
"All last year, what we've been trying to educate our donors on is that staffing is key," she said.
White said it's not uncommon for an organization to fall short of a fundraising goal, but typically once a capital campaign is over, the messaging on the website changes to provide updates to donors about how the funds are being spent.
FACE's website still gives the impression that the campaign is ongoing. Hancock said she left the information up just in case anyone wanted to donate.
"Essentially, all of the fundraising efforts have been wrapped up for it," she said. "And we haven't received any additional funds."•
Please enable JavaScript to view this content.