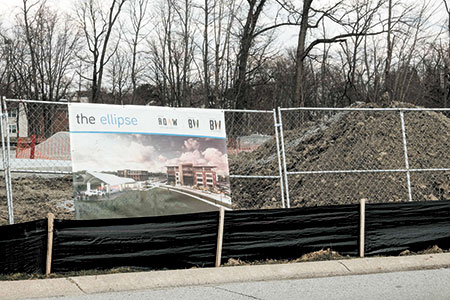 Fishers Mayor Scott Fadness and his backers see the transformation of Fishers as a resounding success story.
But some residents say it's all been too much, too fast, and has left parts of their community almost unrecognizable.
Logan Day, the Republican challenging Fadness in the May 7 primary, is betting that sentiment, coupled with residents' feelings they've been left out of the conversation about development, is broad enough to sweep him to victory.
Day said that, as he meets with voters, many tell him development is happening too quickly and isn't sustainable. He said they long for features of "old Fishers" that have disappeared as development moves in.
"Change is good," said Day, a self-employed consultant. "I don't know that the way it's being forced on a fast track is tending to gain support with people who live here."
Fadness said he realizes change can be difficult, but said it's necessary and was underway long before he became town manager in 2011 and was elected the city's first mayor in 2015.
In the early 2000s, the city's growth came in the form of subdivisions, with 1,200 homes being constructed each year as the population exploded.
Fadness said he recognized early on that continuing to build subdivisions wasn't financially sustainable, in part because of property-tax caps imposed by the Legislature in 2008 and in part because young residents generally aren't interested in living in subdivisions. They prefer urban environments like downtown Fishers, where they can walk to restaurants and shops.
The mayor said the challenge facing Fishers leaders is to ensure the city will be marketable to future residents while also adhering to the traits that made it appealing in the first place.
"That is an art," Fadness said, "not a science."
The scale of change in Fishers has been breathtaking.
City leaders laud the more than $500 million of private investment Fishers has seen since 2015—much of it occurring on East 116th Street near Interstate 69—that's resulted in thousands of new jobs plus amenities such as Ikea, Top Golf and a culinary district under construction nearby.
What used to be a small, sleepy town has transformed into a bustling city of 90,000.
One of the biggest changes is yet to come. Indianapolis-based Browning Investments is embarking on a $157 million mixed-use development that will transform both sides of East 116th Street through downtown. Included will be a boutique hotel, more apartments and retail.
But the development has come at a cost, some residents argue.
Just this week, the 28-year-old Nickel Plate Bar & Grill announced it would shutter its doors. Browning has acquired the historic building (its original structure dates to the 1800s and once was home to Parks Place Saloon) and the Nickel Plate name for its project.
While Browning plans to maintain the building as a restaurant after renovating it, Indianapolis-based Lux Restaurant Group, which owns the restaurant, decided to call it quits, anyway.
Nickel Plate's announcement spurred dozens of Facebook comments from residents, many critical of the city's transformation.
The Browning project also spurred the demolition of the former Archer's Meats & Catering building, which has been vacant since its owners retired in 2017.
But the project that has caused perhaps the largest uproar is the city's plan to convert the Nickel Plate Railroad, which runs through downtown, into a trail.
The conversion includes removing the railroad's track—a move that's spurred some vocal opposition.
Residents have noticed little changes, too.
In February, the city made news by removing the fire department's warning siren, which had been mounted to a grain silo near the Nickel Plate Railroad since the 1960s.
The five-story silo, built in 1912, eventually will be torn down. The fire department hopes to restore the bell and incorporate it into a new headquarters it will construct this year.

Nearly every online news story about a project in Fishers draws critical comments from residents who believe the city has changed too much under Fadness.
Fadness argues that specific places, or even things, don't make people love living in Fishers.
"It's more about the culture and the people who live here," he said. "They're really family-focused, and they're hard-working. Those are the things that make Fishers Fishers. I don't believe it's a bell on a silo … or even the train."
He said the train provided families with memorable experiences, but now his job is to help create new experiences families can enjoy for the next 20 to 30 years.
Those include the trail, but also Friday night concerts at the downtown amphitheater and various festivals made possible by creating an urban center.
Matt Allen, co-owner of Taylor's Bakery and a longtime Fishers resident, said Fadness is on the right course.
When his family moved to the town when he was a boy, he said, there wasn't much to see or do. Today, it's a dynamic city, one where he's happy to be raising his own family.
The city is helping to create destinations for residents and visitors alike, Allen said. "I think it's a neat thing to be part of."
Some residents see things differently.
Mike Balay and his wife, Leigh Ann, say the question isn't whether the growth is too rapid. It's that much of it has been in the form of public-private partnerships that include financial assistance for developers.
Rather than letting the free market drive the growth, Mike Balay said, it's being forced by the mayor and city council.
"Fishers is becoming overdeveloped because projects are being decided at the whim of the mayor, instead of by real private-sector business owners doing due diligence," he said.
Day said several residents he's talked to miss the greenspace that used to be in the downtown core. Today, it's dominated by multi-story buildings.
Sure, he said, downtown needed additional development, but not a deluge of it.
Making matters worse, Day said, residents often don't feel involved in the decision-making process,
By the time residents fully understand a project and its scope, he said, officials often already have decided to move forward.
Day said that, if he's elected, the city will operate in a more transparent way.
But Fadness said the city strives to be transparent with residents. It posts documents and plans online before discussing them publicly, he said.
And the city's master plan, also available online, lays out a vision for its future.
Fadness said it's his job to think about ways to improve Fishers, present those ideas to residents, and listen to their input.
"I earn my paycheck by thinking about what they have to say, what's best for the city, and charting a course for that," he said.•
Please enable JavaScript to view this content.