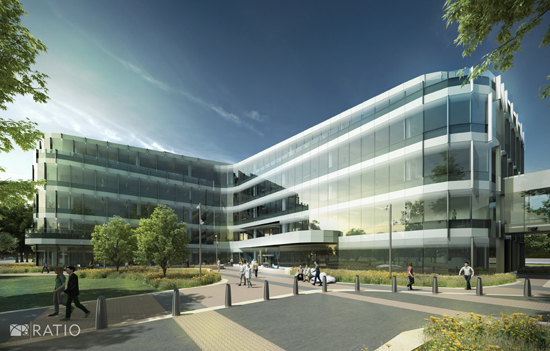 Medical billing firm Zotec Partners said it plans to add 300 employees at a new $47 million headquarters in Carmel over the next four years.
The announcement came Tuesday during a groundbreaking for the planned five-story, 120,000-square-foot office building at the southeast corner of Illinois Street and Fidelity Way, adjacent to its current office location at 11460 N. Meridian St. IBJ reported last month that Zotec was planning to build the headquarters at the 7.5-acre site.
The company hopes to move into the new facility by the end of 2020. Designs call for the facility to have an innovation work center, training facility, a 463-space parking garage and room for growth.
Pending approval of the Indiana Economic Development Corp. board of directors, the IEDC plans to offer Zotec up to $4.15 million in conditional tax credits and up to $200,000 in training grants based on the company's job-creation plans.
The IEDC also offered up to $500,000 to the community from the Industrial Development Grant Fund to support infrastructure improvements at the new site. The city of Carmel is considering additional incentives.
Zotec focuses on specialized medical billing and practice management services, and was founded by CEO T. Scott Law in 1998.
In addition to its Carmel headquarters, the company has offices in Florida, Texas, Georgia, California, Nevada, New York and Pennsylvania. The company has about 275 employees in Carmel and 850 nationwide.
Zotec said it provides services to 17,000 physicians in all 50 states.
"This expansion marks the company's commitment to our clients, our employees and our community," Law said in written comments.
Carmel Mayor Jim Brainard told IBJ the city plans to ask the city council to approve incentives that including funding for the parking garage. Details are still being worked out, he said, but the incentives include establishing a new tax increment financing district to pay for the garage.
"It's a net positive to the community," he said. "These incentives are important to allow the site to be developed."
Please enable JavaScript to view this content.