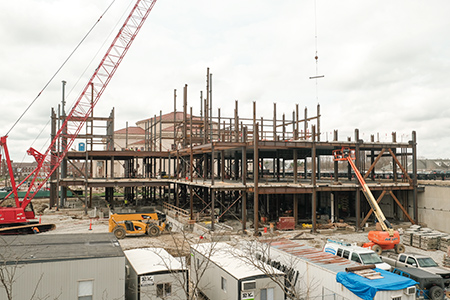 More than four years after the Carmel City Council approved a $20 million, property-tax-backed bond to fund infrastructure work and a parking garage at City Center, the development's second phase is still under construction and debt payments will be due before all the buildings are completed.
But Carmel officials say the delays shouldn't cost taxpayers because the city and the developer put safeguards in place years ago in the event projects wouldn't be finished as projected.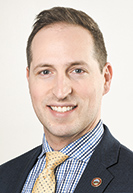 Mestetsky
"I have zero concerns," Henry Mestetsky, executive director of the Carmel Redevelopment Commission, told IBJ.
Carmel-based Pedcor Cos. first proposed phase two of its hallmark Carmel development in late 2013. The $100 million phase includes 10 buildings and adds 575,000 square feet to City Center, of which Pedcor is the primary developer.
The buildings are the latest part of what started as a $77 million idea from Mayor Jim Brainard two decades ago. The project evolved into a massive, $300 million mixed-use development that includes The Palladium, The Booth Tarkington Civic Theater, downtown living options and more than a dozen restaurants and shops. It's also home to Carmel's Christkindlmarkt.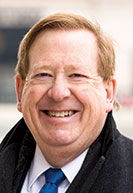 Brainard
After Pedcor introduced the second phase of the development, it asked for $20 million in property-tax-supported bonds, which were approved by the Carmel City Council in December 2014, to fund construction of a public parking garage and related infrastructure. The bond was expected to be repaid with additional property tax revenue generated within a tax-increment-financing district encompassing the new buildings. Bond documents show the development is expected to generate $29.8 million in incremental tax revenue by 2040, enough to cover the $27 million of principal and estimated interest.
When Pedcor sought the bonds, it expected the new buildings to be constructed between 2015 and the end of 2019, meaning capitalized interest on the bond would cover interest payments during the construction period.
But most of the buildings still aren't finished; in fact, construction on some hasn't started. And the first payment—which includes principal and interest and amounts to about $470,500—is due in about nine months. A second payment of about $524,000 is due six months later.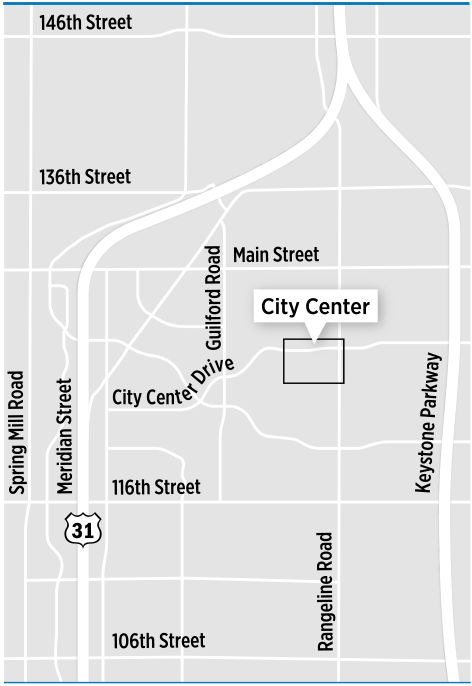 Three of the buildings are complete, including the parking garage, though the residential and retail portions of that project are still under construction. Two others, The Kent, a high-end apartment project, and The Carmichael, a 122-room luxury hotel, are currently being built. And construction won't begin on the other four buildings until later this year or early next year.
Brainard told IBJ the city and Pedcor anticipated the project might face delays, which is why the developer and city put safeguards in place to protect taxpayers.
"The buildings are beautiful; they're built for the next 100 years" he said. "We want to get it done right."
Even in 2016, however, city officials told IBJ they expected the project would be complete by the end of 2019 after getting a slow start. But the work has been even slower than projected then.
The garage needed to be built first to support parking for the new buildings, Mestetsky said. But in 2014, the city and Pedcor weren't entirely sure how large the hotel they hoped to eventually build would be and how many parking spaces it would require, which delayed design and construction of the garage.
In case of those kinds of delays, Pedcor had agreed to provide an array of financial guarantees—including a payment-in-addition-to-taxes agreement (called a PIATT) and securing a $4 million letter of credit from a federally regulated bank that is renewable each year the TIF bond is outstanding.
Those funds were meant to be used to cover bond payments for the garage in case the development of specific buildings stalled or assessments fell short of expectations.
The final layer of protection is a special benefits tax that could be levied on all property owners if TIF revenue falls short any time during the life of the bond, a prospect that has concerned some residents since the beginning. But city officials say that won't be needed.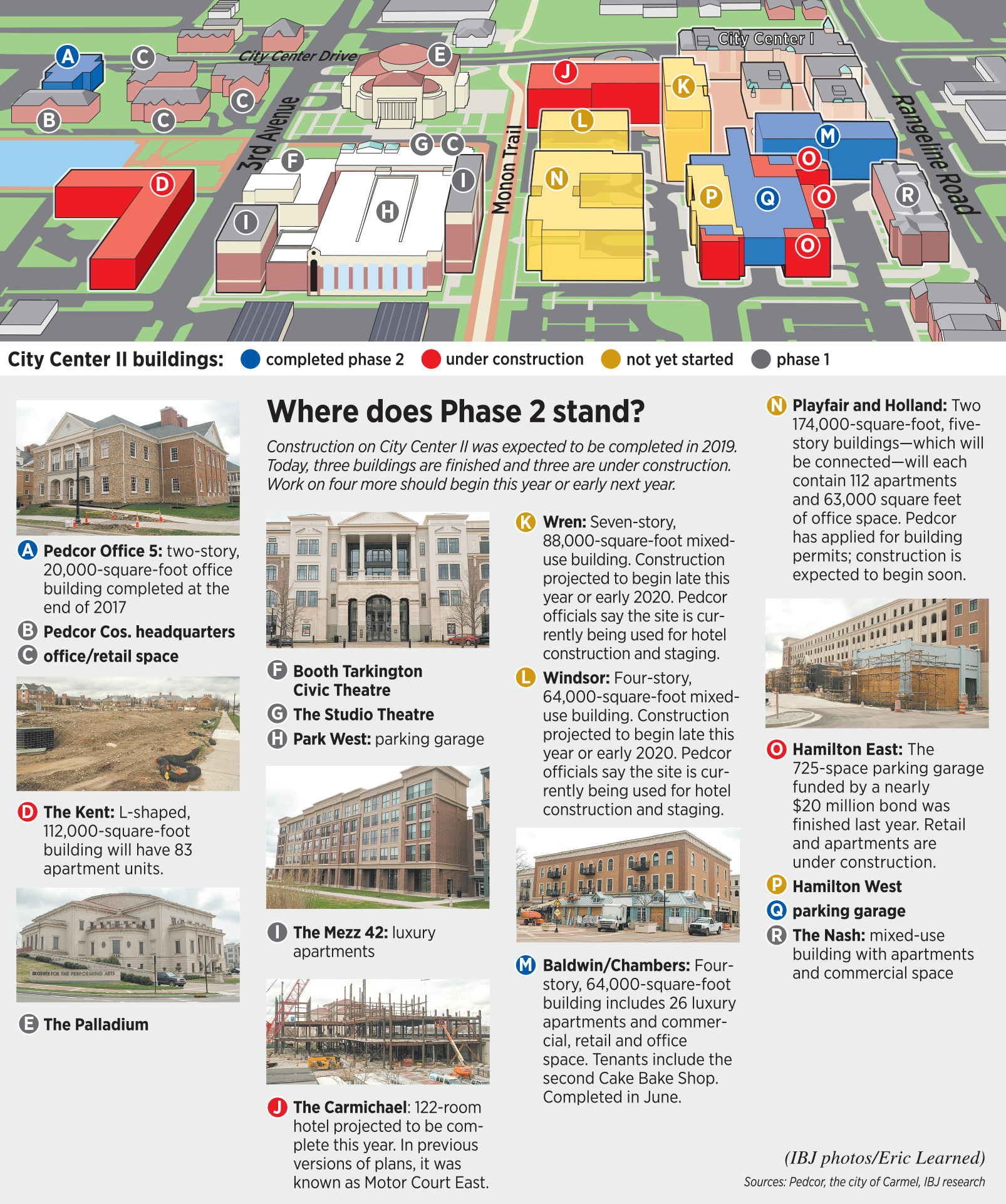 In 2020, the two completed buildings will be generating incremental tax revenue. The retail portion on the east side of the parking garage might be, too, Mestetsky told IBJ. And since July 2018, Pedcor has paid nearly $64,000 in PIATT payments, with another payment due in July.
So far, interest on the $20 million bond has been capitalized, but debt service begins in January.
City leaders say they aren't concerned the project won't be complete this year, and they argue taxpayers are fully protected by the safeguards put in place. Mestetsky told IBJ the deal is playing out as expected.
"Several years ago, they proposed to cover the cost of public infrastructure either with tax revenues from buildings or just with payments," he said. "That is not behind to me."
Melissa Averitt, senior vice president of Pedcor Cos., sees it the same way. The company is dealing with normal issues associated with constructing multiple buildings close together and needs areas for staging and site work, she said.
"City Center is making good progress on the buildings. … Pedcor remains committed to building beautiful buildings in downtown Carmel," Averitt wrote in an email to IBJ. "I would say our schedule speaks [for] itself."
She told IBJ that Pedcor stands by the deal and will continue to make PIATT payments per the agreement.
Here's where construction stands: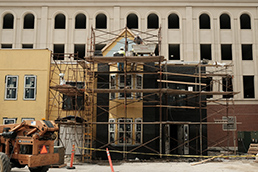 The 725-space Hamilton East garage was finished last year, but work on the adjacent apartments and retail spaces remain under construction. (IBJ Photo/Eric Learned)
◗ Park East, also known as the Veteran's Way parking garage, was completed in May 2017 and opened to the public that September. Hamilton East, the residential portion connected to the garage is under construction now. Hamilton West, the retail portion, will begin construction once Playfair and Holland are finished, Mestetsky said.
◗ Pedcor Office 5 was the second building in phase two to be finished. The two-story, 20,000 square-foot office building was completed at the end of 2017, Carmel Redevelopment Commission documents show.
◗ The 64,000-square-foot, four-story Baldwin/Chambers building was completed last June and includes two stories of commercial space and two stories of residential units. Tenants include the Cake Bake Shop, Oliver's Twist and Addendum Gallery. The building is marketed and branded as two buildings but was constructed as one.
◗ The Kent, 112,000 square feet of luxury apartments, is under construction southeast of the reflecting pond. Mestetsky said unexpected utility issues delayed the project by a year, but the building should be "going vertical" a month from now.
◗ Averitt said Pedcor has applied for building permits for Playfair and Holland, two connected buildings that will be a combined 174,000 square feet. They will be constructed west of the Veteran's Way parking garage and will have 112 apartments and 63,000 square feet of office space.
◗ The Carmichael also is under construction and is expected to be complete in 2020. Originally identified in early Pedcor documents as Eastern Motor Court, a 76,000-to-91,000 square-foot building that was expected to be apartments and commercial office/retail space, officials had left the site open to be developed into a hotel.
◗ Wren and Windsor will be the last two buildings constructed, as the land is currently being used for construction staging for the hotel, which is under construction and expected to be complete in 2020. Averitt said construction on those buildings will begin late this year or early next year.
Mestetsky said that in the next two years, all of the buildings should be open and paying taxes that generate TIF revenue—or larger PIATT payments will kick in to cover bond payments.
At their highest, the bond payments total more than $1.28 million a year, according to the amortization schedule. The debt would be retired in January 2041 unless it's refinanced or paid off sooner.
"The city just needs to make sure the taxpayers are protected, so whether it's Pedcor building the buildings or Pedcor paying the bonds for the garage … the taxpayers are protected," Mestetsky said.•
Please enable JavaScript to view this content.