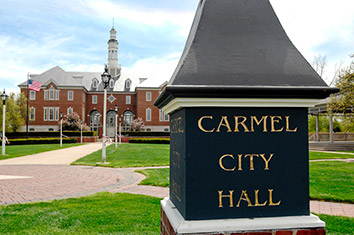 The Carmel clerk-treasurer and the employee she recently fired disagree on whether the now short-staffed office can complete an annual audit on time for the State Board of Accounts.
The Carmel City Council on Tuesday night held a special public meeting to hear from Clerk-Treasurer Christine Pauley and former Director of Internal Controls Ann Bingman, who was fired from the office last week, after councilors raised concerns about whether the city would be able to complete a financial audit without Bingman, formerly the only certified public accountant employed by the city of Carmel.
The city council scheduled the meeting Friday morning and posted a notice that said it would "investigate the clerk-treasurer and the ability of her office to adequately respond to and assist the State Board of Accounts during its annual city audit and to otherwise manage the city's accounts and financial affairs."
"This body has a duty to the citizens of Carmel to make sure as an organization that we have the ability to successfully complete the state audit, and that is the purpose of this meeting tonight," Council President Jeff Worrell said when opening the meeting.
Pauley told councilors the city's accountants have all the documentation needed to complete the audit, but Bingman disputed that conclusion, saying the audit process is just beginning.
The meeting comes amid turmoil already unfolding in Carmel city government after Pauley on Monday accused Mayor Jim Brainard of creating a toxic environment at city hall after she turned down at least two personal invitations to accompany him on trips.
Bingman, who was fired April 17, told the city council Tuesday night that she believes the move was politically motivated. She said she had shared a document related to an IRS tax audit on a conduit debt obligation with Mayor Jim Brainard and later had her employment terminated by Pauley.
Pauley called her the mayor's snitch, Bingman said.
"Since the whole primary has started … it's gotten ugly in our office," Bingman testified before the council. "Very ugly. It's a toxic environment. I can't emphasize enough how I was on guard all of the time."
 Bingman said she was never reprimanded before being fired. She has worked for the city since February 2016 and was the city's only CPA when her employment was terminated.
When asked, Pauley declined to share why Bingman was fired, saying personnel matters are confidential.
Bingman told councilors that this is the fourth year she's assisted the clerk-treasurer's office with the annual audit, and she fears without her experience and knowledge, it might not be completed on time. Bingman has been a CPA and a certified fraud examiner for more than 20 years. She also has paralegal experience.
She told councilors preliminary documents have been submitted for the audit but there's much more work ahead for the office.
But Pauley, who was questioned by the council first, said her office has already provided all the necessary documentation to its accountant, Curtis Coonrod, to prepare a comprehensive annual financial report, also known as CAFR, to the State Board of Accounts. An inventory of physical assets owned by the city is now beginning, she said. 
She also told the council her staff members have been cross-trained so they can fill in for one another when necessary. She's already begun interviewing candidates who are CPAs or have an MBA to replace Bingman, she said, noting that prior administrations had not employed a CPA.
"I have an exemplary staff," Pauley said.
Pauley said going forward she would ensure all nine staff members have the opportunity to interact with councilors so the fiscal body is comfortable with multiple staffers rather than interacting with one person they believe is solely capable of completing certain office tasks.
"The nervousness or fear that this one individual leaving creates a void, you know, it's a lesson learned that we need to have all other nine staff members be able to talk with each one of you so that you have a comfort level," she said.
After hearing from both Pauley and Bingman, council president Jeff Worrell encouraged council members to consider what they heard Tuesday night before making recommendations later about how the council should proceed.
He told IBJ he has a lot to think about given the discrepancies he heard. He hopes the council is ready to discuss the issue further at its next meeting on May 20.
Ultimately, the council will need to "determine how it can affect the situation in a positive manner," he said. That may be as simple as providing funding so Bingman can move to another department and continue advising the city.
"I regret that you have been terminated … you have my full support," he told Bingman. "I know that you served the city admirably."
Please enable JavaScript to view this content.