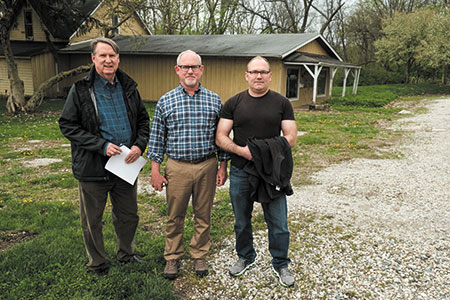 A new effort to improve a four-acre parcel in Zionsville's downtown core is meeting opposition from neighbors and residents, the same parties who have blocked similar proposals for the same site and want to see a smaller-scale project there.
But the mixed-use project called Sycamore Flats, filed this year by Carmel-based J.C. Hart Development, appears to have more momentum than past proposals opponents or local officials rejected.
The $40 million project—which would include multifamily housing, a parking garage and a small restaurant—would be built at the southwest corner of Sycamore and Second streets, a property that formerly housed the Calico Corners store.
J.C. Hart has requested the land be rezoned from the urban village business district to a planned unit development, a custom designation that allows a developer to combine several uses—such as residential, commercial and recreational—in one area or even in the same building.
The town's plan commission has already recommended to the town council that the rezone request be approved. The council is expected to discuss the project at its May 6 meeting.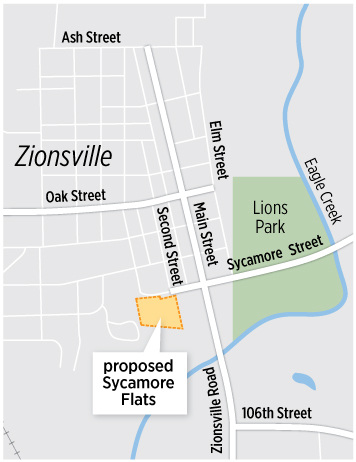 Once the proposal was made public, it faced immediate opposition from residents.
As of May 1, a petition to stop the development had collected more than 2,000 signatures. The town's population is just more than 26,000.
"We strongly oppose the 184-unit apartment complex that will overcrowd schools, negatively impact town resources, and is [in] stark contradiction to one of the reasons [a] majority of [residents] specifically seek out to live in the Zionsville community for its charm, character and authenticity," the petition, launched by community group Zionsville Neighborhood Action Group, reads.
The site is on the southern edge of Zionsville's quaint downtown village, which is home to 600 houses and more than a dozen local businesses. The Zionsville Village Residents' Association also opposes the project.
A vacant and dilapidated commercial building and a vacant house currently stand at the site—at 165 and 235 W. Sycamore St. Neighbors say they want to see the site redeveloped, but they want the project to be harmonious with the village. A multi-story building of at least 300,000 square feet doesn't fit, they argue.
They're concerned the project, which would include 184 one- and two-bedroom apartments and about 4,350 square feet of commercial space, will create traffic problems and burden city resources. They're also worried that a proposal to extend the life of a tax-increment-financing district encompassing the site will burden the school system's budget.
Town administrators declined to comment on the development for this story, saying the rezone is ultimately up to the town council. Council President Josh Garrett, whose district includes the village, told IBJ he's not made up his mind on the rezone as he continues to gather neighborhood feedback and conduct research of his own.
J.C. Hart representatives did not return messages seeking comment.
Plans of the past
The Sycamore Flats project is the latest proposed for the site, with all previous ideas rejected by neighbors or town officials, who have long been picky about new development in Zionsville.
The Zionsville Neighborhood Action Group organized in 2013 when Indianapolis-based Buckingham Cos. began working to acquire 20 acres of land along Eagle Creek for a mixed-use project, including the four-acre site J.C. Hart now hopes to redevelop. But those plans never panned out.
In 2016, a development group called 200 West Partners LLC proposed a mixed-use project to be built on the site. Called 200 West, the development would have included a 28,500-square-foot, three-story retail and office building with a 5,000-square-foot restaurant; 15 single-family houses with garages; and a four-story multifamily building with 50 units.
Back then, ZNAG members complained the project would add high-density housing to a low-density area, and they were concerned about the potential traffic impact (plans called for primary access to be from Sycamore Street) and the regular flooding that occurs on the site.
Eventually, the project was rejected by town officials, who raised concerns that the planned unit development and overall project lacked specific details.
A few months later, the same developer filed new plans. That project was completely commercial and didn't require a change in zoning. Still, town officials weren't overly impressed, and the project never moved forward.
Now, residents are facing a project that has less commercial space but more density. And it appears to be moving more quickly than past proposals. It also seems more popular with public officials.
The town and the developer have had preliminary discussions about establishing a new TIF district for the project that extends the life of a district set to expire in 2028. TIF funds could be used to help pay for some public improvements on the site.
And unlike the previous mixed-use project, this one heads to the town council with a favorable recommendation from the Plan Commission.
When asked whether past projects now seem more attractive, village resident and real estate agent Gary Angstadt said yes.
Everyone agrees the site needs to be redeveloped, but neighbors want to see a project they feel complements the village.
"Do we want something there? Yeah," said Bob Royalty, a village homeowner. "But we want something that fits our neighborhood."

Too many units
Throughout the village, lawn signs encourage town officials to reject J.C. Hart's project. "Sycamore Flats, flat wrong," the signs read.
ZNAG members say they'd be more comfortable with single-family houses or even condos. A one- or two-story commercial building for new businesses would also be a good fit, they say.
Three neighbors—Angstadt, Royalty and Bret Brewer—sat down with IBJ to discuss their concerns and said they'd be more comfortable with underground parking than with the proposal's parking garage. And they said they're not completely opposed to the idea of rentals. Already, some downtown buildings have apartments on their second floors, Angstadt said. But he believes 184 is too many.
Also, a portion of the site sits in a floodplain, making it more suited for parkland, Angstadt said.
The current proposal—which would be four stories at its tallest—is too large and dense and too tall, they argue. Most area buildings are only one or two stories.
At 184 units on 4.3 acres, the project's density equates to 46 units per acre. Generally, Zionsville's zoning ordinance allows projects zoned for multifamily buildings to have a gross density of no more than nine units per acre, unless they're zoned as a planned unit development.
The developer, however, has said the density has been reduced to the minimum needed to make the project cost effective.
Under the proposed PUD ordinance that would govern the site, maximum building height would be limited to two stories for any facade facing Sycamore Street, including the complex's leasing office and the retail component. The building height would increase from two stories at Sycamore Street to three stories over a walk-out lower level.
The proposed PUD ordinance limits the maximum number of units to 184 but does not set a minimum or maximum floor area for the multifamily portion of the project. Apartments are expected to run from 671 square feet to 1,387 square feet. The proposed ordinance caps the business and commercial use at 6,000 square feet.
While documents associated with the project don't indicate the building's total square footage, ZNAG has estimated it to be at least 300,000 square feet based on the mix of one- and two-bedroom apartments. For comparison, that's double the size of the Lids building in Zionsville's Creekside Corporate Park on West 106th Street.
Traffic concerns
Royalty lives on Third Street—his back patio faces the site—and worries that, if the plan is approved, the view out his back window will be parked cars. J.C. Hart's plans call for a small surface lot and private drive to be built along Sycamore Street. Royalty also worries the one-way street he lives on will become even more congested.
Sycamore Street is a two-way road until west of Second Street, where it curves north to become Third Street, a narrow one-way road that allows only southbound traffic. Third Street near Royalty's home is only 11 feet wide (he measured it for IBJ).
And many other streets surrounding the project already get congested during peak travel times, Brewer said.
The parking garage for Sycamore Flats residents would have 256 spaces, meaning up to 256 more vehicles would be using already-crowded streets, he said.
But on a website dedicated to the project, J.C. Hart argues the apartments would help existing traffic congestion by "providing additional economic benefits and various development fees to the town to pay for such improvements." A two-way private drive would service the traffic near the leasing office on Sycamore Street, and one-way traffic on Third Street would be preserved, the developer states.
Additionally, the community's entrance would be on the east side of the site and would be facilitated by a new street built between the site and a funeral home to the east, a site plan shows. Drivers would access the street from Main Street, and left turns on Sycamore Street would be prohibited. Drivers traveling east on Sycamore Street would be prohibited from turning right onto Main Street.
That traffic plan isn't ideal, opponents of the project say.
Mark Albers, who, with his brother, runs the Bentley of Zionsville service center and dealership on First Street in the village, told IBJ that, if the entrance is established on the east side of the site with a private drive, it will kill business for nearby business owners, including Bentley.
He suggested the entrance be established farther south.
"If they actually put the entrance over here … it's going to ruin our business," he said. "They're trying to build too much."
Businesses in the area are used to the congestion, Albers said. Already, the intersection of Second and Sycamore streets gets backed up frequently, and Albers' employees and guests headed to the nearby Dairy Queen use Second Street for parking, making that street difficult to traverse.
But the added traffic from 184 apartments would be too much.
"We've been here a long time, and we've made it work," he said. "We're OK. Our business isn't growing leaps and bounds, so we had no plans to really leave here; we just kind of deal with it. If they actually put that in there, forget it—it just made my life impossible."•
Please enable JavaScript to view this content.