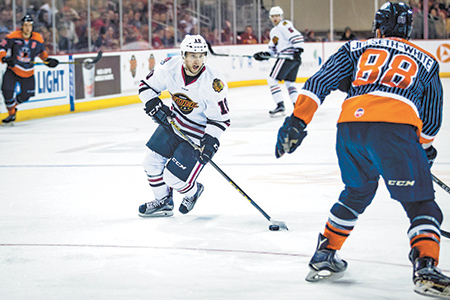 The Indy Fuel will continue to play as a minor league hockey affiliate of the Chicago Blackhawks through the 2021-22 season under a three-year contract extension announced Thursday.
The agreement extends what had been a five-year affiliation signed in 2014.
"The Chicago Blackhawks have been an incredible organization to work with over the years," Fuel President and Chief Operating Officer Larry McQueary said in written comments. "We are excited to continue that partnership in developing and growing high-level talent to pass through the franchise system."
The Fuel compete in the ECHL (formerly known as the East Coast Hockey League), the premier "AA" league serving as a pipeline to the NHL.
The ECHL is one of two minor leagues for the National Hockey League. Based in Princeton, N.J., the 26-year-old league has 27 teams in cities across the United States, including Fort Wayne, Cincinnati, Toledo and Kalamazoo.
The Fuel closed the 2018-19 season April 6 with a 35-32-5 record, in fifth place in their six-team division, missing the ECHL playoffs. The team drew a franchise-high average of 4,156 fans per game to Indiana Farmers Coliseum at the Indiana State Fairgrounds, good for 16th in the league.
The Fuel also have an affiliation with the Rockford (Illinois) IceHogs of the American Hockey League. The AHL serves as the primary developmental league for the NHL. Generally, players will be promoted from the ECHL to the AHL before moving up to the NHL.
One of the those players was former Fuel goaltender Collin Delia. Delia became the first former Fuel player to see action with the Blackhawks on March 29, when he recorded his first NHL victory with 25 saves against the Winnipeg Jets. Delia played with the Fuel in the 2018-19 season.
The Blackhawks have a long history of hockey ties to Indianapolis. The Indianapolis Ice were the Blackhawks' main affiliate from 1989 to 1998. The Ice played in the International Hockey League from 1988 to 1999 and in the Central Hockey League from 1999 to 2004.
Additionally, former Blackhawks owner Arthur Wirtz was president of the Indianapolis Coliseum Corp., which built the coliseum at the State Fairgrounds in 1939, and has been called the "father of Indianapolis hockey."
Wirtz's grandson, Rocky, now owns the Blackhawks.
Please enable JavaScript to view this content.