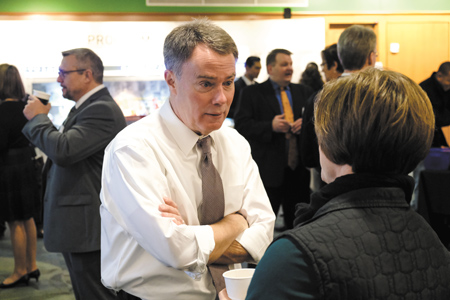 This fall's mayoral election contest is officially set: Incumbent Democrat Joe Hogsett will face off against Republican state Sen. Jim Merritt.
The two candidates easily won their party's respective primaries on Tuesday against unknown challengers.
Hogsett secured 84% of the vote in the Democratic race, compared with challenger Denise Hatch, who captured 16.5%. And Merritt earned 83% of the vote in the Republican race. Challengers Christopher Moore secured 15% and Felipe Rios earned 2.7%.
Tuesday's primary election was largely a formality for the candidates, by far the most well-funded in their respective races.

Jim Merritt
As of April 12, Hogsett's cash-on-hand total was $3.88 million and Merritt's cash-on-hand figure was $223,960, meaning that Merritt will have to make up a large deficit in fundraising if he wants to be competitive with Hogsett.
He won't be able to rely on much money coming in from his primary competitors' donors: neither Moore nor Rios raised any funds this year.
Merritt has said he hopes to raise between $1 million and $2 million to wage a competitive fight against Hogsett.
Merritt, so far, has focused his campaign on attacking Hogsett for how he has handled basic city services in office.
For instance, Merritt has held campaign events blaming Hogsett for the city's pothole problems, stating "he alone is responsible for this mess."
"It's going to be about infrastructure and it's going to be about crime," Merritt told supporters gathered at his victory party Tuesday evening. "We are united. We are going to get this done."
He pledged that "public safety is going to be job No. 1 in a Merritt administration."
"Most of us wake up and one of our neighbors has been shot," Merritt said. "That is totally unacceptable and we will do better."
He also blamed Hogsett for being weak overall.
"We are not going to cower in the corner and throw in the towel of leadership," Merritt said. "That is what's being done right now."
Hogsett, meanwhile, has largely ignored Merritt in the race so far.
The incumbent released a statement Tuesday evening outlining what he says are accomplishments of his administration:
"When Indianapolis faced a deep deficit, we worked together to deliver back-to-back balanced budgets," according to the statement. "When our city felt the harms of decades of underfunding on our roads and streets, we stepped forward with a plan to spend $400 million on infrastructure over the next four years.
"And when we saw that not every family feels safe in their neighborhood, we prioritized expanding our police force, invested in programs that target the root causes of violent crime, and returned to community-based beat policing," the statement continued.
Council races
The Marion County Democratic Party's preferred candidates appeared to win all nine of the party's contested primary races for Indianapolis City-County Council seats in Tuesday's election.
And on the Republican side, where there was just one contested race, the party's preferred candidate also appeared victorious.
Six of the nine contested races that took place on the Democratic side were for the party's nomination for open seats.
The only incumbents that were challenged were three of five Democrats who teamed with Republicans in 2018 to oust then-council president Maggie Lewis.
The three remaining held off challengers on Tuesday:
Monroe Gray, a party elder and Democratic incumbent for District 8, easily defeated challenger Eric Cunningham with 72% of the vote to Cunningham's 18%.
And in District 14, incumbent La Keisha Jackson held off challenger Rena Allen with 88% of the vote to Allen's 12%.
In District 9, where William "Duke" Oliver has long served as the Democratic councilman, the race was tight.
Leigh Riley Evans, director of the Mapleton-Fall Creek CDC appeared to come in second place in the four-way Democratic contest, earning 39% to Oliver's 44%, with 96% of the vote counted. Two other challengers, Martha Blue and Phillip Anderson, earned 9% and 8% of the vote, respectively.
The other two Democrats that participated in the Lewis ouster were not on the ballot Tuesday. Stephen Clay, who had a short tenure as president as the result of Lewis coup, decided earlier this year not to run for reelection. And Joe Simpson was defeated in a pre-primary convention by Democrats in favor of former councilman John Barth.
The results set up the following general election races for the City-County Council this fall (incumbent marked with *):
District 1: Leroy Robinson (D)* vs. Richard Anderson (R)
District 2: Keith Potts (D) vs. Colleen Fanning (R)*
District 3: Dan Boots (D) vs. Dan Jones (R)                   
District 4: Ethan Evans (D) vs. Michael McQuillen (R)*
District 5: Ali Brown (D) vs. Adam Cox (R)
District 6: Crista Carlino (D) vs. Janice McHenry (R)*
District 7: John Barth (D) vs. no candidate
District 8: Monroe Gray (D)* vs. no candidate
District 9: Duke Oliver (D)* vs. no candidate
District 10: Maggie Lewis (D)* vs. no candidate
District 11: Vop Osili (D)* vs. Evan Shearin
District 12: Blake Johnson (D)* vs. no candidate
District 13: Keith Graves (D) vs. no candidate
District 14: La Keisha Jackson (D)* vs. no candidate
District 15: Jessica McCormick (D)* vs. Andy Harris (R)
District 16: Kristin Jones (D)* vs. Laura Giffel (R)
District 17: Zach Adamson (D)* vs. no candidate
District 18: Duane Ingram (D) vs. Carrie Zapfe (R)
District 19: David Ray (D) vs. Tony Mendez (R)
District 20: Phil Webster (D) vs. Jason Holliday (R)*
The parties can still appoint candidates to run in races in which no one filed before the primary.
District 21: Frank Mascari (D)* vs. Tyler Richardson (R)
District 22: Jared Evans (D)* vs. Jason Richey (R)
District 23: no candidate vs. Paul Annee (R)
District 24: Ben Brown (D)* vs. Doug Wood (R)
District 25: Justin Braun (D) vs. Brian Mowery (R)*
Please enable JavaScript to view this content.