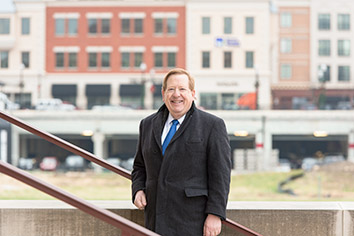 Incumbent Carmel Mayor Jim Brainard held off a challenge from Hamilton County Councilor Fred Glynn in a race that's been one of the most publicized in central Indiana.
Brainard received 56% of the vote (8,194 votes) while Glynn garnered 44% (6,485).
Brainard, who is seeking a seventh term as Carmel's mayor, a position he's served in since 1996, will be on the ballot for the Nov. 5 municipal election. So far, no Democrat has filed to challenge him, but the Hamilton County Democratic Party will have time to slate a candidate if it chooses. However, in Republican-heavy Hamilton County, the primary election often is considered the election as few Democrats run for office there.
Glynn had taken issue with the amount of debt Carmel has accrued under Brainard's 24-year tenure (the Indiana Department of Local Government Finance puts that figure at $1.3 billion) and the number of public-private partnerships the city has undertaken, which Glynn argues has driven small business owners out of the city.
But Brainard is proud of his track record leading Carmel, which often gets placed in top rankings of best places to live, and the transformation the city has seen over the past two decades. What once was a sleepy suburb has turned into a city with a bustling core, 125 corporate headquarters and relatively low tax rates, Brainard argues.
The race between the two turned ugly early, when in March, Glynn told reporters Brainard's campaign had offered him $140,000 to drop out of the race during a meeting between the two campaigns and Hamilton County GOP Chairwoman Laura Campbell. Others at the meeting say Brainard didn't offer Glynn anything, and instead, a Glynn representative asked for money on his behalf.
The issue is set to be discussed at an Election Board meeting next week.
And in the past two weeks, Clerk-Treasurer Christine Pauley, who has publicly supported Glynn, accused Brainard of harassing her through a series of unsolicited emails in which he asked her to accompany him on trips. Brainard has denied those allegations.
For the last week, he has avoided speaking with the media.
In the Carmel City Council at-large race, longtime councilor Ron Carter is out. There are three at-large seats and four Republicans ran for them. Those whose names will be on the November ballot are Jeff Worrell (29%), Kevin Woody Rider (26%) and Timothy Hannon, a local doctor, who received 23% of the vote. Carter received 22%.
In the Carmel City Council central district, incumbent Bruce Kimball held off Chauncey Bogan with 61% of the vote.
For the Carmel City Council southeast district, Adam Aasen, a former reporter for The Current and a local restaurant owner, won with 56% of the vote against Dave Hommel, who took 44%. And in the Carmel City Council southwest district, incumbent Anthony (Tony) Green won with 66% while his challenger Matt Milam received 34%.
Please enable JavaScript to view this content.