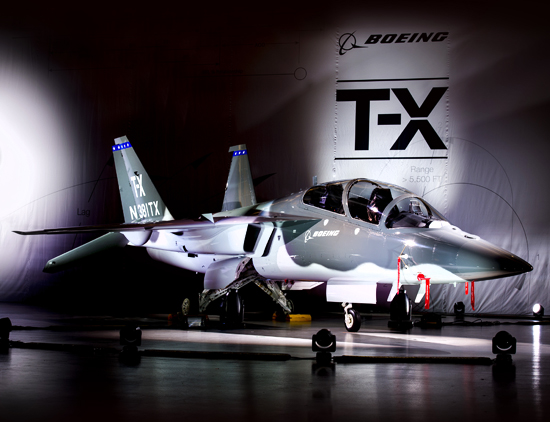 Stockholm, Sweden-based Saab plans to build a $37 million advanced manufacturing and production facility in Purdue University's Discover Park in West Lafayette, where it expects to hire 300 workers starting next year.
Executives from the global defense and security company, along with state and Purdue officials, made the announcement Wednesday morning.
The company said the facility will support production of the U.S. Air Force's next-generation T-X jet trainer and will play a fundamental role in the company's strategy to grow its U.S. industrial and technology base.
Saab said the facility will be used to manufacture a significant portion of the T-X advanced pilot training aircraft, which will help train future U.S. Air Force pilots for generations. Saab and Boeing received a $9.2 billion contract from the U.S. Air Force last year to build at least 351 T-X training jets in the program's first phase.
In Indiana, Saab will produce major aero structures for the T-X, which features an all-new aircraft designed, developed and manufactured by Boeing and Saab.
Subject to approval of its board, the Indiana Economic Development Corp. plans to offer Saab up to $3.9 million in conditional tax credits and up to $1.15 million in training grants over two phases, based on the company's job-creation plans.
The IEDC also will offer up to $200,000 in conditional tax credits from the Hoosier Business Investment tax credit program based on the company's planned capital investment in Indiana.
Purdue Research Foundation, the city of West Lafayette, the city of Lafayette and Tippecanoe County all offered additional incentives.
Construction of the facility is expected to begin in 2020 at the Discovery Park District. Saab said it will hire assembly operators and airplane mechanics as well as employees in logistics, manufacturing engineering, administration and management.
The company also said it would cooperate with Purdue to expand Saab's U.S.-based research and development within possible focus areas, such as sensor systems, artificial intelligence and autonomous systems.
Saab, which has operations on every continent, has more than 17,000 employees. It had $3.5 billion in sales in 2018, of which roughly 23 percent was re-invested in research and development.
"This is a historic moment for Saab," President and CEO Hakan Buskhe said in a written statement. "After careful consideration, we have chosen West Lafayette, thanks to the visionary leadership of both the state of Indiana and the world-leading Purdue University. Today's announcement is a part of our growth strategy in the United States and deepens our relationship with the U.S. customer. We see great possibilities here for this facility and our partnerships."
Suppliers involved in the T-X advanced pilot training program include Triumph Group, General Electric, Collins Aerospace and L3 Technologies. The T-X will be more than 90 percent made in America and is expected to support more than 17,000 U.S. jobs. Initial operating capability of the T-X advanced pilot training aircraft is expected by the end of 2024 with full operational capability projected for 2034.
Purdue's Discovery Park District is part of a $1 billion long-term development project to transform the west side of the university campus. The district is being developed by Purdue Research Foundation in partnership with Indianapolis-based Browning Investments LLC.
"Purdue's strong history in aircraft research and development makes Saab's choice a natural fit," Purdue President Mitch Daniels said in written comments. "But the even tighter fit is with our Discovery Park District concept. Saab's investment will bring more cutting-edge research partnerships for our faculty, more high value employment and internship opportunities for our graduates and more jobs and economic vitality for our neighbors."
Please enable JavaScript to view this content.