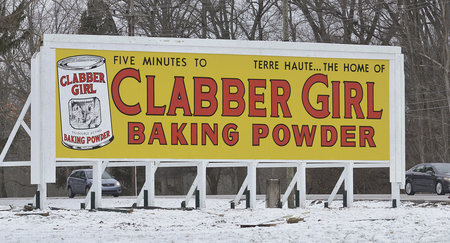 Hulman & Co. said Wednesday that it has sold its iconic Clabber Girl Corp. to focus on motorsports and entertainment, which CEO Mark Miles called its "core focus."
Parsippany, New Jersey-based B&G Foods Inc., which manufactures and sells shelf-stable and frozen foods, bought Terre Haute-based Clabber Girl for $80 million in cash, according to a regulatory filing.
"This decision positions us to fully focus on the continued direction and growth of IndyCar, the Indianapolis Motor Speedway and IMS Productions," Miles said in a written statement.
"It also provides Clabber Girl with a well-prepared owner ready to use its vast expertise and considerable resources to accelerate the growth of the newest member of its impressive portfolio," he said.
Clabber Girl, a company that dates to the 1850s, is best known for baking powder and baking soda products that are sold under that brand name, but it also makes gelatin, mousse, puddings and pie fillings under the Royal brand name and sells coffee through Rex Roasting Co.
It generates $70 million to $75 million in annual revenue.
Hulman & Co. told Terre Haute TV station WTWO Channel 2 that no jobs will be lost at Clabber Girl's local plant, which employs more than 180 people.
"The Hulman-George family takes great pride in the Clabber Girl brand's success, history and critical role in the development and rich cultural fabric of Terre Haute," Hulman & Co. Chairman Tony George said in written comments. "Clabber Girl will always be a cherished and celebrated part of our legacy, and we're excited we've found a strong steward for its very bright future."
B&G Foods, which has been in business for more than 125 years and been growing through acquisitions, manufactures more than 50 brands, including Ortega, Green Giant, Cream of Wheat, Mrs. Dash and Back to Nature. The company has acquired 45 brands since 1996. It posted 2018 revenue of $1.7 billion.
The Clabber Girl "acquisition is consistent with our longstanding acquisition strategy of targeting well-established brands with defensible market positions and strong cash flow at reasonable purchase price multiples," B&G CEO Kenneth Romanzi said in a statement. "Clabber Girl Corp. is the No. 1 manufacturer of branded retail baking powder and also holds leadership positions in baking soda and corn starch."
Guggenheim Securities LLC served as Hulman & Co.'s financial adviser for the transaction. PJ Solomon served as financial adviser to B&G Foods for the transaction.
Please enable JavaScript to view this content.