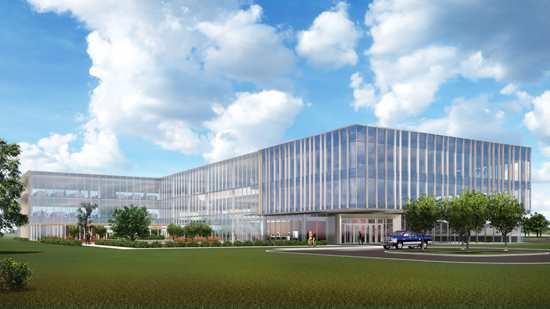 Cummins Inc. announced Thursday that it plans to spend more than $68 million to expand its operations in Columbus, Greenwood and Indianapolis as it grows its new Electrified Power Business segment.
Plans include constructing a $35 million, 100,000-square-foot office building at the southeast corner of Interstate 65 and County Line Road in Greenwood that will serve as the hub for 500 digital and information technology employees. The employees will transfer from Cummins' other facilities around the state, primarily from Indianapolis and the company's headquarters city of Columbus.
In Indianapolis, the company said it will move into space in Salesforce Tower and is building out additional space on the ninth floor of its downtown Distribution Business headquarters on East Market Street. Cummins said the additional space is needed to accommodate its growing Indianapolis workforce. About 400 of its employees work in Indianapolis.
Cummins also announced a $33 million investment in Columbus, with a significant portion going toward upgrading and equipping the 1.6-million-square-foot Columbus Engine Plant, making it the corporate hub and primary North American manufacturing center for its Electrified Power segment.
The company said it plans to add 75 jobs in Columbus by the end of 2021 as part of the expansion. The jobs will pay more than the state average, which is about $46,000 per year.
The Indiana Economic Development Corp. offered Cummins up to $950,000 in tax credits and up to $100,000 in training grants based on the job-creation plans in Columbus.
Cummins is not seeking a tax abatement for the Greenwood site, but the city is offering other incentives.
Greenwood's Redevelopment Commission has purchased 83.5 acres of property in the area, and it will sell 31 of those acres to Cummins for $10. The city says the true value of the land is about $5 million. 
Greenwood also has agreed to build a 650-space parking lot for the Cummins building and to facilitate additional development of the surrounding property—complementary amenities like professional buildings, retail and hospitality offerings.
Additionally, at Cummins' request, the city is making a $1 million donation to the Central Nine Career Center, a technical high school in Greenwood that serves students from nine partner schools in Johnson and Marion counties. The school will use the money to develop its information technology offerings, with the goal of helping students train for possible future jobs at Cummins. 
Cummins is adding the jobs as it ramps up production of its newest product, the all-electric powertrain. 
Additionally, Cummins will cross-train some of its existing diesel-engine employees in Columbus so that they can shift to electrified powertrains as demand warrants.
Since June 2017, when Cummins announced it would begin producing electric powertrains, the company has acquired startups in California, Oregon and the United Kingdom to help accelerate its electrification efforts.
Cummins CEO Tom Linebarger told IBJ that the company considered several locations before settling on Columbus—the company's hometown—as the best base for its electrification work.
"We feel like we have a good workforce, and many of the skills are transferable," Linebarger said.
Cummins' Electrified Power Segment is the company's fifth and newest business segment, joining the Engine, Power Systems, Components and Distribution segments.
Cummins' Electrified Power segment designs and manufactures fully electric and hybrid powertrain systems, components and subsystems. The segment has eight locations in four countries and more than 300 employees, with more than 200 engineers working on research and development. Its first customers include the school bus maker Blue Bird and the transit bus maker Gillig.   
Cummins made the expansion announcement at Indianapolis Motor Speedway. The event was attended by Indiana Gov. Eric Holcomb, Indianapolis Mayor Joe Hogsett, Greenwood Mayor Mark Myers, Columbus Mayor James Lienhoop and Hulman Motorsports Senior Vice President Allison Melangton.
"I'm proud to welcome Cummins as Greenwood's newest corporate citizen," Myers said in written remarks. "Beyond the significant financial investment from one of the world's largest and most historic companies, Greenwood will see an influx of several hundred new professional employees averaging six-figure salaries. This is a considerable achievement for our city and continues our significant economic development momentum."
Cummins reported record revenue of $23.8 billion and record profit of $2.1 billion in 2018. The 100-year-old company has about 62,600 employees worldwide, including about 10,000 in Indiana.
Please enable JavaScript to view this content.