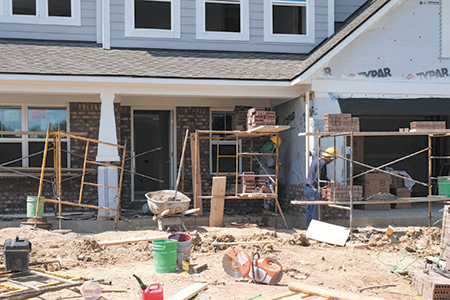 Applications for home construction fell 9 percent in central Indiana in April, marking the fifth straight month of declining permit filings.
Builders filed 610 single-family construction permits in the nine-county area last month, compared with 674 permits in April 2018, according to the Builders Association of Greater Indianapolis.
Permit filings began falling in December following a 14-month streak of year-over-year increases. They are down 12 percent, to 2,082, during the first four months of the year, from 2,372 in the same time frame of 2018.
County numbers
Hamilton County saw permit filings fall 20 percent in April, from 270 to 215.
Marion County filings dropped 28 percent last month, to 97, from 135 the previous April.
Hendricks County's numbers were down 8 percent, to 83.
Johnson County filings dipped 3 percent, to 61.
Hancock County saw permits jump 66 percent, to 73. Filings dropped 23 percent in Boone County, to 34.
Filings rose from eight to 21 in Morgan County and from six to 15 in Madison County. They fell from 14 to 11 in Shelby County.
Please enable JavaScript to view this content.