Local camera shop Roberts Distributors Inc. got its start selling mostly discount jewelry in 1957. Then it morphed into a catalog showroom peddling luggage, small appliances and watches. By the mid-1980s, the shop had carved out its current focus on photography equipment.

But Roberts has not stopped evolving. The home-grown retailer lately has sought to supply cameras for government and law-enforcement entities as its once-reliable newspaper clientele scales back. It has differentiated itself from far-flung online competitors with classes on photography and specific camera models and a monthly photo contest through its Flickr page.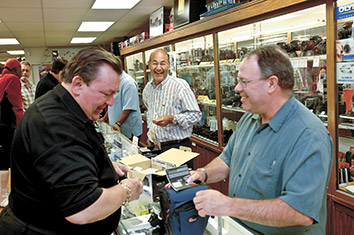 Bruce Pallman, owner of Roberts Distributors Inc., center, shares a laugh with customer Roland Long, left, and employee Matt O'Brien. The company has specialized in cameras since the mid-1980s. (IBJ Photo/Robin Jerstad)
And now, Roberts is building a larger store in Carmel within the Providence at Old Meridian project. The company is taking about 4,800 square feet in the first floor of a two-story building facing a new roundabout at Grand Boulevard and Old Meridian Street, across from Meijer. Locally based Buckingham Cos. is developing the new home for Roberts, which is moving from its current Carmel outpost at 12225 N. Meridian St., opened in 2000.

The privately held chain, which does not disclose financial information, gets about 40 percent of its revenue from walk-up retail customers, more than half of that from its headquarters store downtown at 255 S. Meridian St. It closed a third location, in Bloomington, in 2008.

The rest of revenue is evenly split between online customers and commercial clients, said owner Bruce Pallman, son of founders Robert and Rose Pallman. Online customers can get free shipping on orders over $300. And the company, with 55 employees, also sells used and refurbished equipment.
"We're very competitive—probably one of the top 25 specialty camera businesses in the country in terms of volume," said Pallman, who has been involved in the business since 1974. "We can be at the right price [about the same as Amazon.com], plus we offer what we hope is a service advantage. You will not pay more to shop at our specialty store."

The expansion for Roberts comes at a time when the specialty camera business is contracting. The giant in the space, Maryland-based Ritz Camera, filed for Chapter 11 bankruptcy protection in February and has slimmed down from 1,300 locations to just 375. (Ritz also owns Wolf Camera and the defunct water sports outlet Boater's World.)

A big reason for the decline in photo shops is the loss of one-hour film processing sales, said Gary Pageau, publisher of the magazine of the Photo Marketing Association, a Jackson, Mich.-based trade group that represents photo retailers and studios.

Many shops now offer digital photo printing, but the business is less lucrative. Margins on camera equipment also have shrunk, thanks in part to competition among online retailers. A bright spot is growth in the high-end market, particularly for digital SLR, or single-lens reflex, cameras.

"Best Buy can carry some basics, but not everything," Pageau said. "The most successful small retailers have been the ones that have the finger on the pulse of the local market and have adapted to that. Some stores are getting into the portrait or rental market, serving professional customers or the mom market."
Matthew and Jeri Schantz bought a Canon digital SLR from Roberts about three years ago and took a class to get acquainted with it. They liked interacting with people (as opposed to the Internet) and felt comfortable Roberts will be around if something goes wrong.

"They took their time with us on a visit or two when we were just researching and not purchasing," said Matthew, a partner at locally based Bingham McHale LLP.

Revenue for Roberts has been stagnant so far this year, Pallman said, after growing about 7 percent last year. A $20,000 deal with the Marine Corps for cameras, lenses and equipment, and a potential sale of 150 cameras to the FBI could give the numbers a boost.

The company needs the revenue to offset the loss of business from struggling newspapers. The now-closed Rocky Mountain News spent about $250,000 per year with Roberts, Pallman said.

"Any business, if they haven't changed what they do, they're not a 50-year-old business," he said.•