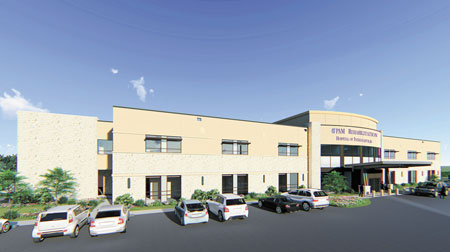 Two out-of-state companies say they want to jointly build a 60-bed rehabilitation hospital in Carmel to help patients recover from brain injuries, strokes and other serious conditions.
But the companies seem to have their own ailments, including a history of mass layoffs, at least one high-profile bankruptcy, and accusations of kickbacks and billing irregularities, according to an IBJ review.
It's unclear how far along the Carmel project is, because the developers have not yet filed a site plan nor applications for building permits, which are required for new construction, a city of Carmel spokesman said. Nor have they applied to the Indiana State Department of Health for a hospital license.
Nevertheless, the partners—Medistar Corp., based in Houston, and Post Acute Medical LLC, based near Harrisburg, Pennsylvania—rolled out the project on May 9 as if it were a done deal. They said the facility, which they are calling the PAM Rehabilitation Hospital of Indianapolis, would treat "patients with complex conditions," including traumatic brain injury, stroke or neurodegenerative disorders, such as Parkinson's disease.
"This modern, 60,000 square foot inpatient rehabilitation hospital will provide comprehensive inpatient and outpatient therapy services for families in Greater Indianapolis and surrounding communities," the announcement said. It included a rendering of a two-story, free-standing building with a large blue sign over the entrance.
But details were scarce. The announcement did not include an address for the hospital, other than to say it would be "strategically located in the vibrant and growing medical corridor along U.S. 31 in Carmel," raising questions about whether the developers had secured a site. No timetable for groundbreaking or opening was provided.
In an interview, a Medistar spokeswoman said the company was in final negotiations for the hospital site and would not provide details in advance. In their announcement, the companies said they have jointly developed 10 other medical facilities around the country. This would be their first in Indiana.
Some Indiana hospital officials said they weren't familiar with either company or the Carmel project, signaling that Medistar and Post Acute Medical might not have been striking up relationships here before making their announcement.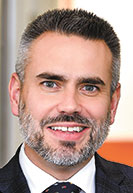 Tabor
"We have rehab hospitals as members but I'm not familiar with them, and I haven't heard that they are partnering with anyone," said Brian Tabor, president of the Indiana Hospital Association.
He added that it's common for out-of-state rehabilitation health companies—such as Louisville-based Kindred Healthcare and Birmingham, Alabama-based Encompass Health (formerly HealthSouth)—to form partnerships with Indianapolis acute-care hospitals when they enter the market.
Partners' backgrounds
The Carmel project brings together two companies with different skills and backgrounds.
Medistar, founded in 1974, is a real estate developer focusing on medical projects, including hospitals, medical plazas and medical office buildings. Many of them are in its home state of Texas, including a 35-story, luxury apartment tower next to the Texas Medical Center in Houston.
Post Acute Medical, founded in 2006, operates more than 30 long-term, acute-care hospitals, medical rehabilitation hospitals, surgical hospitals and outpatient physical therapy locations in eight states.
In recent years, however, each company has left a separate trail of legal and business problems in its wake.
Last summer, Post Acute Medical agreed to pay more than $13 million to settle civil allegations of kickbacks and improper physician referrals in Texas and Louisiana. The U.S. Department of Justice said the company had set up questionable contracts with physicians that were "intended to induce the physicians to refer patients" to its facilities, in violation of the False Claims Act.
The Justice Department also alleged that the company set up "reciprocal referral relationships" with outside providers, including home health companies, with the understanding that those providers would refer other patients to its facilities.
In a statement on its website, Post Acute Medical said many of the issues began long before the company acquired the facilities in question. It disputed that there were "any substantive defects" in its relationships with doctors or home health care providers.
"In the interest of moving forward and avoiding continued expense, Post Acute agreed to an amicable resolution with the government (in) which it did not acknowledge any violations of applicable rules," Post Acute said. The company did not return calls or emails from IBJ.
Even as it is opening some facilities, Post Acute Medical has been closing others. In February, the company said it would shut down two specialty hospitals in Corpus Christi, Texas, that offer long-term acute care, laying off 220 employees. Long-term, acute-care hospitals offer a higher level of care than inpatient rehabilitation hospitals. The company attributed its decision to "draconian changes" imposed by the Centers for Medicare and Medicaid Services upon such facilities that limit the type of patients who can be treated.
A month later, the company announced plans to close a 62-bed long-term, acute-care hospital in suburban Milwaukee, eliminating 172 workers. In a notice to the state, the company attributed the closure to "dramatic changes designed to substantially limit the type of patients who could be treated in long-term acute-care hospitals," according to the BizTimes Milwaukee.
And Post Acute Medical's partner, Medistar, also has seen projects falter. The company spent $200 million to build and run the Bay Area Regional Medical Center, a 104-bed hospital in Houston. But just four years after opening in 2014, the hospital announced in May 2018 that it would close and file for bankruptcy.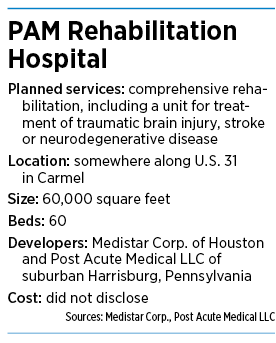 About 700 employees lost their jobs, surprising many of them. But some workers fought back, claiming the company did not provide sufficient notice. Two employees filed suit, alleging that Bay Area Regional and Medistar violated the Worker Adjustment and Retraining Notification Act of 1988 by "failing to give … at least 60 days' advance written notice of termination, as required under the WARN Act."
In the lawsuit, the employees allege that, in light of the violation, they are entitled to their wages and retirement benefits for 60 days, "none of which [have] been paid." The suit is pending in U.S. District Court in Houston.
In the year or so before it closed, the Houston hospital had been the focus of several serious disputes and lawsuits from insurers and lab companies. In 2017, insurer Aetna Inc. said it had discovered it had overpaid the hospital by $26 million and demanded the money back, accusing the hospital of breach of contract and fraud.
Connecticut-based Aetna said the overpayments were the result of Bay Area's improper submission of thousands of claims for lab services performed by outside laboratories.
"Put more simply, Bay Area billed and was paid for services it did not render," Aetna said in its Dec. 13, 2017, letter. "And as previously indicated, Aetna views Bay Area's practice of billing for services rendered by independent laboratories as improper pass-through billing that amounts to a breach of contract and fraud."
It's unclear whether Aetna got its money back or otherwise resolved the conflict. The hospital shut its doors five months after the insurer sent the letter. Two days after the hospital closed, Aetna filed suit against several laboratories and medical management service companies, accusing them of engaging in fraudulent medical billing. Bay Area Regional and Medistar were not named in the suit, which is pending.
Medistar said that, while it owned the hospital, it did not operate it. The operator was Bay Area Regional Medical Center LLC. Medistar President Monzer Hourani also was a director and manager of Bay Area Regional.
Competitive market
Central Indiana is already home to numerous rehab hospitals, including Rehabilitation Hospital of Indiana (a collaboration between Indiana University Health and Ascension St. Vincent), Community Rehabilitation Hospital North and Franciscan Health Acute Inpatient Rehabilitation Indianapolis.
And others are on the way. Earlier this month, WB Development of Texas announced plans to build Indianapolis Rehabilitation Institute, a 40-bed facility on 4.79 acres of vacant land at 12315 Pennsylvania St. in Carmel.
Ed Abel, director of health care practice at Indianapolis-based Blue & Co., an accounting and consulting firm, said health care developers are attracted to central Indiana because of patient demand for services and a high proportion of people with lucrative, commercial insurance coverage. "I think that's why we continue to see folks like this come in," he said.
But based on Medistar's and Post Acute Medical's record of problems, he said, he isn't making any bets on the Carmel project's success.
"I wouldn't be surprised if six or 12 months after they start, they just walk from the thing," Abel said. "And then we've got another empty medical building."•
Please enable JavaScript to view this content.