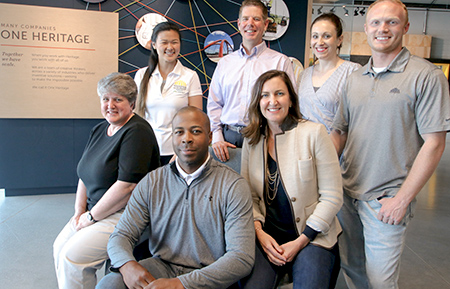 At its core, The Heritage Group seeks to turn big challenges into bigger opportunities.
So says its president, Amy Schumacher, an engineer and the great-granddaughter of John E. Fehsenfeld, who launched the company as Crystal Flash, and granddaughter of Fred M. Fehsenfeld Sr., who built it into a petroleum and chemical powerhouse.
Today, four generations are involved in the Indianapolis-based business, which operates across the globe in three main industries: specialty chemicals, environmental services and construction materials. The Heritage Group owns dozens of companies, many headquartered in Indianapolis, employing more than 6,000 people.
"We tend to play in industries that value science and engineering," Schumacher told IBJ. "We have a strong commitment to research and development, entrepreneurship and innovation."
Through much of its history, the company has operated out of the limelight. And Schumacher said that will largely continue.

But the company has had a bit of a coming-out party of late—creating HG Ventures, a division that plans to invest $50 million a year in startups; partnering with a global mentoring network to create Heritage Group Accelerator powered by Techstars; and building The Center, a 50,000-square-foot hub for collaboration in Intech Park where the Heritage Research Group is based.
Schumacher talked to IBJ about those moves as well as how The Heritage Group seeks to create a culture of innovation.
What is the common thread among The Heritage Group companies?
We're relationship builders, problem solvers and opportunity seekers.
How has the company changed over the years?
Things have grown one step at a time. We tend to play small bets, and we then bring the strength of the Research Group and our other expertise behind it. If you look back at our history, if you look at the overall Heritage Group, you may not see how these various pieces fit together. But if you traced it through a timeline, each of these businesses led us into another business. Our construction and materials business got us into the environmental business. The environmental business took us into refining. Refining took us into chemicals, and on and on.
How important is innovation to what you do?
Innovation is critical for our success. It is relevant in all of our industries, regardless of how mature the business is. Each of our businesses is focused on significant issues, such as environmental contamination, sustainability initiatives, improved infrastructure. So at our core, it's about solving big problems with our customers and with our industry partners. We listen, we try to connect the dots, we look across the breadth of our organizations and see if one solution in one industry might be applicable to a solution for another industry. And we have the willingness to try and to stumble and to go again.
Do you have examples?
When the major oil spill [from a BP tanker in 2010] struck the Gulf Coast, Heritage [Environmental] helped lead the emergency cleanup. We had over 400 employees working at 26 staging areas around the clock for days on end. And we rapidly helped reduce the spill's impact on people and the environment. We also developed a novel win-win recycling solution. Rather than send 1.2 million feet of oil-soaked boom to the landfill …
What is boom?
This is the absorbent material that's out in the Gulf that's collecting oil so it doesn't make its way onto shore or into natural habitats. You can collect the boom … and dispose of it. So rather than send 1.2 million feet of oil-soaked boom to the landfill, we recycled the plastic fill from the boom into a moldable plastic polymer that would be great for car parts.
And then trying to connect the dots with that opportunity, we thought about the Chevy Volt. We knew the Chevy Volt team was passionate about delivering a sustainable car. And the question was: Would they be interested in a recycled resin? So we quickly facilitated a meeting between our customer and Chevrolet and quickly agreed on a plan to produce and deliver the recycled resin pellets, [and] all the material was used in the Chevy Volt. It's an example of taking a very difficult situation and trying to create a positive outcome.
Another example, in the late '90s, the EPA identified an environmental issue for the large steel companies. They had large piles of steel slag, which is scrap on site, that needed to be dealt with very quickly. Our Heritage Research Group was working with INDOT at the time on a variety of asphalt mixtures—and they included steel slag in this new specialty product.
The specialty pavement provides superior performance, higher friction rates, [and improves] safety durability on our interstates. It's used today on I-65 as an example and multiple pavements across the state. But The Heritage Group also has a long-standing relationship with the Indianapolis 500. It actually dates back to 1937 with our founding business, Crystal Flash. So we partnered with the Indianapolis 500 to use steel slag for resurfacing of the track [in 2004].
How do you keep a culture of innovation alive?
It all starts with people. We hire and develop people with a deep level of expertise. We give them autonomy in their work. We provide them the tools and resources to get their work done. And we're almost always working in teams, diverse teams. We think it's essential that those working on a problem have direct exposure to our customers, so they get a true understanding for the scope of the problem and the potential impact of a solution makes sense to them. If you can understand the big picture of a problem and the impact you can have, the motivation and creativity run high.
So we take these really talented people and we wrap them in this supportive environment, an environment that encourages problem solving, that encourages risk taking, that's OK with failure, recognizes it's a way of life. And we have time on our side, time to figure it out, and this grit or perseverance to stay with it until we do.
When was the Heritage Research Group formed?
In 1977, our business was working on I-65. We supplied the aggregate, we supplied the asphalt, and we built the job. And within a year, the pavement failed. Fred Sr. asked our team why. And the reply he got was, "We met the aggregate spec, we met the asphalt spec, INDOT specs, we built the job to the requirements." And Fred Sr. said, "That's not what I asked. I asked, why did it fail?" And the answer was, "We don't know." And he said, "Well, then we're going to figure it out." And that was the beginning of the Research Group, a never-ending search to understand why.
How many people work in the Research Group?
We have over 60 talented chemists, engineers, scientists that come and spend their days with us.
How do you balance the need to be innovative and to embrace failure while also keeping an eye on the bottom line?
In our experience, if we invest in people and focus on the big challenges, the bottom line has taken care of itself. What's essential to understand about The Heritage Group is that we invest for the long term. We think in terms of years, decades and generations, not months and quarters. We make small bets; we put the strength of the Research Group and our expertise behind them. And then like everything, some bets don't work out, but we try and we learn from these failures. And it is amazing how a failure years ago provides learning that can be applied to a current problem.
Is it easier to take that long-term view and to be innovative across the board as a privately held company rather than having to serve public investors?
On balance, I think it's probably easier at a privately held company—although it's important to maintain focus and discipline. As a family-owned business, we have access to long-term, patient capital, time and space for our employees to dig deeply into an issue, and there's no arbitrary shot clock. These big problems, they take time to solve. I think as a privately held company, there are fewer external demands on your time, and so it provides the ability for focus.
Does The Heritage Group innovate from within? Or do you go out and buy companies that are innovating? Or both?
We make bets on people. Sometimes from within, sometimes from the outside. Oftentimes a combination of both. It looks different in every situation.
Is the venture arm an extension of the kinds of things that you've been doing for years?
The venture arm, our Techstars partnership and our increased focus on internal R&D—it's all a part of a natural evolution of what The Heritage Group has been doing for years. These are intentional efforts to enhance the strengths and the breadth of our portfolio. We want to continue to do what we do best by doubling down on our incubation of internal ideas. HG Ventures and our Techstars partnership are great places to stay in touch with fast-moving global trends, new technologies and talented people.
Historically, our focus at The Heritage Group has been on bringing entrepreneurs into the family and betting on their ideas under the umbrella of The Heritage Group. So the idea of a venture arm and investing externally is a new activity for us—or is a new investment opportunity for us.
Was it uncomfortable to make that pivot?
It's actually a lot of fun. It's a wonderful opportunity to engage with entrepreneurs around the world and to have the rest of The Heritage Group engage alongside of us. So, I think it strengthens the entrepreneurial muscle of The Heritage Group, both externally and internally.
How does it do so internally?
Well, there's nothing more contagious than an entrepreneur with passion for their idea. Our operating businesses are constantly seeing opportunities that may not fit within the realm of their core business. And until we created HG Ventures, we didn't have a place for those ideas to land. So our operating businesses have become a pipeline of potential investments for our HG Ventures group.
How are you feeling about the kinds of companies that you're investing in?
Our pipeline is healthy and vibrant and robust. We're seeing a variety of new ventures that are led by incredible entrepreneurs who want to disrupt, who want to change the narrative.
Has the partnership with Techstars been helpful in the work that you're trying to do?
Techstars is a great match for our organization. They have built expertise in accelerating a world-class group of early-stage companies through their incubation program. The Heritage Group has its own area of expertise in science and engineering and a long history of applying that expertise … to significant environmental, chemical and infrastructure challenges. So becoming Techstars' only dedicated, material-science accelerator in the world, we think it's a great combination.
What made you decide to build The Center and what was your philosophy about it?
The Center is a multi-generational investment by our family. It's a place to build our networking capabilities with our people, businesses, partners and customers. The Center was created to be a catalyst for growth, solving complex problems, building communities and innovations that fuel our future. It's a place where our people and partners can come together to be engaged and inspired to drive growth and innovation. And finally, it's a sign of our long-term commitment to the state of Indiana.
When you said it's a multi-generational investment, what did you mean?
You don't make this kind of investment if you're not thinking about the long term. I certainly hope that our HG Ventures and Techstars partnership have great connectivity to the Indy tech community as well as other entrepreneurial communities. We hope to be contributors to the Indianapolis economy, to the Indiana economy, through these activities by attracting and retaining talent, ideas and new companies to the region to grow and build locally.
With the combination of the venture arm, Techstars, The Center, it feels to me, and I think to others, like The Heritage Group is stepping out a little bit. Is that a fair reading?
We have always viewed our role as behind the scenes, and that is still the case in most of our work. That being said, as our business continues to grow, we will continue to evolve. The ability to tell our story is part of that evolution. We want to be able to engage our employees in the entire business and its impact both locally and globally, to give our customers a sense of how important their work is for us and attract the best talent to The Heritage Group.
HG Ventures and the Techstars partnership will necessarily be more outward-facing given the nature of our work or the nature of their work. But our focus will always be to bring the right people together to solve big problems.
The Center feels like a place that's designed specifically for collaboration, for coming up with new ideas and being innovative. Was that intentional?
It was led from start to finish by our senior leadership. And we were focused on trying to institutionalize what we felt has been our secret sauce over the years. It's early, but I believe The Center will be more than just a building for The Heritage Group. Our goal was to create a space that is flexible, adaptable and that can evolve in the future as our needs evolve. We designed the space to remove traditional barriers to collaboration. The building is relaxed, and casual, and representative of our unique culture. I think you feel that when you're here.•
—Lesley Weidenbener
Please enable JavaScript to view this content.