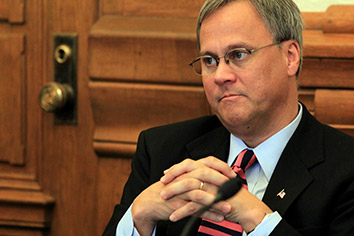 Indianapolis Republican mayoral candidate Jim Merritt is "not welcome" at this weekend's parade celebrating the LGBTQ community, organizer Indy Pride said Monday on social media.
"He is not an ally and not welcome at our events due to his track record," the group tweeted Monday evening about Merritt, a state senator since 1991 and former Marion County Republican Party chairman.
Organizer Chris Handberg said Merritt's vote in 2015 for the "notorious 'religious freedom' bill that brought nationwide attention to the state of Indiana due to its anti-LGBT accommodations" was one reason why Merritt is not welcome.
Handberg also referenced Merritt's previous votes as a senator to define marriage as between one man and one woman. 
"Indy Pride is a community of LGBTQ+ individuals who gather to celebrate their identities, history, and culture," Hanberg told IBJ. "Sen. Merritt has consistently fought against legislation which would make our community safer and more secure."
Merritt and his campaign did not immediately respond to requests for comment Monday evening.
"I stand by every vote I've had in the last 29 years as a state senator," Merritt recently stated.
Indy Pride has welcomed Republicans in the past. Chuck Brewer, a Republican who ran unsuccessfully against Democratic Mayor Joe Hogsett in 2015, marched in that year's parade. Former Mayor Greg Ballard was named grand marshal of the pride parade in 2015. Ballard is now serving as chairman of Merritt's campaign.
Meanwhile, incumbent mayor Joe Hogsett, a Democrat, is scheduled to participate in Indy Pride this year. Merritt's conservative record in the Indiana General Assembly has been a target of the Hogsett campaign, which has said previously that Merritt "has consistently embraced views that are out of step with Indianapolis."
Indy Pride's public announcement about Merritt came after Indiana political newsletter Importantville, written by Adam Wren, published an item Monday morning that said Merritt would become the second Indy GOP mayoral candidate to walk in the parade after Brewer.
The news was picked up by national LGBTQ rights group GLAAD, which tweeted earlier that "One of @VP Mike Pence's friends and known anti-LGBTQ politician @Jim_Merritt is scheduled to march in @indypride this weekend."
"How would this make LGBTQ Hoosiers feel that an anti-LGBTQ activist is marching in their parade?" the group tweeted.
Wren said that Merritt campaign manager April Gregory told him that the GOP senator planned to participate.
However, Indy Pride said it has no record of Merritt expressing interest in the parade. Parade registration was open from December through May, and neither Merritt nor his campaign registered during that period.
Asked whether Merritt or the campaign reached out at any point hoping to register, Handberg told IBJ that "Indy Pride first learned of his wish to walk in the parade through Adam Wren's reporting."
This year's Indy Pride downtown parade runs Saturday from 10 a.m. to noon. Indy Pride drew more than 30,000 attendees a year ago.
Please enable JavaScript to view this content.