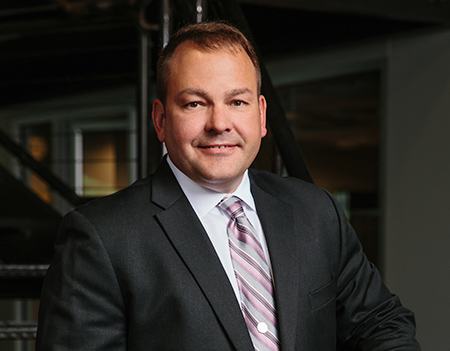 Brent Yeagy
Wabash National Corp. CEO
Before the Great Recession, Lafayette-based Wabash National Corp. was a $1 billion company. Then, suddenly, in 2009, it was a $300 million company.
At the time, Brent Yeagy was vice president of manufacturing at the commercial trailer maker. He calls that stretch a "period of unprecedented operational disruption."
"It was incredibly challenging, but at the same time it forced a level of strategic improvement in operations that we're garnishing today," said Yeagy, 48, who's been CEO since June 2018.
"We're a different company today than we were in that 2008 time frame. It resulted in our strategy to grow and diversify the company."
Thanks in part to that diversification, Wabash National in 2018 racked up revenue of $2.3 billion, the highest in the company's history.
Wabash in 2012 moved into the liquid-transportation-systems industry by buying Wisconsin-based Walker Group Holdings LLC for $360 million. And in 2017, it snapped up Goshen-based truck-body manufacturer Supreme Industries Inc. for $364 million. The latter deal moved Wabash into the fast-growing "final mile" segment of the industry—vehicles that deliver goods purchased online to customers.
The acquisitions "transformed Wabash from being primarily a Lafayette-based manufacturer to a manufacturer that has 19 manufacturing locations in three countries," Yeagy said. "We went from 3,500 employees to over 7,000 people since 2012."
How has diversifying your business affected your bottom line?
In 2008, dry van trailers, our primary product, was over 80% of our revenue. Today it's 50% of our revenue. Wabash as a whole now has over $1 billion of revenue that has nothing to do with a dry van trailer. The other 50% is a mix of refrigerated and cold-chain products, truck bodies, liquid tank trailers and other engineered products. We in no way, shape or form have taken away focus from growing our core business; we're just looking to grow faster.
How has the digital revolution impacted your business?
We purchased Supreme Industries … specifically to leverage the growth trends around home delivery, e-commerce and other logistics changes within the industry. Since we purchased that in September 2017, we've already grown the top line by 40%.
Generally, when we think about e-commerce and final-mile delivery, we're talking about taking products to the home and we're bypassing the typical retail model for logistics. That changes the type of equipment to most efficiently move those goods. You can't put a 53-foot van in a cul-de-sac. It takes a smaller vehicle.
Last year, the company had a tough third quarter. What went on and how do you plan to avoid the same thing happening again?
With the strength of the economy, [our suppliers] were having trouble just getting parts. The availability of transportation during that period was also a problem, getting equipment to Wabash's doorstep was a problem. That coupled with strong demand in the truck body industry created a lack of supply during that period. We've seen the supplier base significantly improve in their ability to provide discrete product. That gives us a much better footing in mid-2019 than we were in mid-2018.
What is your focus in 2019?
We were ramping almost every aspect of our manufacturing across our entire network in 2018. We were adding people and increasing production rates. In 2019, we are maintaining those production rates. We're not adding people for the purposes of growth. Our demand for labor has quieted quite a bit. So, therefore, we're focusing on retention and replacement and not addition. That makes our ability to manage this labor environment much easier than in 2018.
Trailer sales soar when the economy is strong and slump when it's not. Does the company see a slowdown around the corner? How is it preparing for that?
In our core markets, the industry forecasters are projecting some level of deceleration as we move into 2020 and 2021. The level of that will be dependent on overall economic conditions, trade policy and regulatory pressures coming out of Washington. We have multiple initiatives that are also going to help us from a growth standpoint through this period. The final-mile segment is really tracking to what we call a secular growth trend, which is final-mile delivery, e-commerce, free shipping and people moving into urban centers. That nexus of forces is really driving growth that we feel is somewhat insulated from what will be happening on the macroeconomic level.
How does U.S. trade policy impact your bottom line?
I think the broad strategy that the government is looking to implement ultimately is favorable for us. The lack of communicated strategy, the abruptness of policy by tweet is very difficult to plan your company around in terms of profit and loss and specifically hard for publicly traded companies who have short-term and medium-term expectations from shareholders.•
Please enable JavaScript to view this content.