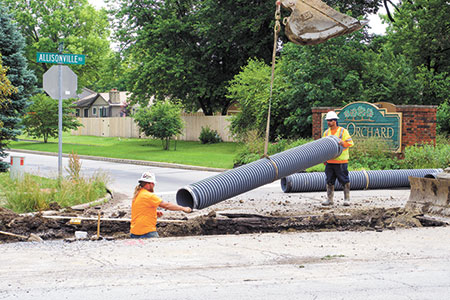 Some Fishers residents look at the Nickel Plate District—which has been transformed over the past five years, with more redevelopment planned—and wonder when other areas of the city will see the same treatment.
They've taken to social media, online comment boards and the City Council chambers to complain the city has ignored other areas—particularly the southwest side—while investing money and resources into creating a vibrant downtown.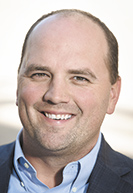 Fadness
Mayor Scott Fadness says that's about to change.
Several ongoing projects—and a few recently announced—are bringing improvements and potential development to the west side of Fishers. Even more are in the pipeline, city officials say.
This month, the Indianapolis Metropolitan Planning Organization granted funding to Fishers for a major intersection rebuild, and the city has already started road improvements farther north.
City officials are also marketing land at the Indianapolis Metropolitan Airport for commercial development, and they remain committed to helping find a tenant for the vacancy left in Fishers Station by Kroger Co. when it chose to renovate a current store rather than build new.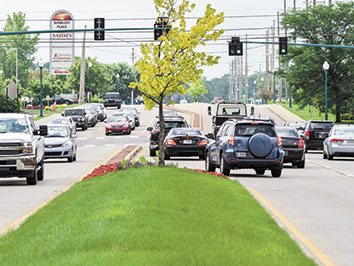 Several infrastructure projects along Allisonville Road in Fishers are meant to spruce up the area in preparation for additional redevelopment. (IBJ photo/Daniel Axler)
The emphasis on the west side comes after residents—during public hearings for the 2019 budget process—complained that potholes on residential roads needed to be addressed, street signs needed to be replaced, and more attention needed to be given to the 116th Street and Allisonville Road intersection. Residents have lodged similar complaints on Facebook and in the comment section of news stories.
City officials acknowledge the frustration and say the city is dedicated to making improvements. Fadness previously told IBJ his goals for a second full term include focusing on areas of the city that are outdated, including the Allisonville Road corridor.
"I think there are two categories of concern that we hear from time to time," Fadness said in an email to IBJ. "Specifically, [residents] are concerned about traffic and some outdated commercial areas. In a more general way, I believe they are seeing the momentum and excitement of redevelopment in other areas and want to make sure their corridor also has a similar trajectory."
Road improvements
Two separate projects will improve traffic flow on Allisonville Road, and the first is already underway.
This spring, the city launched a $9 million project to improve the busy thoroughfare's intersections with 126th and 131st streets. The project widens Allisonville Road, adding lanes at both intersections. Westbound 126th Street will also have an added left-turn lane for motorists turning south onto Allisonville.
Widening Allisonville Road will help ease traffic congestion, city officials said.
The project also includes installation of new pedestrian walkways and storm drains. New lighting and landscaping will follow. Once complete, residents will have a trail connecting Conner Prairie at 126th Street to 116th Street, Fadness said.
"As I stated during my election, I plan to implement several incremental steps to start revitalizing this corridor, from something as small as improved landscaping to something as substantial as potential redevelopment opportunities," he said.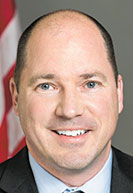 George
This month, the city learned it will receive nearly $8 million in federal grant funding through its Metropolitan Planning Organization for three road projects, including a rebuild of the Allisonville Road and 116th Street intersection, which sees 27,000 cars a day. That funding, however, won't be available until fiscal 2024.
As part of that project, two left-turn lanes and one right-turn lane will be added on both streets. Currently, the streets have only one left-turn lane and no dedicated right-turn lane and are prone to rush-hour backups.
Southwest District City Councilor David George told IBJ the intersection rebuild should help spur commercial redevelopment, the lack of which is a concern for residents in his district.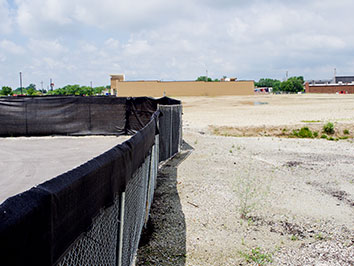 Kroger backed off its decision to move into Fishers Station at the northeast corner of Allisonville Road and 116th Street, leaving a vacant spot. (IBJ photo/Daniel Axler)
Other recent road projects on the city's west side have targeted residential streets, George said.
After hearing from residents of the River Glen subdivision that they wanted their streets repaved, the city has put funding toward addressing residential streets in George's district, he said.
The city has also encouraged the owners of some of the dilapidated private roads in the area to address potholes, George said.
"Investments in these things, I think, helps," he said, noting that repaving a street can make an area seem newer.
Fishers Station
Redevelopment of the commercial areas along Allisonville Road might take longer to come to fruition than the roadwork has, but city officials say they're working on it.
One specific concern is the Fishers Station development at the northeast corner of Allisonville Road and 116th Street.
In 2017, Kite Realty Group Trust announced it would redevelop the shopping center by demolishing a Marsh supermarket, which had been vacant since 2015, and replacing it with a new Kroger Marketplace, which would serve as an anchor and be accompanied by smaller retail buildings.
Kite was already moving forward with its plan when Kroger Co. announced it was not going to build a new store and would instead renovate its current store on the other side of the street. That decision has left a gaping hole in Kite's Fishers Station development.

Some residents blame the Fishers City Council for the problem. They suspect Kroger's decision to stay at its current location is the result of a 2017 city ordinance that requires supermarkets in Fishers to be replaced by another grocer, a change that would have created competition for Kroger. (Other retailers can obtain special exceptions.) However, Kroger has never confirmed that was a reason.
City officials said conversations are ongoing to find a tenant for the space. The timetable for new development on the space is unknown, however, as Kroger currently maintains control of the land through payments on an active ground lease, said Bryan McCarthy, senior vice president of marketing and communications for Kite.
More possibilities
Redevelopment efforts aren't likely to stop with that shopping center, he added.
Developers are interested in all four corners of the 116th and Allisonville intersection, George said. Nothing has been finalized so he wouldn't share details.
"A lot of the developers know the city is willing to invest," he said. "It's just a matter of finding the right tenants. It's just a matter of time."
Fadness echoed those sentiments, saying city leaders have been actively searching for opportunities to invest in and redevelop the corridor.
"The 116th and Allisonville corridor was one of the first commercial corridors to develop in Fishers and just to the north is home to Conner Prairie, a cultural asset unlike anything in the country," he said. "We recognize the importance of ensuring that it continues to evolve and redevelop to reflect the vibrant city that we are."
New development is also planned for the southwest side of Fishers.
Earlier this month, the city and the Indianapolis Airport Authority issued a call for proposals to purchase and develop a prime 65-acre site at the Indianapolis Metropolitan Airport, northeast of the Allisonville Road and 96th Street intersection. The entities are working with Indianapolis-based real estate firm JLL to market the site, which is owned by the airport authority.
In 2015, a memorandum of understanding was established between the authority and Fishers that allowed the city to market for commercial development 211 acres of land not being used for aviation purposes.
The groups are calling the entire site Metro Park. The 65-acre site is considered Phase 1 of two development phases. A conceptual plan for Phase 1 shows seven two-story buildings ranging from 10,000 square feet to 98,000 square feet.
Fadness previously said developers and companies had been hesitant to plan projects for the site because the airport authority preferred to retain ownership of the land rather than sell. Now, the land can be sold and development can begin.
Developing the airport site is a critical component to the revitalization and new employment opportunities on the west side of the city, Fadness said.•
Please enable JavaScript to view this content.