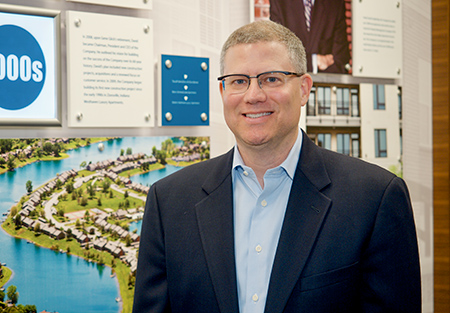 David Barrett
Gene B. Glick Co. CEO
David Barrett was corporate counsel at Emmis Communications Corp. before joining the Gene B. Glick Co. as chief operating officer in 2007. A year later, he became CEO.
The company's growth had been stagnant for a long time prior to your arrival. What did you do to revive growth?
My goal was to turn the growth engine back on and bring onboard a new generation of leaders to the company to help me transform the company the way we have and really take Glick … and bring its business and operations more into the present day, and I think we've been very successful at that just through the way we do business. Our focus on customer service and social responsibility has been something that has really been great for morale. Our team members love working for a company that cares so much about serving their customers and serving our community.
That's really the focus of the company. So our growth and our success really comes from engaged and energized team members who buy into our mission, which is world class customer service, corporate social responsibility, philanthropy, community development. Those are the things that frankly are the legacy that Mr. Glick left us. And it was something that I was able to build on to get us where we are today.
Why did the company opt to get involved in the huge Waterside project downtown?
So when Ambrose approached us and asked if we would be interested in being their multifamily partner, it was really a natural fit for us. We think that we have shared values with Ambrose. Obviously, they want this project to be financially successful for their investors, but they also care deeply about community development and making sure that this project is really well-integrated into the fabric of downtown Indianapolis and the neighborhoods that surround the project. And that was something that was really compelling to us.
These have been boom times for apartment development across the country. Do you have concerns about overbuilding?
So the last 10 years have been probably the greatest era in the multifamily space since it began. … The one imputable principle about real estate is that it is a cyclical business, so at some point the music will stop. By definition, there is always overbuilding because developers by nature develop until it really hits a saturation point. So am I concerned about that from a Glick perspective? Not really. I think we are very intentional and very deliberate about our growth, whether it's through acquisition or new development.
So, it doesn't concern me so much for Glick but from an industry perspective, there will be a slowdown at some point and naturally that'll affect everybody from a little bit lower occupancy and some rent increases. It's definitely coming, but nobody's really been able to predict when.
As it relates to Indianapolis, Indianapolis has been a real success story. Over the last 10 years, we've had great job growth. The city has a lot of things going for it. So when this correction comes, I don't think you'll see anything like what we saw back in 2007-2008.
What can we expect from Glick in the next five years?
Our goal at Glick is to continue to grow … very thoughtfully and deliberately. You know, our business model here is somewhat unique in the development community in that we finance our own projects. So I think one of the biggest competitive advantages we have as a company is that we can be very selective in the deals that we do.•
Please enable JavaScript to view this content.