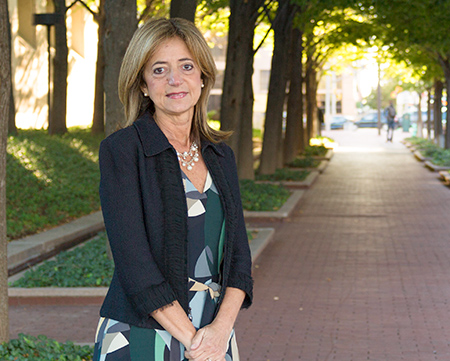 Sandy McCarthy
OneAmerica retirement services president
Sandy McCarthy 60, joined OneAmerica last year as president of retirement services, the Indianapolis-based company's largest division, with more than 1 million participants.
Retirement benefits are important, but the work sounds like it could be dry, full of data and worksheets. Is it?
Actually, I think it's pretty exciting.
You know, one of the reasons I chose retirement benefits is that I'm excited about being able to make a difference in the lives of individuals. I think it's exciting that we can help identify a plan design.
But we can also help to develop creative websites, mobile applications, communications materials that are aligned with specific client needs, and really customize the content, the messaging, the onsite presentations to help with the question, how do I invest?
Are defined-benefit retirement plans still on the wane? How many companies offer them today, compared to 10 or 20 years ago?
I think about it more in terms of the size of the market. And the total retirement market, as of the end of 2017, is $25 trillion.
I think of the defined benefit and defined contribution each account for a third of the pie, but IRAs account for the other third of the pie.
And the IRA balances are certainly growing. But in terms of the defined benefit and defined contribution, they account for about $8 trillion each. And IRA is about $9 trillion of that pie.
But defined-benefit plans are still going down as a percentage of the whole, right?
Absolutely, absolutely.
There is much more of a trend toward defined contributions with the whole notion of participant-directed, portability benefits and that type of thing. And the only reason I mentioned the IRA is because we now have this baby boomer trend of "now it's time to retire, what do I do? " and we're seeing a bit more movement into the IRA pool.
What's the biggest mistake people make in planning for retirement?
I don't think there's a mistake. I think it's all about making sure that you understand what you need to save. And how you want to plan to do that. Individuals have to be ready to save.
How is your business doing? Are you still seeing a lot of growth as people move toward retirement?
Yes, significant growth. On a compound annual growth rate over five years, we have seen a 9.9% increase. And that's on a revenue basis. On our assets, we've grown 16% across OneAmerica, which retirement services represents two-thirds of.
What are the biggest factors driving that growth?
It's our key differentiators in the market. And actually one of the reasons I chose OneAmerica 10 months ago is we differentiate on relationship. And we drive relationships.
We help our distribution partners and plan sponsors develop the plan design and the communications materials so that they can engage with their employees to help them retire in the best possible way they can. So I think that's one of the key differentiators for us.
You've been in the financial world for 30 years. Has it all been in retirement services?
The majority of it has been retirement services. But I actually started in traditional banking, moved to asset management on the defined-benefit asset management side of the business, in the Boston area. And then I actually was on the executive team that formed a company called CityStreet and ultimately was the president of that organization that was focused on defined contribution.
We also did defined-benefit administration and health and benefits administration. So that business was $365 billion in assets under administration, with about 11 million participants. I actually moved from there to run Mercer's Asia Pacific outsourcing business in Australia, again in the retirement space.
How do you like Indiana, compared to Boston and Australia?
I love it. It's, it's really a fantastic place. I'm always ready for an adventure and I've got one here. It's funny because I've got the whole Patriots-Colts thing going. But as I say, my favorite player on the Colts is (Adam) Vinatieri.
So what's the biggest difference culturally for you between Boston and Indy?
I think it's funny in that it's almost a blend of Boston and Melbourne, Australia. I think the openness, the cultural aspect of people's kindness, not that, you know, you don't see it elsewhere.
But it's really been such a nice inviting atmosphere.
What part of town do you live in?
I live downtown, not too far from Mass Ave.
So you can take an electric scooter to work.
Or I can get my exercise. I need it because I'm going to a lot more steak restaurants in Indianapolis.•
Please enable JavaScript to view this content.