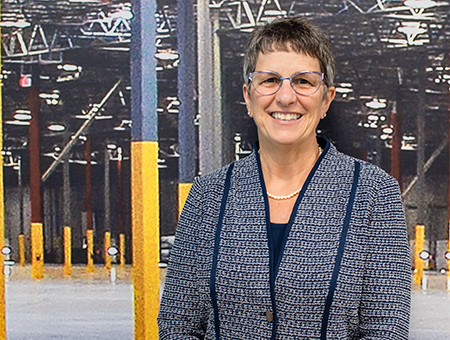 Ann Colussi Dee
Duke Realty Corp. general counsel
As head of Duke's legal team, Ann Colussi Dee oversees 12 attorneys and paralegals based in Indianapolis, Chicago and Atlanta. Dee, 59, spoke about her journey to Duke from Columbus, Ohio, where she was an attorney for Ice Miller LLP after graduating from the Indiana University Maurer School of Law.
What are your responsibilities as the company's general counsel?
I'm responsible for all the legal functions that happen for the company, including management of the legal department. I also oversee the human resources and risk management departments, along with the company's internal audit functions. We're a public company, so I oversee our reporting responsibilities, including complying with [Securities and Exchange Commission] rules; our proxy and all those kinds of things run through me.
I'm running the cybersecurity committee, and I also oversee our corporate responsibility committee. I think that's it, for now.
You started your career at Duke in 1996. What has it been like to witness the company's growth over the past 23 years?
It's been great. When I started, we were definitely in a very large growth mode. Since I was of an Ohio-licensed lawyer, I did all of our work in Cincinnati and some in Columbus, and we were exploding.
In those days we were owning office buildings, we were building office buildings, we had some retail, we had a little medical … and then industrial warehouses. I was heavily involved in the company's efforts to focus on industrial properties, so that required us to sell a lot. There were years where we were selling large portfolios of properties, so from a career standpoint that was exciting. It ran the whole gamut of real estate and what I liked about coming from [Ice Miller] to a public company was I got to learn everything about the transaction.
How has the law side of real estate development changed over the years?
Back in the day, you would buy land and you wouldn't even get an environmental report—that was not something that you did as part of due diligence. Environmental reporting added a layer of due diligence and a layer of complexity.
It also used to be when we did transactions, we did them face to face, sitting around the table—that's how you negotiated and you closed deals. Now it's all done electronically and on paper. You overnight documents; you negotiate over the phone. Hashing out deals, I think, is a little more challenging that way.
How have you had to alter your work style as you've taken on bigger leadership roles at Duke?
It's about letting go of the little things. You have to go, "I've got these really good associates who are working with me and I've got to let them do it. And they may not do it the way I would do it, but it gets done perfectly fine." I think that's how as you grow as a person and as a real estate lawyer.
What have been the most memorable moments for you with the company?
It sounds a little trite, but it's the people. That's what keeps us here, being able to work with really smart quality, committed, devoted people.
Some of the people I'm working with today are people that I've grown up with working on very basic transactions 23 years ago, and now we're sitting next to each other in the executive suite. That's really exciting because we know all the deals that we worked on together to get here, and we have a trust with each other and the knowledge of each other when we set strategy.
For a long time, real estate was thought of as a "boys club." How has that changed in your time with Duke?
I think the real estate community is committed to having diverse thought and being inclusive. Certainly, there are a lot more men in real estate than there are women, but I've always felt as an equal partner at Duke. I've always felt that my advice and my counsel has been respected and sought by all of the people in the company. There is still time for improvement, and we're always thinking about how we can be more impactful in that area.•
Please enable JavaScript to view this content.