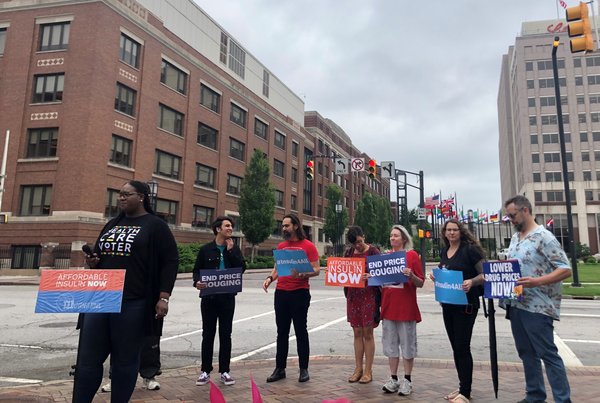 Several diabetes and health care advocacy groups on Thursday announced a seven-figure fundraising campaign to help fund their fight against what they consider "skyrocketing" insulin prices.
The announcement coincided with a protest rally outside of Eli Lilly and Co. headquarters in downtown Indianapolis. About 20 people participated in the protest, holding signs that read "Affordable Insulin Now" and "End Price Gouging."
Health Care Voter, a national affordable healthcare advocacy campaign and T1International, a global diabetes advocacy organization, are the main organizations backing the "Affordable Insulin Now" campaign.
The campaign said it want politicians and pharmaceutical executives to do more to lower insulin prices.
On Thursday, Health Care Voter released the first digital ad for the campaign—a Facebook video that cost $30,000 from campaign funds to create.
Lilly is one of the top three insulin makers in the United States. Amid longstanding criticism over rising insulin prices, the company released a half-price version of its popular Humalog insulin in May.
Campaign director Rosemary Enobakhare said there was no specific end goal for the fundraising effort but said more than $1 million has been raise so far.
The "Affordable Insulin Now" initiative mainly relies on digital advertising and uses Health Care Voter's social media and the platforms of similar partner organizations to broadcast the stories of "marginalized communities" who have been affected by diabetes and the prices of insulin.
The use of digital advertising on social media is intended to create "streamlined and unified message" for the campaign, according to a press release.
About 30 million people in the United States have diabetes.
"We're putting all of our money behind folks sharing their stories," Rosemary Enobakhare said.
Lilly said it has been working to lower insulin prices.
"People have a right to be heard, and we agree that real policy changes are needed," the company said in a written statement. "That's why we've been advocating for change—including the rebate rule proposed by [the Department of Health and Human Services] and exempting insulin from insurance deductibles.
"In the meantime, we've introduced several solutions that can help people in the near term, including limits on what people pay at the pharmacy, insulin donations to about 150 free clinics around the country, our lower-cost insulin introduced last month, and the Lilly Diabetes Solution Center, which provides personalized support for people who are paying higher out-of-pocket costs."
A previous Health Care Voter campaign ahead of the 2018 midterm elections conducted about 1,000 rallies and other events around the country.
Please enable JavaScript to view this content.