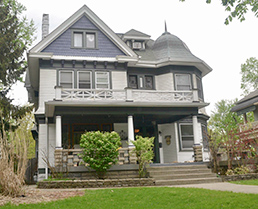 This home at 814 Woodruff Place Middle Drive is one of five that will be part of the Woodruff Place Home and Garden Tour. (Photo courtesy of Woodruff Place Foundation)
The Woodruff Place Home and Garden tour will take place June 29-30, featuring five historic homes, four gardens, an art studio and the neighborhood's Town Hall.
The event, which includes a vintage fashion show and live entertainment, is open from noon to 5 p.m.
Tickets are $15 in advance and $20 during the event. Proceeds support the upkeep of the neighborhood's features, including its Town Hall building, fountains, landscaping and hardscape.
Woodruff Place—about one mile east of downtown—is considered Indianapolis' first suburb.
When it was developed in the late 1800s, it was nearly a one-hour wagon trip from the center of town. James O. Woodruff, a civil engineer from New York, purchased 77 acres to develop into a Victorian enclave. He laid out the neighborhood in 1872-1873, but it didn't fully develop until the 1890s. It is widely presumed to be Booth Tarkington's model for the fictional suburb in his 1918 novel, "The Magnificent Ambersons."•
Please enable JavaScript to view this content.