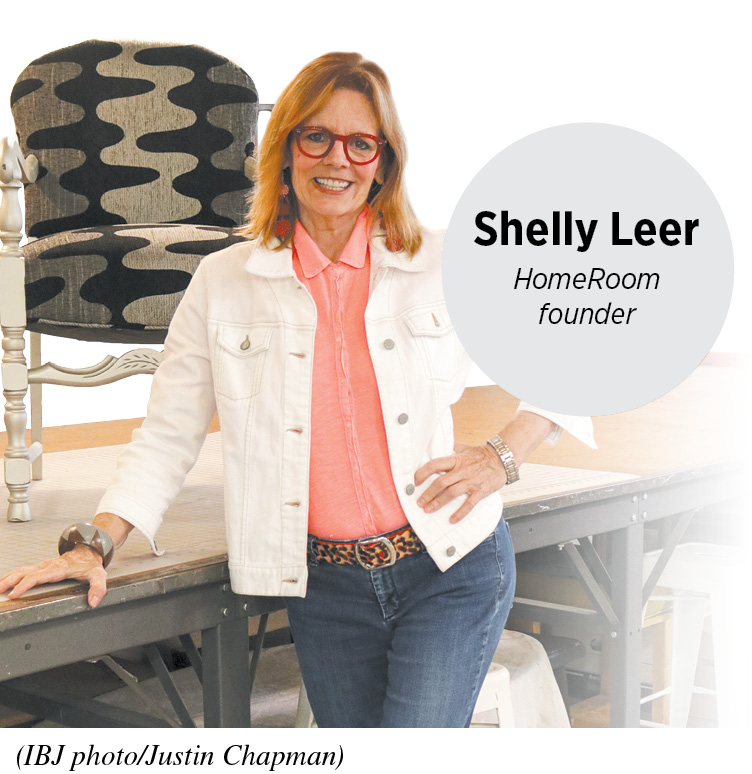 Shelly Leer, founder of HomeRoom, is a do-it-yourself person. Her mother liked to make things with her hands, and Leer developed the same passion—and a desire to share it.
HomeRoom is the 63-year-old Leer's maker space in the SoBro neighborhood where people can come to sew, upholster, do textile and fiber art, and more.
Leer launched her creative business decades ago, after she decided to stay home with her young children. She learned upholstering from a friend. Then after taking some classes, she launched her own upholstering business in her house.
But she discovered teaching upholstering made the process more interesting. So she started hosting classes in her basement, eventually opening the SoBro studio (originally called ModHomeEc) where she holds classes for four or five students at a time. When she decided to pivot to digital, Leer taught herself how to film and edit video and created all her own online classes, which are available at thehomeroomshop.com.
In May, Schiffer Publishing released Leer's book, "The Little Upholstery Book," which provides instruction for five basic projects.
What does your business do?
This business started out as upholstery classes and sewing classes. But, as time has gone on, it has transformed and I have added shorter, one-evening [or] one-afternoon workshops where people can come in. I would call it a creative maker space, and we do some sort of little project and usually it is around the idea of home furnishings in some way, or decorations. Not always, because sometimes we'll do leather keychains or even some jewelry.
Why did you start the online classes?
I was intrigued with the idea, and I had taken some online classes in business, and I realized that the amount of people I could have in here was topped off at six for an upholstery class, because I could not really handle more than six. So, I was thinking, "How can I maximize this?"
What are some challenges with having online classes?
As far as the business end of it, there have become so many more online courses out there that it's become more competitive. Not in what I teach, but just across the board people are taking so many more classes. When I started, I remember saying, "You know what, there needs to be a platform that people can just plug in their courses." Everybody's like, "Oh, you don't want to mess with that because that's a whole IT thing." I run my classes just off of a WordPress blog, but then, boom, you've got Teachable, you've got Thinkific, you've got Udemy—you've got all these platforms now.
What are some of the most popular things people want to do when they come into HomeRoom?
The trendy stuff is like yarn, weaving. I do some leather work, we do leather keychains, some metal stamping. They like jewelry; jewelry is like a big draw. On the furniture stuff, you can't get too big because then it takes too long. So, we kind of keep that at the chairs and the footstools.
Are there any more changes coming up for HomeRoom?
The big change right now is getting other artists in to teach. My local business will be based on that and a few things that I still teach in here. But then the online stuff will, I hope, grow much bigger. And I have plans to start taking little projects on the road to go teach at other studios. There's one out in LA that I'm working on now.
I hate to say this … but it's kind of like it's now or never for me.•
Please enable JavaScript to view this content.