Tucked behind a Ford dealer in Fishers stands a drab, steel building that would make a fine home for a plumbing contractor.

But inside are chemists in white lab coats, using a mass spectrometer to measure atom-size particles. They're making peptides—chains of usually three to 70 amino acids used by pharmaceutical companies to develop the next miracle drug.

Recently, the eight-employee Midwest Bio-Tech even synthesized peptides used by the Centers for Disease Control to develop the H1N1 flu vaccine.

"Peptide groups at the large companies are being downsized. They've found it became cheaper to outsource the peptide," said William Scott Dodson, chief science officer for Midwest Bio-tech. He should know, having once operated such a lab for Amgen, in Colorado.

Central Indiana companies such as Midwest Bio-tech are tapping an outsourcing trend among pharmaceutical and medical-device giants—and even among upstarts whose investors want results pronto. Pharmaceutical firms large and small are under more pressure than ever to cut costs and speed product development.

Lupo
In 2007, AstraZeneca said it would outsource all its drug manufacturing in a decade, while Bristol-Myers Squibb said it would sell or close half its manufacturing facilities and focus on research.

Closer to home, Eli Lilly and Co. announced last month that it will cut 5,000 jobs and reorganize its business units, under increasing pressure to boost its product pipeline.

"As companies like Lilly shed staff, you're going to see more and more of these small companies spring up because there's a lot of talent out there that's not ready to play shuffleboard in Florida," said Ron Zimmerman, who co-founded contract manufacturer Elona Biotechnologies in Greenwood.

These firms conduct analysis, make proteins or, in the case of Indianapolis-based Commissioning Agents Inc., commission new manufacturing plants for drugmakers.

The firm, located north of Indianapolis International Airport, has grown to 155 employees from 12 a decade ago and will do $27 million in business this year, said co-founder Robert Chew.

Over the years, the firm has worked for giants from Lilly to Merck to GlaxoSmithKline.

"They're working for people all over the country … . There are probably 30 other [contract service firms] just like him. It's a silent sector here in a sense," said David Johnson, president and CEO of Indiana life sciences initiative BioCrossroads.

Stealthy firms

Just how many of these small, so-called contract service providers there are in central Indiana is hard to say.

BioCrossroads is trying to catalog them through its "Linx" initiative, which is also intended to promote business between contract service providers and pharmaceutical and medical-device makers.

So low-profile are some of the firms, even in one's own back yard, that Linx has yet to pick up Midwest Bio-Tech on its Web database.

BioCrossroads estimates the firms employ 6,800 people in the state. How much they generate in sales is a fuzzier question.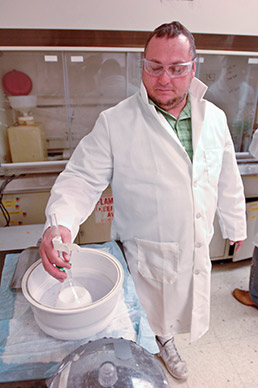 W. Scott Dodson, chief scientific officer of Midwest Bio-Tech, freeze dries a compound. (IBJ Photo/Robin Jerstad)
Nationally, though, the use of third-party vendors "is increasing at unprecedented rates," BioCrossroads said in a report last year on the sector. Contract service providers are growing 14 percent to 16 percent—exceeding 20 percent in some segments, the report said.

Nationally, BioCrossroads pegs the segment at 1,100 firms generating $14 billion a year in revenue.

One of the best-known contract service firms in the Indianapolis area is AIT Laboratories, a leading forensics toxicology lab that also provides testing for doctors, hospitals and pharmaceutical companies. AIT made news this summer for other reasons; founder and CEO Michael A. Evans in June dished out more than $2 million to his 300 employees as part of a profit-sharing plan, and the following month sold them his fast-growing company through an employee stock ownership plan.

Diverse, with unlikely origins

Contract firms run the gamut from tiny to large.

Cook Pharmica, a cell culture–based contract manufacturer, occupies 900,000 square feet on the site of the former RCA television plant in Bloomington.

Cook Pharmica was launched in 2004 when parent Cook Medical Group decided to get back into the contract manufacturing business. Its customers range from small companies with just a couple of employees to very large ones, said President Ted Green.

The company could double employment to 300 when it completes an $80 million formulation, filling and finishing facility in Bloomington next year. It will fill vials and syringes with vaccines and other things used in clinics and hospitals. Green said the unit should fill out Cook's capabilities as a fully integrated contract manufacturer—making it more attractive to potential customers by being able to serve them from under one roof.

Many of the firms have unlikely beginnings. AIT's Evans was a toxicology professor who, after 20 years in academia, got the entrepreneurship bug.

Midwest Bio-Tech started out as a peptide distributor. Eleven years ago, Greg Lupo and his father, Louis, decided to enter the manufacturing end of the business, with his father telling him their company couldn't continue as a middleman between peptide producers and pharmaceutical companies forever.

Greg Lupo, now CEO, hired chemists like Dodson, a native of upstate New York with a hankering for heavy-metal music.

The quirky nature of contractors like Midwest Bio-Tech is apparent in the shrine to the genre that lurks behind doors seldom penetrated by the general public.

Scrawled onto a plexiglass shield in a lab is "SLAYER" in honor of the band.

Dodson and others here formed their own heavy-metal band, "Active Live Infection." Lupo keeps them happy—installing speakers in the lab ceiling to allow them to rock as they make their rock-like peptides. Dodson, who describes himself as a "straightforward analytical chemist," said he figures the music can't help but excite the molecules.

But these chemists aren't mere head bangers. Over the years, they've curried the favor of some of the nation's biggest drug companies as clients. Midwest's capabilities also caught wind of the CDC, which this year has been scrambling on a vaccine for H1N1.

"We got an e-mail that said, 'This is a national security issue,'" said Lupo, recalling how the staff dropped everything it was doing. In an upcoming issue of Analytical Chemistry, CDC scientists outline Midwest Bio-Tech's work and mention influenza peptide synthesis work performed by the company.

"I really feel we helped to accelerate the formulation of vaccines," said science officer Dodson.

Another contract research and development company, Greenwood-based Elona Biotechnologies, is diversifying.

In May, the 10-year-old company launched two subsidiaries: R&D Enterprises and Zimmerman Biotechnologies.

R&D developed a patented process to produce human insulin and human growth hormone easier and cheaper than is currently being done by branded companies. The process is so efficient that Zimmerman boasts R&D can match costs with Indian and Chinese companies.

The other subsidiary, Zimmerman Biotechnologies, will manufacture the generic biologics created with Elona's expertise.

Zimmerman hopes to gain federal approval to make the firm's own insulin by 2011 and growth hormone shortly thereafter.

The move is risky, Zimmerman said, but one he feels is worthwhile given the potential to sell generic products, particularly as patents on such products expire and Congress increasingly looks to expand availability of generics.

Big potential

An estimated $100 billion of pharmaceuticals are coming off patent in the next five years, said BioCrossroads' Johnson. The opportunity for most contract service providers will be in helping big pharmaceutical companies get new products to market faster and extend the usable life of their patents.

BioCrossroads said the major opportunities in the Indianapolis area are:

• analytical chemistry;

• contract manufacturing;

• pre-clinical services, such as toxicology;

• discovery services, such as studying what the body does to a drug, a field called pharmacokinetics; and

• post-launch activities like human side effects.

"The closer you get up the line toward discovery, the higher the value is service," Johnson said.

But that can be challenging. The BioCrossroads report noted many pharmaceutical companies have "an institutionalized aversion to relinquishing control necessary for maximizing outsourcing potential and managing relationships" with contract service providers.

Indeed, while Lupo's company operates at "the very beginning of what some scientist thinks of a protein in his head," a pharmaceutical company will often pull back from further work on a peptide out of fear the outside world will figure out what the drug company is trying to synthesize and ultimately develop a competing product.

And despite what Lupo contends is a strong business case for a drugmaker to outsource additional work to his firm, cutting through corporate bureaucracy can be a challenge. In some cases, insiders at a company's laboratories appear to intentionally shun outside contracting opportunities if only for the sake of their own job security.•