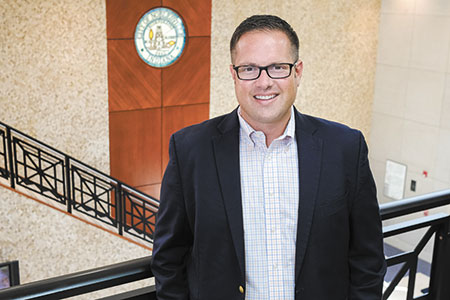 Noblesville's mayor-elect sees opportunity in his hometown's growth potential.
But first—Chris Jensen said—the city needs to take steps that will help guide and keep a handle on the coming influx of residents and businesses.
For nearly two decades, Hamilton County has been growing swiftly, with most of the population boom centered in Carmel and Fishers. Noblesville and Westfield have seen steady but not prolific gains.
Now, as Fishers and Carmel reach residential buildout (Fishers, for example, has just 1,740 undeveloped residential acres left), the county's northern communities are primed to absorb much of the projected inflow of 200,000 people over the next 30 years.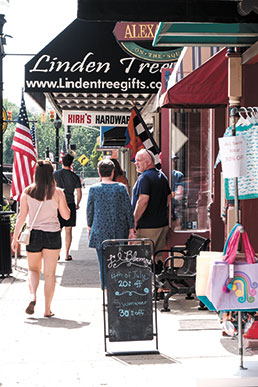 Today, Noblesville is home to just more than 63,100 people, up from 48,700 in 2010, according to U.S. Census Bureau data. The city ranked as the sixth fastest-growing in the state for population gains between 2010 and 2018, according to STATS Indiana estimates.
And beyond population gains, commercial developments are already clamoring to make a home in Noblesville.
"We have a lot of opportunity, but I think we have to be smart about it," Jensen, a current city councilor, told IBJ. "I remind myself as a council member that we are making decisions every day that will last into perpetuity within the city."
Jensen handily won the Republican primary election for Noblesville mayor and does not face a challenger in the general election, meaning he will take office Jan. 1.
The 34-year-old client services manager for Indianapolis-based Lochmueller Group said the city is ready for its next chapter—a slogan of his campaign—and on the cusp of "great opportunities." And he said he's ready to be its leader, focusing on infrastructure, enhancing downtown, workforce development and public safety—all important factors if Noblesville is going to attract the new residents headed for Hamilton County.
Under the current administration, the county seat is already seeing some of those gains.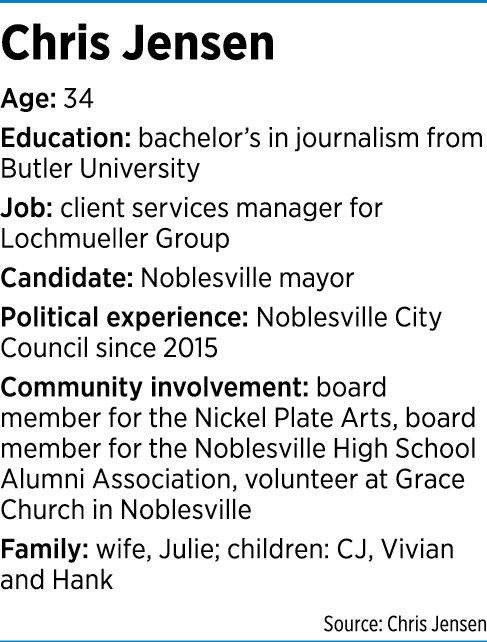 Last year, the city announced a mixed-use project for downtown, which hasn't seen new construction—except a new city hall—in decades. It's been even longer since any apartments were built there. Once complete, The Levinson will bring 83 apartments to downtown, which is marked by its historic and quaint courthouse square.
The project, which also includes a public parking garage, likely won't be the only one proposed for the area. Jensen said downtown has room for more rental living options, though he cautioned that the market will drive development.
Also in 2018, through voluntary annexations, Noblesville expanded its corporate limits by nearly 850 acres, according to the city's annual report released in March.
The city experienced an annual 27% increase in single-family detached residential building permits, the report states. A single project approved by the council in 2018, Brooks Farm, will eventually bring 314 housing units to 124 acres at the northwest corner of 156th Street and Summer Road. Altogether, the Plan Commission saw 69 filings for residential or commercial developments, the most in more than five years.
As far as economic development, the city welcomed 52 new businesses last year, and city officials approved a $31 million development called Campus Center, which will bring more office, retail and light industrial to 146th Street (near Promise Road), a corridor that has been targeted and marketed for commercial development, which is starting to take off.
Managing growth
Jensen said it will be important for the next administration and council to ensure the city continues to plan for that growth and is specific with both residential and commercial developers about what leaders want to see.
"I think it's important we understand how we want to grow and drive that growth from the city, versus the inverse of that," Jensen said.
Downtown and Wayne Township, which sits between Noblesville and the county's eastern border and is mostly farmland today, are areas that will likely see residential development in coming years, Jensen said.
Millennials and empty-nesters are looking to live in condos, town houses or apartments in urban environments, where they can walk to restaurants, events and other amenities—a housing option Noblesville is largely missing.
"We just have to be careful with how we move forward on that," Jensen said, "making sure we are judging the market carefully and making sure we know what the demand is."
And Noblesville will need to continue to enhance downtown so it's a place people want to visit and live.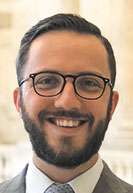 Smith
Aaron Smith, who takes office Jan. 1 as the District 3 (which includes downtown) councilor after beating incumbent Rick Taylor in the primary, said a community that isn't embracing growth will become irrelevant. But Noblesville needs to put what he describes as guardrails in place to contain that growth, especially in his district, where some have been apprehensive about adding new buildings to the historic square.
The city needs to lay out what will and won't be acceptable for downtown, he said, and residents and downtown business owners need to be part of that conversation.
Downtown development should fulfill downtown needs, he said, so leaders need to identify the types of desirable businesses and industries that are missing, then work to attract them.
In Wayne Township, the city's next leaders will need to decide fairly quickly what type of residential growth they want and deliver that message to home builders, Jensen said.
Already, the city has told developers it wants to see more diverse developments that include a mix of apartments, single-family homes, condos and town houses.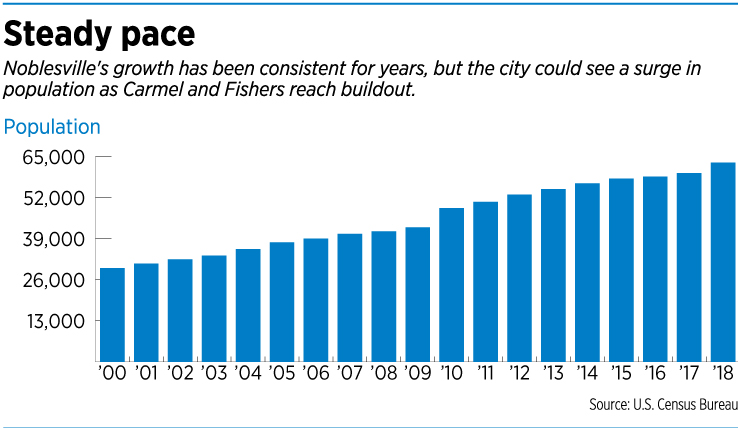 The city will continue to deliver that message under Jensen's leadership. Families today say they want trails that lead to nearby amenities, like shops and restaurants, so he anticipates city leaders will push housing developments to include neighborhood nodes with mixed-use components.
Crosstown congestion
One challenge the city faces in capturing growth, especially on the northeast side, is infrastructure, Jensen said. Currently, there's no easy way to travel east or west across the city.
"We just can't drop 100,000 cars there," he said. "I think Noblesville is a great community, and I want to show anybody who wants to live here the opportunities that they have. But we have to make sure we have the infrastructure that can really anticipate the growth of tomorrow."
State Roads 32 and 38 are the only east-west streets that run from city limit to city limit and they merge through downtown, so crosstown traffic is often congested.
For 24 years, the city has talked about extending Pleasant Street to create another thoroughfare, but no road has materialized. Under Jensen's administration, launching that project will be a priority.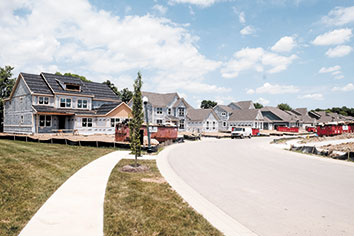 Noblesville saw a 27% increase in single-family detached residential building permits last year. City leaders have told developers they want to see mixed developments in the future that include apartments, single-family homes, condos and town houses. (IBJ photo/Eric Learned)
He anticipates presenting a final plan to the public in six to nine months and turning dirt in the next few years. The city is looking at grants to help pay for the $70 million project, which will include land acquisition.
The project calls for widening Pleasant Street to five lanes from State Road 37 to Eighth Street, then building a three-lane road west of Eighth Street and over the White River. The extended Pleasant Street would connect with S.R. 32 at Hague Road.
Jensen said Noblesville can look to Carmel and Fishers when considering how best to handle growth. While Noblesville will never be exactly like those communities (and that's not his goal), their leaders have handled expansive growth well, he said. Already, he talks with Fishers Mayor Scott Fadness about infrastructure challenges; the families have had meals together. He goes to church with Westfield Mayor Andy Cook.
Fostering those relationships will be important in making not only Noblesville successful but also Hamilton County and the region.
"Noblesville's best days are ahead," Jensen said. "I tell [Carmel Mayor Jim] Brainard and Fadness all the time, 'Here we come.'"•
Please enable JavaScript to view this content.