IndyGo has tapped a Silicon Valley transit executive as its new president and CEO.
Inez Evans, chief operating officer at the Santa Clara Valley Transportation Authority in California since 2015, will become IndyGo's top executive next month, the Indianapolis transit agency announced Tuesday.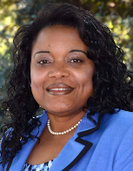 Inez Evans
She will replace IndyGo President and CEO Mike Terry, who earlier this year announced his intent to retire. The transition is set to happen in mid- to late-August, though an exact date has not yet been set.
Evans, who turns 55 next week, has more than 25 years of experience at public transit systems and private transportation companies around the United States.
IndyGo said Evans will receive an initial salary of $230,000. Terry's 2018 salary was $170,034. Evans made $336,283 in total compensation in 2018, according to public pay database Transparent California.
Indianapolis' growing enthusiasm for public transit—particularly its passage of a 2016 tax referendum to help fund bus service expansion—was a big part of the job's appeal, Evans said. "This community is excited about transportation. … They really want to help transform this city."
Evans arrives as IndyGo is set to roll out the Red Line, which goes into service Sept. 1 and will be the first phase of an all-electric bus rapid transit system. 
Her resume includes both bus rapid transit rollouts and experience planning for an all-electric fleet.
In her current position in Santa Clara County, she oversaw a bus rapid-transit rollout in 2015. Prior to that, she oversaw a bus rapid transit rollout in 2012-2013 at the Southwest Ohio Regional Transit Authority in Cincinnati, where she served as chief operations officer.
The Santa Clara Valley Transportation Authority is planning to transition its 472-bus fleet to an all-electric fleet by 2035. Evans has been involved in analyzing the infrastructure, funding and other needs the transit system requires for the transition.
Earlier in her career, Evans worked as director of transportation for the Metropolitan Atlanta Regional Transportation Authority. She also worked in Austin, Texas, and in the California cities of San Jose and Fairfield. 
The process that led to Evans' hiring began with a national search that generated an "overwhelming response" from applicants, said Mark Fisher, the vice chairman of IndyGo's board of directors.
IndyGo narrowed the applicant pool to about a dozen candidates before bringing in three finalists for interviews. Through this process, Evans emerged as the unanimous top pick, Fisher said. "Inez was the consensus candidate."
Fisher said Evans' experience at larger transit agencies was appealing, especially since IndyGo is expanding its own service. Evans also has experience in paratransit services for riders with disabilities—an area of service that IndyGo is working to improve.
The Santa Clara Valley Transportation Authority operates both bus and light rail service and has an annual operating budget of $365 million. Its service area is in the heart of Silicon Valley, serving cities including Santa Clara, San Jose, Palo Alto, Cupertino and others. In 2018, the transit system had total ridership of 36.6 million, including bus ridership of 28 million.
In comparison, IndyGo's current operating budget is $104.6 million. Its fixed-route ridership last year was 8.8 million.
Please enable JavaScript to view this content.