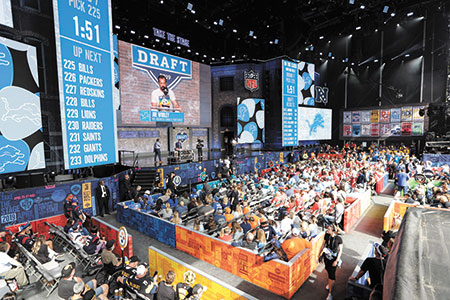 Fresh off a deal keeping the NFL Scouting Combine in Indianapolis through at least 2021, local sports and tourism officials are chasing another prized league event: the draft.
Visit Indy has held preliminary talks with the NFL about the city's hosting the three-day event as soon as 2024. Insiders tell IBJ the tourism bureau is eyeing a five-year window through 2028 as the city's best shot to host the late-April spectacle.
Working closely with the Indianapolis Colts, the Indiana Sports Corp. and Mayor Joe Hogsett's administration, tourism officials are prepping to hold in-depth conversations with NFL officials this fall, said Chris Gahl, vice president of Visit Indy.
"We've had very healthy discussions" about the possibility of going after the draft, he said. Those talks have included possible ways to activate areas like Georgia Street, Monument Circle and the Indiana Convention Center, along with potential years the city could host the event.
The NFL held the draft in New York City from 1965 through 2014 before opting for alternative locations, which have rapidly transformed it into a giant party for football lovers. The league says this year's draft, staged in Nashville, Tennessee, attracted record attendance of 600,000.
The NFL this summer will launch a selection process that starts with asking interested cities for information for the 2022, 2024, 2025 and 2026 drafts. Indianapolis officials say they will be among cities at that time formally throwing their hat into the ring, said NFL spokesman Brian McCarthy.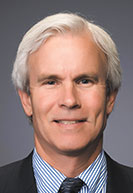 Ward
Gahl said the city's success in keeping the Combine—an annual event showcasing hundreds of the nation's best college football players—served as a springboard for conversations with the league about the draft. He noted that those talks are "still in their infancy."
The Combine pact, announced in May, includes a hard extension through 2021 and several one-year options after that.
Pete Ward, chief operating officer for the Colts, said the team and its owner, Jim Irsay, are staunch supporters of bringing the draft to Indianapolis.
City officials have mulled pursuing the draft for at least four years. Back in 2017, they considered a bid for next year's draft before deciding to pass.
Ryan Vaughn, president of the Indiana Sports Corp., said officials are taking a "measured, calculated approach."
Vaughn
"I think we would be great hosts, but we don't yet have a clear picture of what this event here would look like," he said. "It's not a lack of enthusiasm; this is just a very intentional process and we are in the early stages."
Waiting game
Indianapolis likely won't get its shot at hosting until at least 2024, with Las Vegas, Cleveland and Kansas City locked in to host the 2020, 2021 and 2023 drafts, respectively. The 2022 draft is expected to be awarded during the NFL owners' meetings next spring, with Denver considered the strong favorite.
That's just as well for Indianapolis, which isn't considering vying for that year. The city instead will be recovering from one of its busiest slates of sporting events ever, including the 2021 NBA All-Star Game and 2021 NCAA Men's Basketball Final Four and the 2022 College Football Playoff National Championship.
Gahl declined to discuss which years Indianapolis officials are considering. He said stakeholders are working to find "clean dates" that jibe with the league's commitment to holding the annual event in late April.
Acknowledging the next few years will be busy for the Sports Corp., Vaughn said the bid team wants to "find the right time" for the city to play host to the league's second-largest event behind the Super Bowl.
To formally bid for the draft, the city would have to commit to raising funds. In recent years, Nashville and Dallas have had to ante up $3 million to $4 million, much of it in private donations. The league itself is thought to spend $15 million to $20 million on the event.
But there's also a big payoff. This year's draft in Nashville had an estimated economic impact exceeding $220 million, including $133 million in direct consumer spending.
Visit Indy hasn't yet conducted an economic impact study for the draft, but Gahl said he expects that will occur as part of a formal bid.
The city's layout and the proximity of its major venues to one another are likely to be viewed as assets by the league, Ward said.
"A city with a downtown like ours is perfect for the draft—it allows the event to take over the city and for everyone to gather in a singular location," he said. "But we're not the only city that has those attributes, and the competition will be tough, just like it is for the Super Bowl."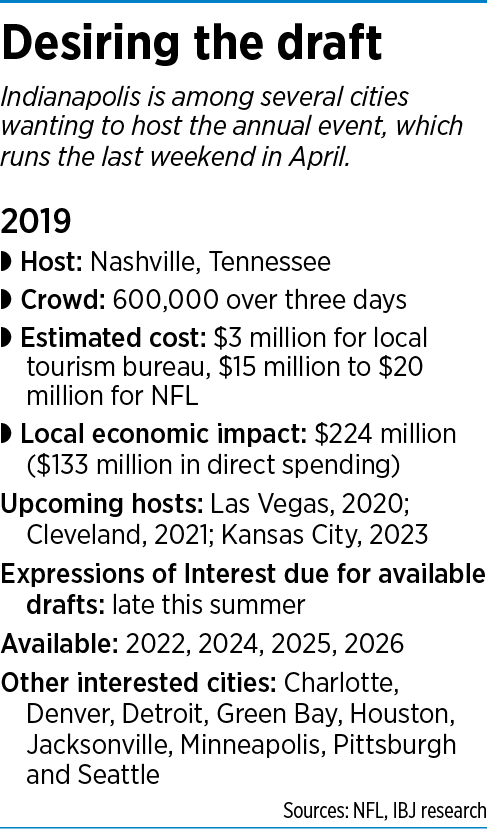 'Extremely special'
The league's front office will work with the team owners' special events committee to choose host cities. The NFL's "request for information" process is only the first step in that process, said Marc Ganis, a sports business expert based in Chicago.
"As with most things in the league, there's a process to it, but it's more interactive than most," he said. "This is a process, I think, where Indianapolis will have strength, because it already deals with many of the same people for the Combine."
Ganis said some in the league view Indianapolis' stranglehold on the Combine over the past 30 years as proof the city doesn't need another marquee NFL event.
Conversely, he said, others take the position that Indianapolis' success with the Combine proves it's up to the task of hosting the draft.
Gahl, Vaughn and Ward said the two events complement each other, with the Combine serving as players' job interview and the draft representing their actual hiring.
"I think there's a lot of potential for us to make this event extremely special, really unique," Gahl said. "If we get a chance to do that, I think it's going to be rather remarkable."
The league will ask cities to provide formal expressions of interest, identify which years they're interested in, and state why they should be considered. It then will invite cities to officially bid.
Indianapolis would have to establish a formal local organizing committee, just as it did in preparation for hosting the Super Bowl in February 2012 and before it was passed over to host the 2018 Super Bowl.
Sports observers view Indianapolis as a strong contender, but say many other cities are as well. An army of cities showed up to gather intelligence at this year's draft in Nashville, including Indianapolis, Denver, Pittsburgh, Seattle, Jacksonville and Green Bay.
All have had conversations with the league to varying degrees and are viewed as seriously interested.
Ganis said he expects Indianapolis will get the draft "at some point, and it will do great." But he isn't certain when that might be.
"The city that gets this event has to be truly committed to it," he said. "I have no doubt that, if indeed Indy gets it, it will be truly committed. [The] community has shown itself to be very strong in that way."•
Please enable JavaScript to view this content.