Eli Lilly and Co. announced Thursday that two of its top executives are leaving the company.
Christi Shaw, senior vice president and president of Lilly Bio-Medicines, said she was will leaving the company at the end of August. And Mike Harrington, senior vice president and general counsel, said he plans to retire at the end of the year.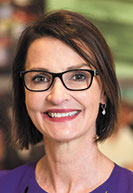 Christi Shaw
Lilly shares dropped 4.6 percent in early trading, to $109.30 each.
The company said Patrik Jonsson, president and general manager of Lilly Japan, will succeed Shaw. It also said a search is underway for Harrington's successor.
The company did not say why Shaw was leaving.
Shaw has been one of the top-ranking women in the pharmaceutical industry for years. She got her start as a sales rep at Lilly in 1989 and worked her way up to regional sales director before leaving the company in 2003 to become vice president of U.S. sales for the Jannsen Inc. division of Johnson & Johnson.
She later worked in executive leadership positions in the Ethicon Inc. division of Johnson & Johnson and as the U.S. president at Novartis Pharmaceuticals Corp. from 2014-2016.
She returned to Lilly in April 2017 to lead the Bio-Medicines division.
"During Christi's tenure, our Bio-Medicines division launched multiple new medicines globally, such as Olumiant and Emgality, and added key development projects to our early and late-phase portfolio," Lilly CEO David Ricks said in written remarks. "I value the external perspective and passion for patients that Christi brought to the company."
Jonsson joined Lilly in 1990 as a sales representative in Sweden and has held marketing leadership positions for the company throughout Europe. He has been in his current position since 2014.
"Patrik is a patient-focused, inclusive leader who has a long track record of delivering results in numerous markets around the world," Ricks said. "With a portfolio of newly launched medicines and a robust pipeline in both immunology and pain, he is the right person to lead our Bio-Medicines business."
Harrington joined Lilly in 1991 after working as a litigator at Baker & Daniels in Indianapolis. He was promoted to his current position in 2012.
Please enable JavaScript to view this content.