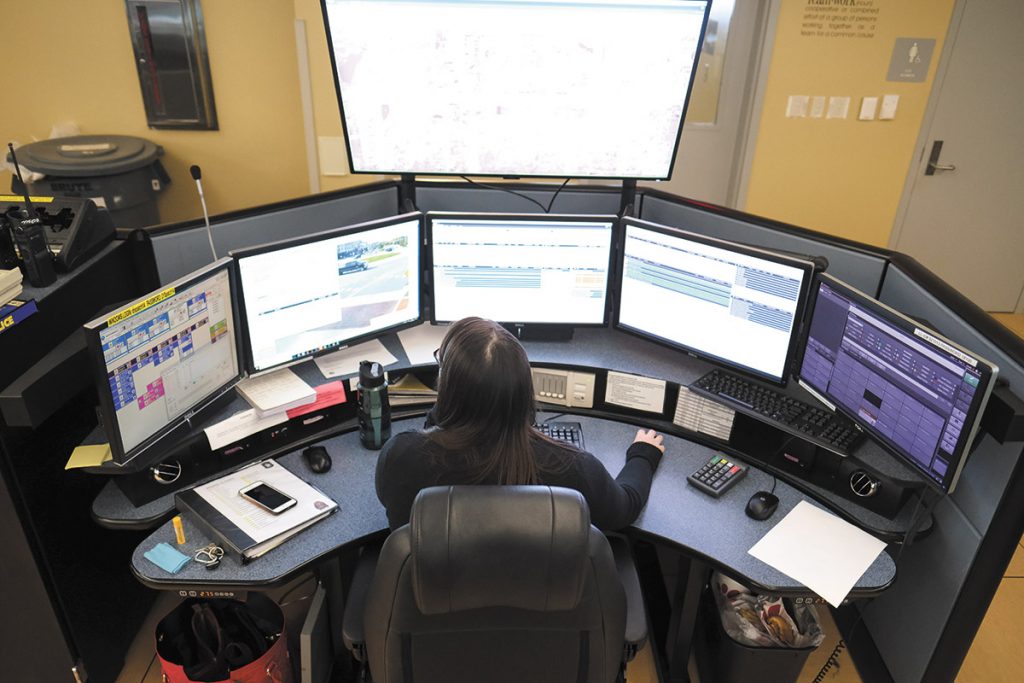 A Hamilton County income tax hike going into effect next year to help fund 911 operations will generate millions of dollars more than needed—a windfall government officials are eyeing to help pay for other public safety initiatives.
This fall, city and town councils representing more than 50% of Hamilton County's population voted to overhaul funding for the county's Public Safety Communications Center. Rather than rely on communities to pay a fee proportionate to their dispatch calls, as is the current practice, the county will now collect more in income taxes.
State law required a minimum 0.1% increase to the county's current 1% rate, so officials knew they'd be instituting a tax that would go well beyond solving the $440,000 shortfall created by towns' and townships' inability to pay their share of 911 operations.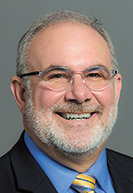 County officials originally predicted the 0.1% public service local income tax would generate $15.6 million to fund the 911 communications department's $11.25 million budget for 2020, said Jeff Schemmer, executive director of Hamilton County public safety communications.
Now, the state has certified that the tax will bring in more than $17 million in 2020.
Schemmer said the ordinance authorizing the public safety local income tax requires that the money go toward 911 communications. He said spending of the surplus will need to fit within the spirit of that ordinance.
"Just because we have this surplus money doesn't mean we'll be spending it on everything we can think of. We're not going to go out and buy all new computers and pass them out," he said.
"We started looking at those costs we could absorb from those agencies that we provide services to that fit under communications."
Schemmer said his department already has worked with area public safety agencies to identify $2.5 million in costs the county could take on with its excess funds.
He said that money could help purchase and maintain communities' fire and police radios, mobile data terminals and other equipment. Radios for first responders cost $5,000 to $7,000 apiece.
Another potential use is for upkeep, such as repairs on five county radio tower sites, which can cost as much as $1 million per site.
The tax increase will allow communities to redeploy fees that had been paid toward 911 operations. In Westfield, for instance, the $900,000 saved next year will go toward hiring three new firefighters and 10 new police officers.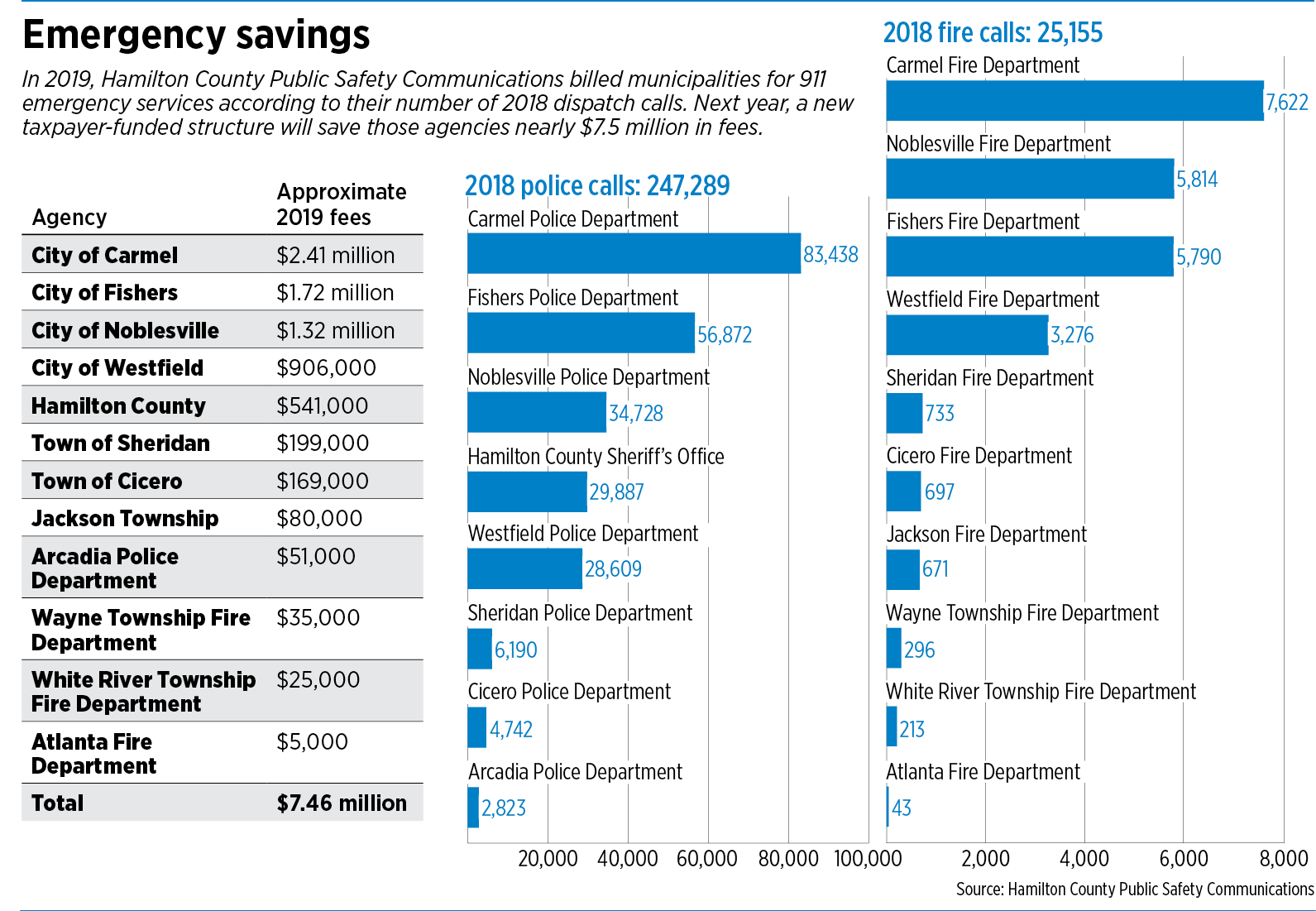 But those hires will come with one-time costs for pricey new equipment—expenses that excess income tax proceeds potentially could cover.
Schemmer said the process for considering additional expenditures depends on the nature of the request. A different technical review committee, for instance, reviews a request for new software than a request for radios.
If requests pass committee, the Hamilton County's Board of Public Safety considers them. That board includes chiefs from the police and fire departments, Schemmer and a representative from the county's Emergency Management Agency.
From there, the six-person 911 Executive Board decides which requests should be considered by the county commissioners. If additional money needs to be appropriated beyond a department's budget, the request requires county council approval.
Schemmer said there's no deadline for deciding how to deploy the excess funds, though he's hoping to make significant progress before the end of the year.
"It's going to be our first year, so we're going to take things kind of slow to make sure we're doing things correctly," he said. "That excess is not going to be some pot of gold that some people look at and think, 'Oh my gosh, we've got all this money to spend.'"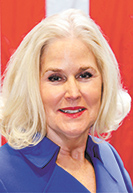 Christine Altman, the county commissioners' representative on the 911 Executive Board, said the fact that the tax will generate more than expected makes the board's decisions on how to use the excess even tougher.
"Quite honestly, we did not know if this would pass or not. To go through detailed planning at that point in the process wasn't feasible," Altman said.
She has her own ideas for how best to use the money. She and Schemmer both support building a separate Hamilton County Public Safety Communications Center.
Currently, 911 dispatch operations share space with the Hamilton County Sheriff's Department in Noblesville. The center's more than 90 employees dispatch police, fire and emergency personnel from 17 agencies, covering 398 square miles. Employees dispatched more than 272,000 calls in 2018.
Schemmer said communications center employees work in crowded conditions. And if the center takes on responsibility for communities' communications equipment, such as radios, it might need to add maintenance space that would worsen the space crunch.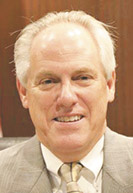 "We have absolutely no room to grow," Altman said. "It's a very nice facility, but the growth of the county has now surpassed it."
Altman said it's too early to talk about what a new center might cost. She said it would take several years to identify the center's requirements, find a site, and design and construct a structure strong enough to withstand natural and man-made disasters.
Hamilton County councilors Rick McKinney and Steve Schwartz said they aren't sold on prioritizing a new 911 operations center.
Schwartz said if it were up to him, he would want to reconsider a proposal for a public safety training facility the council voted down in 2015. The proposal had sought an initial $3 million to build a center near East 161st Street and River Road in Noblesville that eventually might have cost $40 million.
It would have included gun ranges, classrooms, infrastructure improvements and a multistory training tower for firefighters.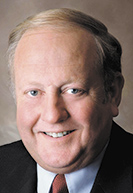 "That, to me, should be the first project to resurface again," Schwartz said.
At the time, council members who defeated the proposal said they had concerns with providing money for fire and police protection because cities and townships are typically responsible for those costs.
Despite his preference, Schwartz said, he'd support a proposal for a new dispatch center if it made sense.
"I support public safety. Always have, always will," he said. "I feel like if our commissioners do all of their homework and they come to us for funding, I'll take a serious look at it."
McKinney said the county council didn't vote on the higher income tax because many members didn't support it, and the proposal already had the votes it needed to pass.
Even though the council didn't get behind the tax increase, McKinney said, it would consider just about any suggested use for the money that benefits public safety.
"To me, it's basic safety," he said. "It's not a luxury. Everybody wants the best, and, heaven forbid, if I call 911, we don't want Chevy service when we can afford Cadillac."•
Please enable JavaScript to view this content.