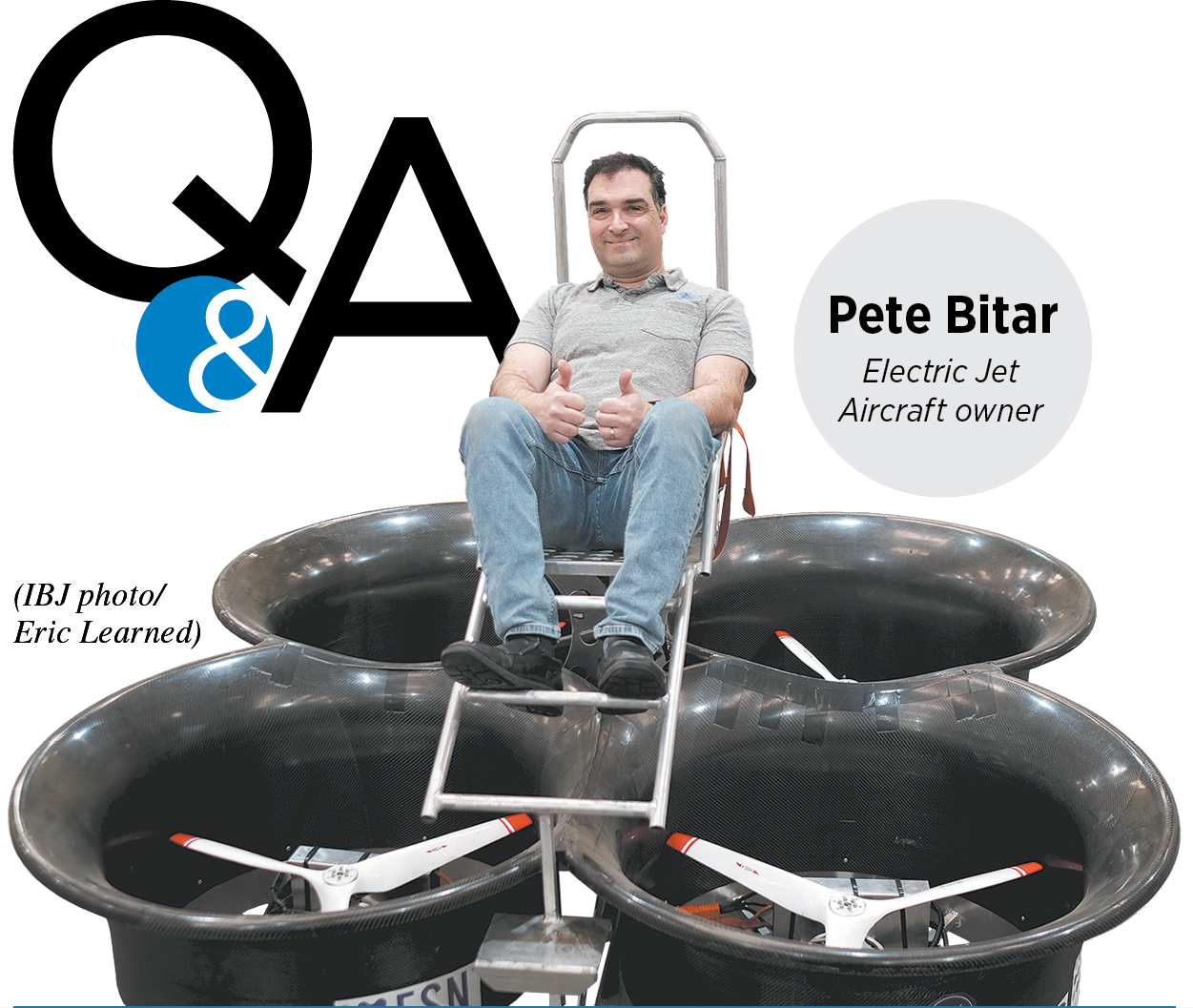 After decades of dreaming about creating a personal flying machine, Pete Bitar will pit his invention against 11 other contraptions on Saturday in California's Silicon Valley, and find out how close he is to revolutionizing the transportation industry.
Bitar, 54, is a finalist for the GoFly Prize, a $2 million competition in Mountain View, California, sponsored by Boeing for creating an aircraft that can carry a 200-pound person 20 miles without refueling or recharging, while executing vertical takeoffs and landings. Bitar's entry is the VertiCycle—developed by his Anderson-based firm, Electric Jet Aircraft LLC—which looks a bit like a lawn chair perched on top of a giant drone.
The grand prize is $1 million, but six-figure awards are also available for the smallest, quietest and most-disruptive entries. Bitar hopes to be able to develop an air-taxi system based on the VertiCycle technology.
So you've been working on the concept of personal flight devices for years, going back to your interest in aviation as a teenager?
Being able to walk out of your door, pull something out of your garage, and just take off straight up and go somewhere, that's always been my dream. How exactly you get there is part of the challenge. And with electric capabilities in today's world and battery technology being what it is, there's potential now for making it accessible to the average person and creating a business opportunity. Our vision is that 10% of the people in the world will own an electric vertical takeoff and landing aircraft and fly to work every day.
How soon would that happen?
Potentially within my lifetime. At this point, it depends less and less on technology and more on regulation and infrastructure. As we develop regulations and infrastructure that match where the technology is, then I could see something along those lines starting to become affordable and readily available within the next 10 to 20 years.
How do you describe this to people who haven't seen it?
The VertiCycle is, at its root, just a quadcopter. It's a drone. The design is not completely unique in the sense that you're going to see stuff like this on a much smaller scale everywhere you look. But bringing all those things together to create a manned aircraft that can carry 200 pounds for 30 minutes, that's where some of the challenge is.
From an engineering standpoint, what's the biggest challenge?
We're modifying a Tesla Model 3 car battery for the VertiCycle as the primary power source. There's just barely enough energy density and everything else necessary to work for the VertiCycle, so we have focused primarily on getting the battery scaled to the right amount of power and energy density while not becoming too large or too heavy for the aircraft.
What's the plan for VertiCycle going forward?
VertiCycle is primarily designed for the GoFly prize. We want to take the same ducted-fan technology and the same sort of controller technology and build a two-seat aircraft that would be called the VertiCoupe. It would allow a pair of people to fly for about 40 minutes on a battery charge and be autonomous. Basically, we create a system that could be the basis for an air-taxi network.
Do you need to win the $1 million, or will you proceed as planned no matter what?
It was already in the works so, yeah, I'm going to proceed as planned no matter what. But I'm not going out there to lose!•
—Mason King
Please enable JavaScript to view this content.